The world's biggest oil company, Exxon Mobil Corporation (NYSE:XOM), reported fourth-quarter earnings on Tuesday. XOM was largely expected to have a bad quarter, but the company nonetheless managed to beat revenue and earnings expectations.
Exxon Mobil said it had fourth-quarter revenues of $59.8 billion, which is a significant drop from the $87.3 billion reported for the fourth quarter of 2014. Despite the significant Y/Y revenue slump, XOM beat the consensus revenue estimate of $51.4 billion by a wide margin.
Its earnings also took a hit, thanks to lower upstream realizations. In fact, Q4 2015 profits were just a fraction of what they were back in Q4 2014 when oil prices were still high compared to today. In the fourth quarter of 2015, Exxon Mobil earned $2.8 billion, or $0.67/share, compared against $6.6 billion, or $1.56/share, in the year-ago quarter. Analysts were shooting for earnings of $0.63/share, which Exxon Mobil easily beat, too.
Responsible for the sharp drop in profits, as indicated, were lower upstream realizations in the fourth quarter, thanks to lower market prices for oil.
Exxon Mobil's upstream profits, as a matter of fact, declined ~$4.6 billion, or 84% Y/Y. Interestingly, U.S. upstream profits slumped from $1.5 billion in Q4 2014 to a loss of $538 million in Q4 2015.
Oil companies including Exxon Mobil are going through some real pain right now.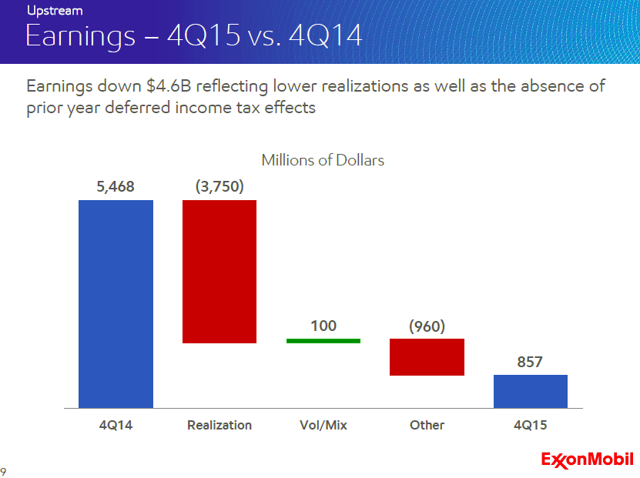 Source: Exxon Mobil
On the positive side, expectedly higher downstream earnings, partly due to expanding refinery margins, offset some of the earnings decline in the upstream business. At the end of the day, though, total earnings still dropped ~58% Y/Y.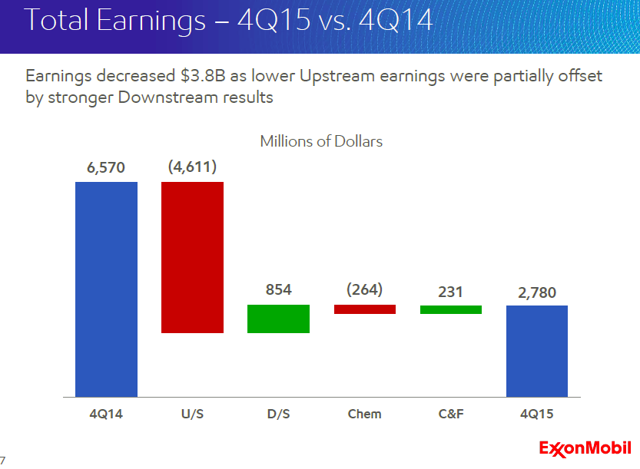 Source: Exxon Mobil
Free cash flow positive
Though revenue and earnings declines have been painful for companies in the oil patch, Exxon Mobil is one of the best prepared companies to withstand the oil market downturn, thanks to its large size and mountains of free cash flow the company continues to pull in.
When revenues are falling off a cliff, that is going to have a negative impact on free cash flow, too. Exxon Mobil's free cash flow, for instance, dropped from $18.0 billion in 2014 to $6.5 billion in 2015. That said, though, XOM's free cash flow, calculated as operating cash flow plus asset sales less investments and advances, was still solidly positive.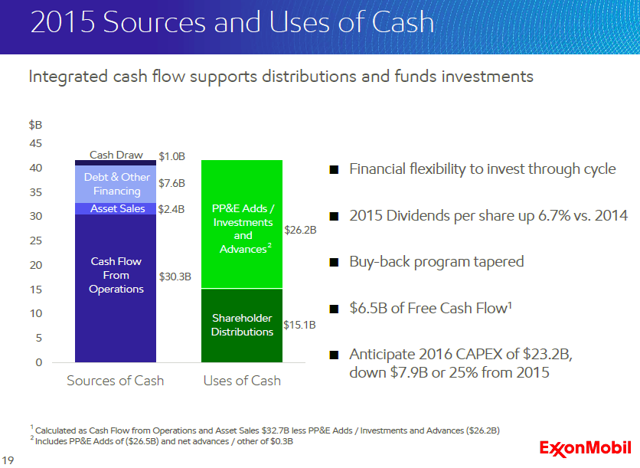 Source: Exxon Mobil
Your Takeaway
With oil prices in free-fall all throughout last year and in early 2016, revenue and earnings expectations were understandably low. As a result, Exxon Mobil beat the revenue and earnings estimate by handsome margins.
In fairness, though, oil companies are not having a particularly great time right now, and some of them might be even put out of business if prices don't recover before their hedges roll off. On the other hand, big oil and gas companies with deep pockets that rake in billions of free cash flow even when the market turns against them have the best chance of making it through this cyclical downturn.
Disclosure: I am/we are long XOM.
I wrote this article myself, and it expresses my own opinions. I am not receiving compensation for it (other than from Seeking Alpha). I have no business relationship with any company whose stock is mentioned in this article.