One of the biggest concerns that many investors have regarding offshore drilling giant Seadrill Ltd. (NYSE:SDRL) is the company's relatively high level of debt. These fears were exacerbated by the fact that as of the beginning of 2015, it had a number of drilling rigs that were under construction and were scheduled for delivery in that year, as well as a few that were scheduled for delivery in 2016. As the standard way that an offshore drilling company pays for its rigs is to pay 20% of the estimated cost of production upon ordering the rig and the remaining balance upon delivery, Seadrill was expected to incur significant financing needs over that two-year period.
These are certainly valid concerns. As I have pointed out in the past, Seadrill is the most highly levered of the major offshore drilling companies, as shown here:

It accumulated all of this debt as a direct result of its rapid growth over the past several years. For example, back in 2006, Seadrill owned a total of 36 offshore drilling rigs. Of these, eleven were floaters (semi-submersibles and drillships), fourteen were tender rigs, nine were jack-ups, and two were floating production storage and offloading vessels.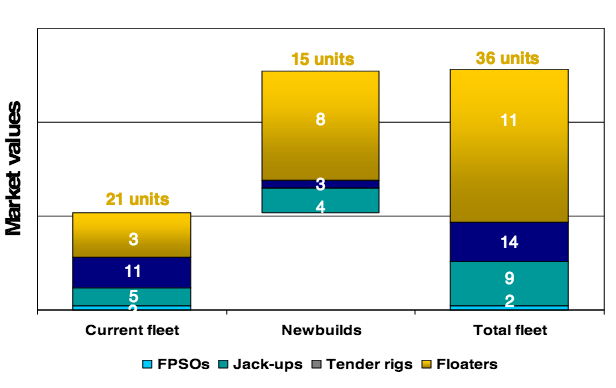 Source: Seadrill Ltd.
Today, the company boasts a fleet of 68 units consisting of 33 floating rigs, 32 jack-up rigs, and three tender rigs. When we consider that the cost of constructing a single floating rig is approximately $600,000, it is easy to see how Seadrill could acquire such a high debt load.
In a presentation given on October 3, 2014 at the Deutsche Bank Leveraged Finance Conference, Seadrill stated that it still needed to obtain funding to complete construction on 15 offshore drilling rigs over the 2015-2016 period. This was expected to require approximately $4.3 billion. Unfortunately for Seadrill, however, the majority of these rigs had not yet been awarded contracts, and so, would not be generating cash flow to service the debt that the company would be required to take on in order to finance the construction of these rigs.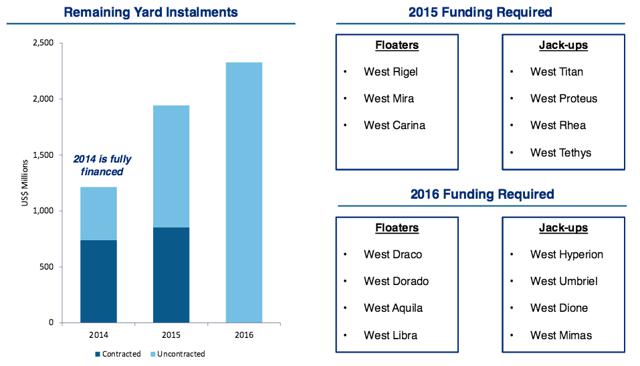 Source: Seadrill Ltd.
This is a problem that persists to this day. There are two reasons for this. The first is that the offshore drilling industry went through one of the biggest booms in its history over the 2011-2013 period. As a result, many contractors in the industry decided to expand their fleets in order to take advantage of the fact that exploration and production companies were demanding more rigs than were actually in existence. However, that dynamic changed in the latter months of 2013. At this time, exploration and production companies began to re-evaluate their budgets due to the fact that their free cash flows had become strained. Many of them reduced their exploration budgets to compensate for this, which reduced the demand for offshore drilling rigs just as the units that were ordered over the previous two years began to be completed.
The second reason why Seadrill, along with every other company in the offshore drilling industry, has been having difficulty securing contracts for its rigs is the precipitous decline in oil prices that we have seen over the past 18 months. Other than further straining cash flows at exploration and production companies, this has further reduced the demand for offshore drilling rigs, because offshore drilling, particularly in ultra-deepwater environments, is not especially economic with oil prices at their present levels. At the time of writing, one barrel of West Texas Intermediate crude trades for $31.72, while one barrel of Brent crude trades for $34.69. Meanwhile, it costs an average of $41 per barrel to extract oil from a shallow-water well and an average of $56 per barrel to extract oil from an ultra-deepwater well.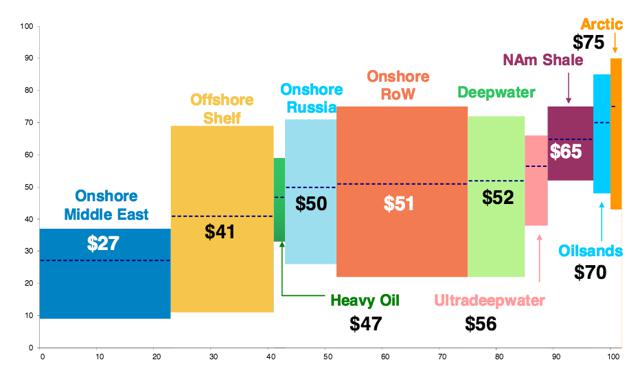 Source: Morgan Stanley Equity Research, IEA, Seadrill
Unfortunately, Seadrill was still required to pay for these rigs, as they were delivered despite the fact that the company would be unable to generate any cash flow from them. This would result in a situation in which the company would see its debt increase, resulting in climbing principal and interest payments, while cash flow remained static. In reality, though, the situation was expected to be worse than this, as Seadrill would see its principal and interest payments rise while cash flow declined as its currently contracted rigs came off of their existing contracts over the next few years.
Fortunately, Seadrill has taken several steps to prevent this problem. The first, and most important, of these is delaying the delivery of several of its newbuild rigs. This is an action that I predicted that the company would take in a 2015 article. As of September 2, 2015, the company had managed to successfully delay the delivery of 13 newbuild rigs until later dates (or at least later than their originally scheduled delivery dates).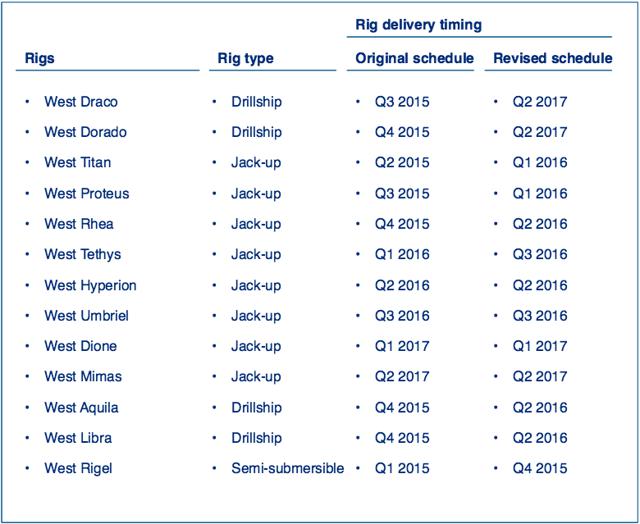 Source: Seadrill Ltd.
These were not the only rig deliveries that Seadrill was able to delay. On January 15, 2016, the company announced that it has successfully delayed the delivery of two additional ultra-deepwater drillships, West Aquila and West Libra. Originally, both of these rigs were scheduled to be delivered by the end of the second quarter of 2016. Under the terms of this new delivery delay agreement, the rigs will now be delivered in the second quarter of 2018 and the first quarter of 2019, respectively.
These delivery delays greatly benefit Seadrill in the current environment. The most significant way in which they do this is to greatly increase the company's liquidity. This is because the company does not have to actually pay for any of these delayed rigs until their respective new delivery dates. This means it is able to significantly delay the date at which it needs to take on new debt financing to pay for these rigs. This also gives Seadrill additional time to reduce its current debt load before being forced to take on additional debt to finance the delivery of these rigs when they finally arrive. To quantify the total amount of liquidity it gained from delaying the delivery dates of its newbuilds, please consider that the company would have had to pay the shipyard over $800 million when the West Aquila and West Libra were delivered at the end of the second quarter.
These rig delivery delays will thus have the indirect effect of strengthening Seadrill's balance sheet. When combined with the success that the company has had over the past two years at both reducing its debt and staggering the maturity dates, this should increase confidence that Seadrill will be able to weather through the current industry weakness, although it will continue to face challenges over the next few years.
Supporting Documents
Disclosure: I am/we are long SDRL.
I wrote this article myself, and it expresses my own opinions. I am not receiving compensation for it (other than from Seeking Alpha). I have no business relationship with any company whose stock is mentioned in this article.