For Cheniere Energy (NYSEMKT:LNG), 2016 was supposed to be a landmark year, as it should have exported the first LNG shipments from the lower 48 U.S. states by now. However, the year started on a negative note for the company, as instrumentation problems at the Sabine Pass LNG terminal in Louisiana have delayed shipments by a month of two. This is despite the fact that Cheniere was able to complete the construction of Train 1 at Sabine Pass before schedule, while costs were kept under control.
However, as a result of this delay due to technical reasons, the company's shares have got off to a woeful start in 2016 and have already lost over 27% of their market capitalization. But, in my opinion, this is an opportunity to buy the stock, as Cheniere looks capable of making a comeback as the year progresses. Let's see why.
Don't miss the long-term picture
The start-up of LNG exports from Sabine Pass might have been delayed, but investors should not be missing the long-term picture. A delay of one or two months is not a big deal considering the end-market opportunity on offer. A technical delay in a project of this size could be considered to be a precautionary measure, and more importantly, Cheniere believes that it will have no impact on its contractual obligations.
Additionally, the company has decided to speed up the construction of Trains 2-5, which are now expected to come on line over the course of the next four years. Now, when all the trains come on line, Cheniere will be able to generate strong EBITDA numbers.
Post the completion of all trains at the Sabine Pass LNG export terminal, Cheniere is on track to generate robust EBITDA on the back of its long-term agreements. For instance, the company expects its SPL Trains 1-5 to generate nearly $1.8 billion in distributable cash flow, while SPL 1-6 is anticipated to generate around $2.3 billion per year in cash flow going forward. The following chart clearly indicates the potential for cash flow and EBITDA generation from Sabine Pass.

Source: Cheniere Energy
Thus, even though Cheniere might have faltered at the start, the long-term prospects are still enticing, especially because the company has already entered into long-term commercial agreements for annual LNG shipments of 20 million tons per annum. These agreements are anticipated to generate an annual fixed fee of $2.9 billion a year for the company when all five of its trains go on line. So, a short-term hiccup does not derail Cheniere Energy's long-term prospects.
Making the right moves to tap the huge end market
Using the six train platform at Sabine Pass, Cheniere will be able to construct 27 million tons per annum of liquefaction capacity. This will allow the company to tap consistently growing demand for LNG across the globe. For instance, as shown in the chart given below, it is estimated that 23 mtpa of new liquefaction capacity is required on an annual basis to satisfy a forecasted increase of 193 mtpa in LNG demand by 2025: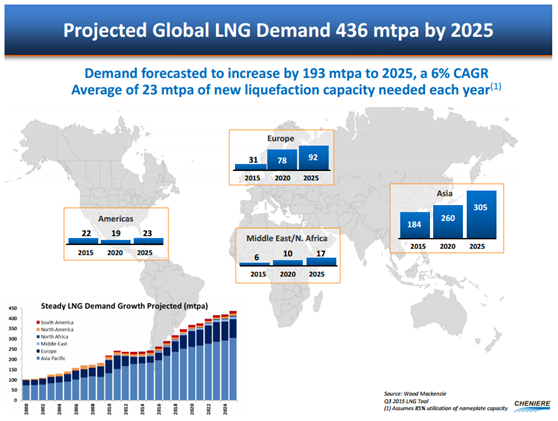 Source: Cheniere Energy
Thus, as seen above, demand for LNG will grow at a decent annual rate of 6% until the end of 2025, which is why Cheniere is working on the Corpus Christi LNG terminal as well. This terminal will have a five-train platform with an annual capacity of 22.5 mtpa, with the first LNG exports expected in 2018. Together, Sabine Pass and Corpus Christi will have an annual capacity of almost 50 mtpa, accounting for more than 10% of the annual LNG demand in 2025.
Hence, Cheniere will be able to capture a sizable portion of the global LNG market once the development of both its projects is fully complete. Additionally, as shown in the chart given below, the Corpus Christi Liquefaction project will contribute decent cash flow on the back of long-term SPAs that are worth $1.4 billion per annum.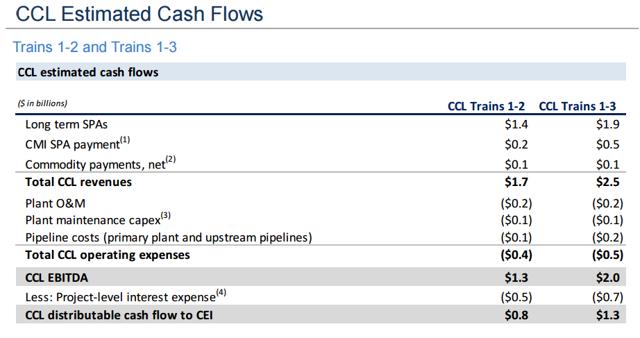 Source: Cheniere Energy
Conclusion
Cheniere Energy might have got off to a bad start this year, but its robust long-term prospects indicate that the drop is a buying opportunity. Its long-term sale agreements and the anticipated growth in LNG demand, apart from the fact that the company will be a key player in the global LNG market due to its strong liquefaction capacity, make it a buy for the long run.
Disclosure: I/we have no positions in any stocks mentioned, and no plans to initiate any positions within the next 72 hours.
I wrote this article myself, and it expresses my own opinions. I am not receiving compensation for it (other than from Seeking Alpha). I have no business relationship with any company whose stock is mentioned in this article.