Oil - My Generation's Greatest Investment Opportunity
Oil has been at the forefront of the investing landscape since the fall of 2014 when it began its spectacular descent to today's levels. Oil once over $100 a barrel in July of 2014 now passes above and below the $30 mark from week to week. Many of us, "younger" investors, have been told that this is our golden opportunity and that we should ride this oil wave back up. I pose the question as to whether now is indeed the right time to make an entrance.
I initiated a small position in the VelocityShares 3x Long Crude Oil ETN (NYSEARCA:UWTI) last year in February, but got cold feet and took a 5% loss when I soon realized that things were only going to get worse and exited my position in April of 2015. Since that time, UWTI has gone through a 10:1 reverse split and is trading at $2.04 as of this writing, which is lower than the prices I experienced during my shortly-lived position, ranging from $3.00 to $4.00.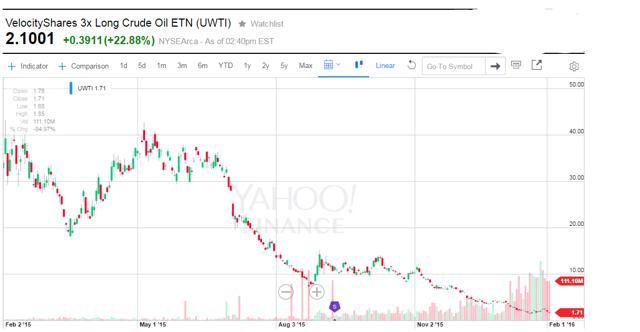 Chart from 2/1/2015 through 2/3/2016 via Yahoo Finance
A growing number of people feel there is an acceptable margin of safety that continues to grow, with Bloomberg reporting that The United States Oil ETF (NYSEARCA:USO), which tracks the price movements of WTI, saw its largest monthly inflow in January totaling $904 million. Oil has indeed experienced a brief rally from its 12-year low on January 20th of $27.09 a barrel and is now back above $35 a barrel. The week of January 26th, speculators' net long position rose to 110,432 contracts; this equated an increase of 35%, the largest percentage gain seen since October of 2010 according to the U.S. Commodity Futures Trading Commission.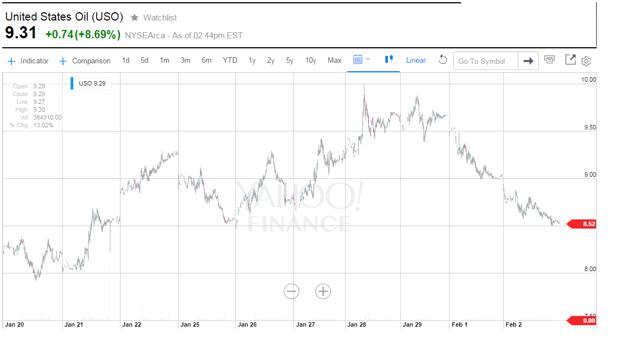 Chart from 1/20/2016 through 2/3/2016 via Yahoo Finance
Today, as I write this, oil is gaining, directly in the face of a bearish EIA petroleum inventories report showing the following:
Crude +7.8M barrels vs. +4.7M consensus, +8.4M last week.
Gasoline +5.9M barrels vs. +1.7M consensus, +3.5M last week.
Distillates -0.8M barrels vs. -1.1M consensus, -4.1M last week.
This growth also spurred by rumored talks of production cuts with Russia and OPEC, which, up to this point, have been just that - rumors. I have been taking opportunities as they come to buy put options on USO as I have been enjoying steady pickups of 10-15%. I will be looking to purchase more put options on USO today as I feel that today's climb is unwarranted and not justified by any news available to the markets.
Against my own personal views, a median of 17 analysts' predictions compiled by Bloomberg is calling for a climb of more than $15 by the end of 2016 with New York crude reaching $46 a barrel. Goldman Sachs is predicting that the global surplus responsible for the 12-year low of oil will transition to a deficit once the United States shale producers decrease production to which the EIA states that U.S. production will decrease by 620,000 bbl/day from now until year's end. Of that 620,000 bbl/day, 600,000 is predicted to come from non-OPEC suppliers. According to Baker Hughes, the oil rig count for the United States as of January 29th was 498, down from 1,223 rigs a year ago. With the United States rig count one third of what it was a year ago, how come we haven't seen the rebound yet?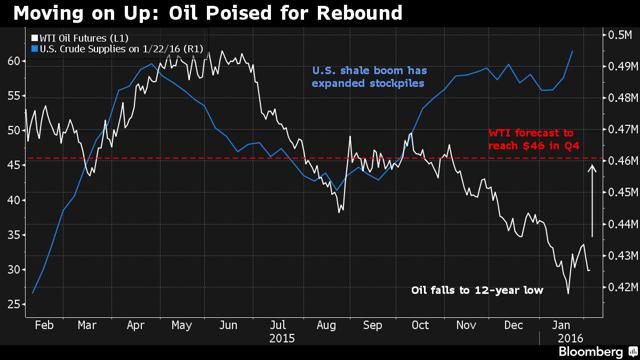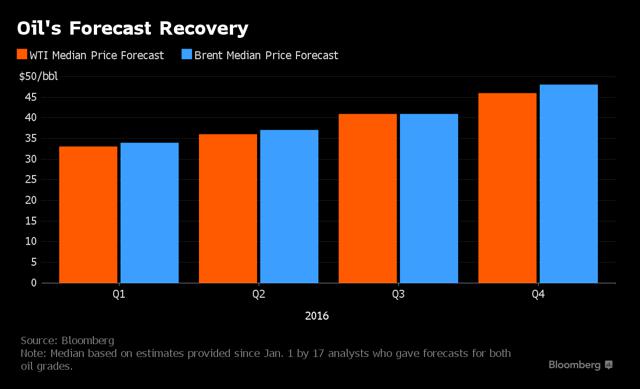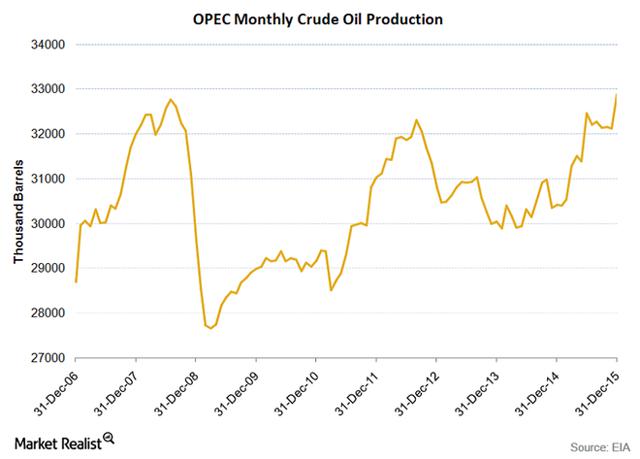 While production is the supply side of the equation, what about the demand side? The United States was one of the largest sources of increased global demand for oil in 2015, accounting for 300,000 bpd, and is predicted to only grow consumption by 110,000 bpd according to the IEA's December 2015 report. More alarming is that in this same report, in 2015, 600,000 bpd came from China, which is experiencing an economic downturn at the moment with consistent declines in its manufacturing sector and economy as a whole, and is predicted to grow oil consumption by only 350,000 bpd. This slowing growth, coupled with the increased output over the years, has created the glut we are currently experiencing and will continue to experience based on the combined maximum output from OPEC, Iran, and Russia. The chart below shows OPEC's finishing December just short of 33,000,000 barrels.
Russia has also followed suit with its energy ministry recently reporting that oil production increased from 10.83 million bpd compared to 10.78 million bpd. Though Russia has signaled it is willing to talk production cuts, OPEC has not reciprocated the request yet. In addition to Russia, Iran reports it is looking to bring 500,000 bpd to the party, further worsening the glut. The IEA world market report is predicting a world oil demand peaking in the fourth quarter of 2016 at 96.49 mb/d, which is only 1.45 mb/d more than the fourth quarter of 2015. With world oil supply already 96.88 mb/d in the fourth quarter of 2015 and no signs of OPEC nor Russia cutting production, compounded with Iran coming online, the picture for higher oil prices looks bleak.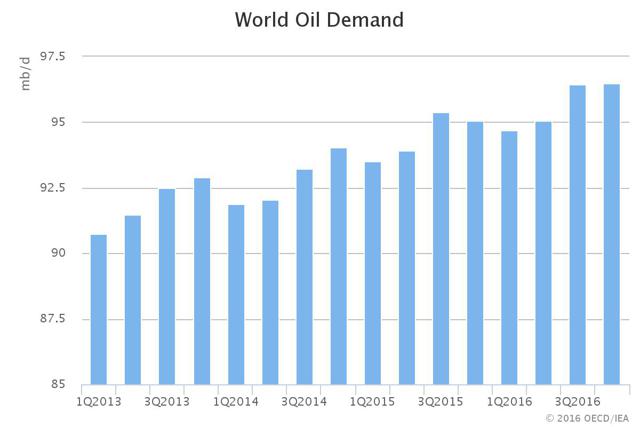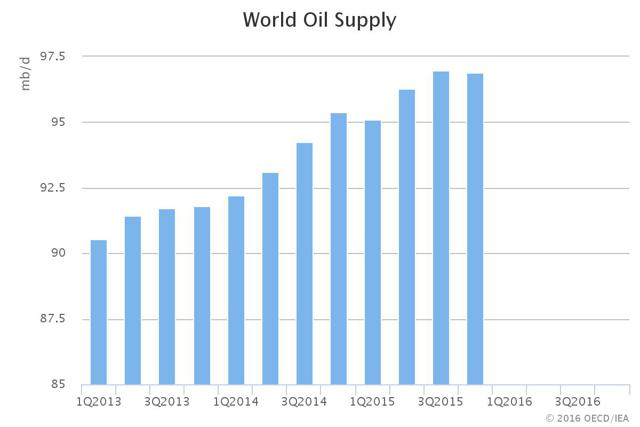 Has a bottom actually formed here? Is now the time to make a grand entrance and stake a claim on my generation's "greatest investment opportunity"? I do not believe now is the best time as I think there is enough downside remaining to warrant sitting on the sidelines for another quarter or two. With production increase by OPEC, Russia, and Iran coming online compounded by the slowing growth of demand, trying to catch this falling knife is a losing game, then again, nobody can truly call a bottom until it has already passed with hindsight being 20/20. I will happily risk the opportunity cost of missing the point of maximum return by getting in at the bottom, and would much rather experience the gain once the turnaround seems more certain and bullish signals consistently form. All turnarounds are risky - and I choose to mitigate my downside risk by playing the short game, if any at all in the near future.
Disclosure: I/we have no positions in any stocks mentioned, but may initiate a short position in USO over the next 72 hours.
I wrote this article myself, and it expresses my own opinions. I am not receiving compensation for it (other than from Seeking Alpha). I have no business relationship with any company whose stock is mentioned in this article.