Plug Power (NASDAQ:PLUG) held the company's 2016 business update on Thursday and during the call CEO Andy Marsh and CFO Paul Middleton provided an update on 2015 preliminary results as well as a preview of 2016. Overall Plug's outlook met street expectations for revenue $150m guidance versus $150.69 expected by analysts.
If it wasn't for the accounting of sales leaseback transactions Plug Power would have guided for revenue of $160m (60% growth) along with gross profit of $25m (15% gross margin) instead of $150m and $15m (10% gross margin). I wanted to simply point out that Plug's business activity in terms of volume is growing over 50% in 2016, however as it turns out $10m of revenue related to sales lease back transaction in 2016 will be spread out over a period of years versus recognized up front.
Management confirmed that Gen Drive gross margins would exceed 25% in Q4 2015 and full year revenue will exceed $100m for 2015. Overall Andy Marsh and team delivered against expectations, which is primarily driven by Plug's mature business model that has become more and more predictable coupled with a highly satisfied customer base.
Plug will likely take a one-time non-cash charge in Q4 or Q1 to remedy the premature stack failure issue that was expected to be a $1m quarterly charge through Q3 2017. A move to record a one-time non-cash charge would also likely result in Plug reporting GAAP and Non-GAAP earnings due to the non-recurring nature of the premature stack life charge.
Some highlights from the business update and my call with Andy Marsh include Plug's diversification away from Wal-Mart (NYSE:WMT). In 2015 Wal-Mart will account for nearly 60% of Gen Drive shipments and over 65% (10 out of 15) infrastructure deployments. In 2016 Wal-Mart will account for only 50% of Gen Drive shipments and 44% (11 out of 25) infrastructure deployments.
Plug's 2016 outlook made it clear that the company continues to make tremendous traction with existing and new customers to increase infrastructure deployments. Increasing deployments outside of Wal-Mart is important for business diversification as well as improving overall gross margins. Additionally, an increase of non-Wal-Mart infrastructure installations will improve Plug's geographic footprint, which in turn will help drive service margin improvements over time.
Wal-Mart has been and will continue to be a tremendous partner for Plug, but investors should be cheering for growth outside of Wal-Mart. Plug's deployments outside of Wal-Mart will be the primary driver of growth for years to come as I expect Wal-Mart deployments to remain steady at 10 to 12 infrastructure sites per year or roughly $65m of revenue per year in line with Plug's anchor customer target of $65m per year.
Source Plug Power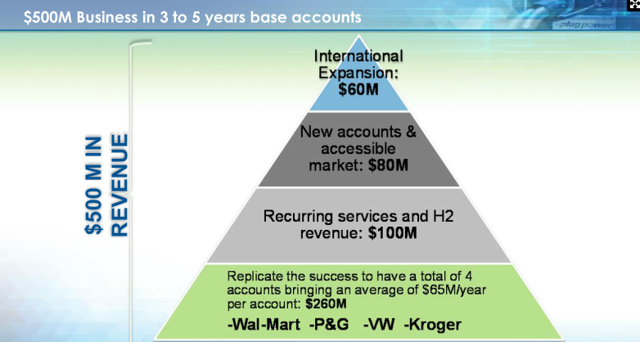 Wal-Mart has been a great partner for Plug and I do not expect this to change. Plug is working on Hydrogen generation in 2016 with an external partner. My expectation is that the first on-site hydrogen generation facility will be installed in close proximity to a Wal-Mart. Wal-Mart is a high volume consumer of hydrogen and installing hydrogen generation infrastructure nearby will not only save the company money, but also strengthen Plug's overall business proposition with Wal-Mart and other key customers nearby.
Plug's Gen Fund continues to pick up momentum and more details will be emerging over the next several weeks. There is a possibility depending on the financing that comes in that restricted cash could be lowered, but is unlikely to be eliminated. Over the course of 2016 restricted cash is expected to drop $10m as sales leaseback transactions come off the balance sheet and at a minimum investors should expect $10m of restricted cash to be freed over annually as a result of the timing of sales leaseback accounting.
The largest potential risk for shareholders is the passing of the fuel cell FTC extension. If the FTC is not passed by July it may begin to have adverse effects on Plug's FY 2017, however at this juncture the FTC extension is expected to pass over the next few months. I tend not to over think and worry about what Congress is doing, but I do believe the passing of the FTC will result in significantly more benefit than harm for the US economy, technological advancement and sustainable green energy.
The failure of Congress to extend the FTC beyond 2016 would impact Gen Fund investors that would be taking advantage of the FTC as well as new bookings. Gen Fund investors would find Plug's financial offering as much more palpable with a defined benefit and return on investment that would come with the extension of the FTC from 2016 to 2021. In a bearish case scenario the failure to extend the fuel cell FTC would likely drop Plug's long-term growth from 50% down to 30%, however at this point it is too early to put the cart before the horse.
Operating cash burn in 2016 is expected to come in at $20m versus $41m of cash used in 2015 and 2014 including breakeven or possibly positive cash flow in Q4 2016. With Plug's revenue expected to grow 50% or better in 2017 I expect the company to be profitable for the full year and generate upwards of $12m of cash from operations in 2017.
Plug's cash balance remains sufficient to fund operations for the foreseeable future and there is a less than 1% chance that Plug needs to raise additional capital. Wal-Mart has achieved critical mass and should continue to convert 10-12 sites annual into the future and generate roughly $65m a year for Plug.
What excites me the most about 2016 is that anchor customers outside of Wal-Mart including VW, P&G and Kroger will fuel Plug's 50% revenue growth in 2016 and beyond. Plug's strategy going forward is to cultivate existing customers and develop more anchors than can produce $65m a year of revenue and target new customers that are amongst the top 15 retailers in North America including Target, Amazon and Macy's.
Plug Power's fuel cell offerings for material handling save companies money. In a US economy that remains uncertain Plug's customers will need to invest in new projects that lower operational costs. If Plug's customers are prone to top line weakness it will become even more important for these customers to leverage operations and improve margins.
If someone asked me about Plug Power and what has changed over the last 12 months I would tell them everything. For the first time in company history management has clear visibility and a road-map to grow revenue consistently over 50% a year, improve gross margins across the board and become a profitable business in 2017.
For the first time in years the primary driver of revenue growth in 2016 and beyond will not come from one company (Wal-Mart) and instead will come from a growing emerging anchor customers including Volkswagen, P&G (NYSE:PG) and Kroger (NYSE:KR). Administrative overhead has reached critical economies of scales and will continue to decline rapidly as a percentage of sales.
All in all I'm very excited about Plug's business trajectory towards sustainable profits driven by multiple anchor customers. I'm looking forward to seeing other institutional buyers follow Blackrock's lead and buy shares of Plug. Blackrock recently disclosed holding over 9.6m shares of Plug in a January 28th SEC filing.
Over the course of 2016 I hope Mr. Market will finally reward loyal shareholders and management with a premium valuation based on the company's growing track record of delivering against goals and objectives. We are only a month into 2016, but Plug's management team is already well on their way towards delivering again in 2016 with $105m of revenue is already under contract for 2016 as of the end of January.
Disclosure: I am/we are long PLUG.
I wrote this article myself, and it expresses my own opinions. I am not receiving compensation for it (other than from Seeking Alpha). I have no business relationship with any company whose stock is mentioned in this article.