Vista Gold (NYSEMKT:VGZ) has been in the spotlight because of Eric Sprott's involvement in the company (5 million shares or 7% of the company). Recently, Sun Valley Gold invested quite a big amount in Vista Gold (6 million shares).
Vista Gold's market cap is US $250 million. The company has no debt and has a working capital of US $25 million. Its management is very experienced (all around 30 years of experience).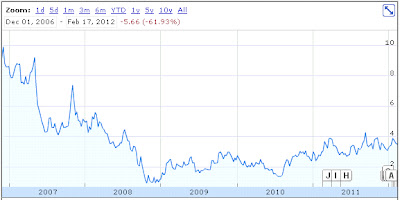 Vista Gold
1) Vista Gold's assets are enormous
Vista Gold basically has 3 properties: Mount Todd, Guadalupe de los Reyes and Concordia.
Mount Todd is the company's biggest resource and is in its feasibility stage. It contains 4 million ounces of proven and probable gold reserves (value of US $7 billion) and 1.2 million ounces of measured and indicated + inferred gold resources (value of $US 2 billion). The company will issue a feasibility report in the first quarter of 2012 and expect environmental permits in the 3rd quarter of 2012. It's estimated to produce 240000 ounces gold/annum (US $400 million/annum) at a very low production cost of US $600/oz. Construction will take 2 years, so production could start in 2015.
Guadalupe de los Reyes is its second property on which Vista Gold recently released its updated resources. Guadalupe de los Reyes is in its pre-feasibility drilling stage. Besides 800000 ounces of gold (value of US $1.3 billion), this property also contains a huge amount of silver: 18 million ounces of silver (value of US $600 million).
Its third property, Concordia, has 1.3 million ounces of proven and probable gold reserves (valued at US $2.2 billion) and 2 million ounces of measured and indicated resources (valued at US $3.4 billion) and is basically just waiting for environmental permitting.
These three properties together have a value of US $16 billion, while the company has a market cap of only US $250 million. That's 64 times Vista Gold's market cap. Of course, producing these gold resources costs money, but in this case Vista Gold is extremely undervalued. I'll tell you why.
Vista Gold has a US $147 million investment in Midas Gold (which is 30% of Midas Gold). If Vista Gold were to sell all its shares in Midas Gold, it would get US $147 million in cash. So basically, to get the real market cap of the company, we need to subtract that amount from the current market cap of Vista Gold. Which is US $250 million - US $147 million = US $103 million.
The conclusion is that Vista Gold's resources (US $13 billion) are valued 160 times more than its real market cap (US $103 million)! The problem is, will they get the gold out of the ground?
2) Vista Gold has a near term catalyst
Due to bad news in the past about the Change of Forest Land Use ("CUSF") permit application at Concordia/Paredones, there was pressure in 2010 when its share price went as low as US $1.38/share. But there has been improvement since then.
Last year they issued shares in the amount of US $30 million (Sun Valley was part of this offering), so they have adequate amounts of working capital. To advance their projects they have now entered into a transaction with Invecture Group which reduces the risk of the Concordia project. Invecture Group (Frontera Copper), a US $80 million company, will have the option to buy a 60% stake in the Concordia project (before 2014) in exchange for US $2 million immediately and US $20 million to be paid later on. But most importantly, Invecture Group will be pursuing the Change of Forest Land Use permit during these two years going forward and will be taking all the costs for the advancement of the Concordia project till the construction phase. I believe this is a huge step forward for Vista Gold to advance the project and will shorten the timeline.
Not to be forgotten is their milling equipment at Concordia with a value of US $16 million, which is an important asset going forward in the construction phase.
Conclusion:
Based on these catalysts and especially when Mount Todd comes into production in 2015, I see Vista Gold doubling in price to at least US $6 in the coming years as its market cap is extremely low compared to the amount of resources in the ground, while earnings growth is very high. The only prerequisite is that their projects work out in terms of mining permits and financing.
Disclosure: I am long VGZ.