The opening of 2016 was a terrible start to the year for most investors. The "Santa Claus Rally" was basically non-existent, and 2015 closed with a whimper, leaving many investors jaded. There were some lone bright spots amidst the carnage, and loss-weary investors flocked to those safer havens. Often, during times of turmoil, we see the "rich get richer and the poor get poorer," which can result in uncharacteristic rises in share prices for many companies. Recently, we have seen that happen with many companies that investors feel are "recession-proof."
McDonald's (NYSE:MCD) is a name that requires little introduction. For decades, the company has virtually dominated the fast food space of the restaurant industry and remains incredibly relevant in an ever-changing market. The business has been performing well, and thusly, so has the stock. Beginning last August, MCD started to break away from the S&P 500 and is now outperforming it to the tune of 36%. With McDonald's most recent earnings beats that came to us on January 25, the share price climbed even further, as the company also reinforced expectations for 2016. Its success has created a rare overvaluation, and MCD is now trading at a P/E of 24.8, which is much higher than its typical 19.2 over 20 years. At first glance, it is evident that McDonald's is now overpriced and must fall back down to a more reasonable valuation. When looking at the broader industry and its closest competitors, Yum Brands (NYSE:YUM) and Wendy's (NYSE:WEN), MCD should trade more in line with them around 20x earnings.
McDonald's, from a historical standpoint, has been a great-performing company and stock. Since 2002, it's been on a steady and sustained climb in both price and earnings, with only 2014 and 2015 being down years for EPS. The recent spate of success has largely been attributed to Steve Easterbrook, who took over as CEO in March 2015 after serving as the chief brand officer and the company's head in the UK and Europe. In October, McDonald's made the decision to serve all-day breakfast, and since then, it has been lights out, with the share price rising by $26 while the rest of the market slowly trudged through the doldrums. On the heels of all-day breakfast, McDonald's has raised its guidance for 2016 and 2017, and expects 8% and 12% growth, respectively, in EPS. The growing EPS is a welcome relief for investors who have seen it shrink by 8% in 2014 and 3% in 2015. The raised guidance and successful implementation of new strategies to drive sales higher has resulted in a rapid and almost unsubstantiated rise in share price.
Despite the steady rise in EPS (last two years excluded) and share price since 2002, McDonald's has only ever traded above a P/E of 20 a few times, and has always come back down to trade at an average of 17.6. The stock has been tightly held to trading at a certain P/E level, and we have never seen it reach as high as it has now, even when EPS rose by as much as 27% in 2008. When looking at the below chart from F.A.S.T Graphs, you can more clearly see the problem with the current price.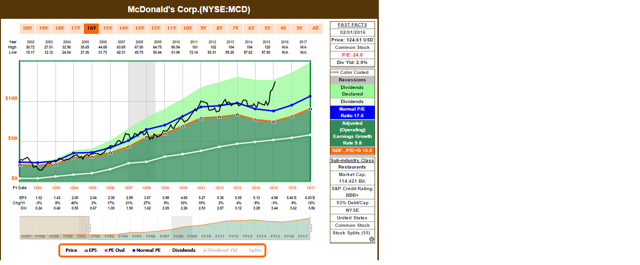 In the past 20 years, nothing like this has happened to McDonald's share price. The rise in share price appears to be based in hope and not fundamentals.
The strong dollar appears to be having a huge negative impact on MCD and pretty much all other multinational corporations. All through the company's 8-K, it has adjusted for currency compared to 2014, and when it does so, we have 2015 edging out 2014. While adjusting for currency gives shareholders an idea of how the company would perform without the forex headwinds, it doesn't place more money in the bank for MCD. Calling a "top" in the US dollar has proven about as effective as calling a "bottom" in oil. Even when accounting for currency adjustments, the growth year over year was good, but still fails to justify the share price. On a currency-adjusted basis, revenues rose by $801M (3%), operating income was lower by $34M (-.5%), net income rose by $244M (+5%) and EPS was at $5.30 (+9%). Decent numbers, but a 31% increase in price since August still doesn't make much sense.
Digging deeper into the earnings release, there is promise in the number of stores McDonald's is opening.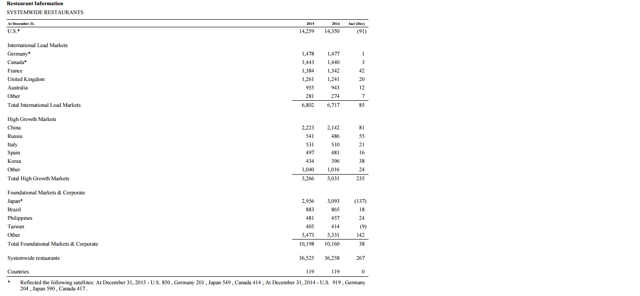 Stores in the United States dropped which may appear negative but is part of their plan to close underperforming locations. Every other market besides Japan and Taiwan saw an increase in stores bringing total opened in 2015 to 267. McDonald's has a presence in 119 countries and has done a great job in catering to local tastes. With the company increasing overall stores by less than 1%, that 31% increase in share price seems even more tenuous.
Depending on your stance on McDonald's, the balance sheet could be a positive or negative. In corporate bonds, the company holds $18B in debt with mostly low coupons. The debt is pretty well structured and carries out to 2054, and is trading well - as it should with an established company. The debt/assets sits at 54%, and its high level of FCF should put investors at ease. For a company that seems to be entering into a period of growth and is currently undergoing a "turnaround," the debt levels make sense and don't really concern me.
There are many competitors to MCD in the fast food space. Recently, Chipotle Mexican Grill (NYSE:CMG) appeared to be eating into its profits, as consumers were enamored with the healthier options and trendy atmosphere offered by the rapidly expanding chain. As we all know, the E. Coli outbreak pushed Chipotle's customers away in droves, and the damage is still being done. Had this not happened, it is hard to say what the numbers for McDonald's would look like, but now the company is capitalizing on regaining its market share. Even after the panic and sell-off, Chipotle trades at 34x earnings, making McDonald's look cheap. Comparing the two companies is difficult, though, as CMG was viewed as a growth stock, much like Facebook (NASDAQ:FB) or Amazon (NASDAQ:AMZN) are seen, but there is no doubt it posed a huge threat to McDonald's going forward. Another competitor in the space is Wendy's (WEN), which recently upended marketing tactics with its "4 for $4" deal, which snatched the company some market share and sent MCD and Burger King (NYSE:QSR) scrambling to catch up with their own similar marketing campaigns. Wendy's is a pretty volatile stock historically, and the company's chart is ridiculous, with EPS all over the place - but it has stabilized at a P/E of 30 over the last five years, again making MCD again look cheap. Yum Brands, which includes KFC, Pizza Hut and Taco Bell, has a more stable history than Wendy's and is cheaper from a valuation standpoint, trading at 23x earnings. Right now, YUM appears expensive, though, as its normal range is at 18 even after undergoing a sharp correction. When you look at the large competitors in the space, it seems as if McDonald's is finally trading in line with a P/E of 24, if not still undervalued, when compared to its peers. This is the one thing that causes me to worry and is why I could be missing the boat on MCD.
As a long-term investor who seeks safe and reliable dividends, I have no doubt in my mind that McDonald's is a great company that I'd like to own one day. At the same time, I'm also a value-oriented investor who has been slowly learning patience. I plan to sit this one out for now, resigning myself to the possibility that I could be missing a chance, but still convinced that in the near future the price will lower to a more attractive point. There is a lot of excitement surrounding McDonald's, and the share price reflects that. I feel the excitement is mostly overblown, and a price between $110 and $115 will offer a safer entry point on future earnings that will place the company at a 18-19 P/E, which is still a little over the historical level from 2002. With a refreshed approach to the business, a simplified menu and all-day breakfast McDonald's should trade at a higher valuation - just not this high, not yet. The company has only recently begun to grow out of its last two years of negative growth, and another quarter or two to proof-test its turnaround will make me feel much better. I appreciate you all for reading, and I look forward to the discussion in the comments. As always, best of luck to you!
Disclosure: I/we have no positions in any stocks mentioned, but may initiate a long position in MCD over the next 72 hours.
I wrote this article myself, and it expresses my own opinions. I am not receiving compensation for it (other than from Seeking Alpha). I have no business relationship with any company whose stock is mentioned in this article.