The IPO market continues its three-year run of biotech offerings.
The Nasdaq Biotech Index is down 23% this year. A whopping 81% of 2015 biotech IPOs trade below issue. Against that backdrop, large biotechs Editas Medicine (NASDAQ:EDIT) and BeiGene (NASDAQ:BGNE) delivered solid first-day returns as the first two IPOs of 2016.
Chinese immunotherapy biotech BeiGene priced an upsized IPO at the high end of the range ($158 million) and gained 18%. It was the first biotech IPO to price above the midpoint since September's REGENXBIO (NASDAQ:RGNX). However, the deal was supported by the company's largest shareholders, who committed to buying up 50% of the offering.
Preclinical gene editing biotech Editas Medicine priced at the low end ($94 million) and nearly broke its offer price, but finished its debut up 14%. Founded in 2013, the Editas IPO demonstrated investor demand for very early-stage biotechs and provided an enviably quick turnaround for its backers, both venture (Flagship, Polaris, Third Rock) and crossover (Fidelity, T. Rowe, Jennison, Google). No insiders publicly indicated on the deal.
Biotech IPO activity exploded alongside massive biotech returns during the past three years.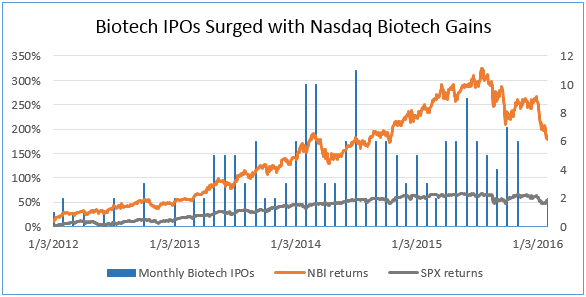 One in three IPOs was a biotech in 2015.
More biotechs on the IPO calendar
In addition to small biotechs hoping to price this week, two more are scheduled for next week. Early-stage gene therapy biotech AveXis (NASDAQ:AVXS), underwritten by Goldman, is hoping to raise $85 million. Backed by Deerfield, Venrock and T. Rowe (NASDAQ:TROW), insiders have indicated on 35% of the float. Cystic fibrosis biotech Proteostasis Therapeutics (NYSE:PTI) plans to raise $50 million; insiders have indicated on 60% of the deal - more than 97% of 2015 biotechs.
Even more biotechs in the IPO pipeline
The biotech sector could power the IPO market through the rest of the quarter as well. Of the 17 new IPO filings in January, there were 13 healthcare companies, including 11 biotechs. Two biotechs are looking to raise $115 million: Corvus Pharmaceuticals (NASDAQ:CRVS) and Oncobiologics (NASDAQ:ONS).
Still no tech IPOs: High-growth names like Nutanix (NASDAQ:NTNX), Acacia Communications (NASDAQ:ACIA) and SecureWorks (NASDAQ:SCWX) filed publicly in December, but volatility, the broad sell-off, and particularly poor performance from peers have likely caused them to delay setting terms.
Investment Disclosure: The information and opinions expressed herein were prepared by Renaissance Capital's research analysts and do not constitute an offer to buy or sell any security. Renaissance Capital, the Renaissance IPO ETF (NYSEARCA:IPO), the Renaissance International IPO ETF (NYSEARCA:IPOS), or the Global IPO Fund (MUTF:IPOSX), may have investments in securities of companies mentioned.