In a world in which the 10-year Treasury yield is below 1.85%, inexpensive and high-yielding stocks in a strong financial position are very much in demand. Such an opportunity exists in the common stock of General Motors (NYSE:GM). At a recent price of around $28.30 per share, GM yields around 5.4% and trades at about 5.14 times expected 2016 earnings, using the midpoint of guidance. While the big concern with GM is that auto sales peaked in 2015 in the U.S. and China, while South America and Europe remain weak, I don't believe market participants are giving the company credit for the efficiency and product improvements the company has made since emerging from bankruptcy. For investors seeking both yield and capital appreciation GM might be a perfect choice for your portfolio.
On February 3rd, GM reported stellar 4th quarter earnings. 4th quarter EPS-adjusted of $1.39, was up 17% YoY. The quarter had a special gain related to special items that made GAAP earnings $3.92 in the quarter. 4th quarter net income was $6.3 billion, including that item, while EBIT-adjusted was a record $2.8 billion. For the full-year 2015, GM reported EPS-adjusted of $5.02, which was up from $3.05 in 2014, and GAAP earnings per share of $5.91. Full-year EBIT-adjusted earnings rose to a record $10.9 billion, up from $6.5 billion in 2014. Importantly, the EBIT-adjusted margin for the year increased to a record 7.1%, up from 4.2% in 2014, and returns on invested capital were a stellar 27.2% in 2015.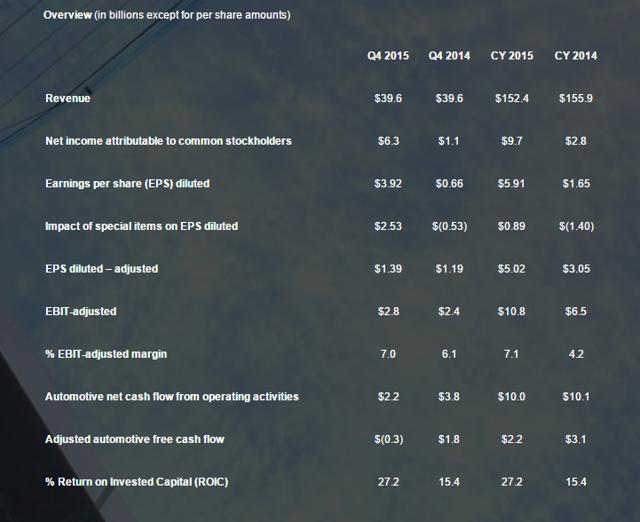 Source: GM 4th Quarter Investor Presentation
GM North America (GMNA) reported EBIT-adjusted of $2.8 billion in the 4th quarter of 2015 compared to $2.2 billion in 2014. Full-year EBIT-adjusted of $11 billion and EBIT-adjusted margin of 10.3% were records, and up from EBIT=adjusted of $6.6 billion and EBIT-adjusted margin of 6.5% in 2014. GM Europe (NYSE:GME) reported EBIT-adjusted of ($0.3 billion) in the 4th quarter of 2015, reducing the loss from ($0.4) billion in 2014. Full-year EBIT-adjusted was ($0.8) billion in 2015, compared to ($1.4) billion in 2014. It will be very important for Barra and GM management to deliver a profitable European operation as the macroeconomic environment improves across the Atlantic. GM International Operations (GMIO) reported EBIT-adjusted of $0.4 billion in the 4th quarter of 2015, compared to $0.4 billion in 2014. Full-year EBIT-adjusted was $1.4 billion in 2015, up from $1.2 billion in 2014. Included in these results was China equity income of $0.6 billion in the 4th quarter and $2.1 billion for the full year.
GM South America (GMSA) reported approximately break-even results in the 4th quarter of 2015, down from EBIT-adjusted of $0.1 billion in 2014. Full-year EBIT-adjusted was ($0.6) billion in 2015, compared to EBIT-adjusted of $(0.2) billion in 2014. Brazil and Venezuela are in deep recessions if not depressions so it will take a recovery to get back to solid profitability in this segment, but of course South America is a key market. GM Financial reported earnings before taxes (EBT) of $0.2 billion in the 4th quarter compared to $0.1 billion in 2014. Full-year EBT was $0.8 billion, compared to $0.8 billion in 2014.
In the United States, Chevrolet grew market share faster than any other full line brand in the industry, up by 0.4 percentage points. Full-year global Cadillac sales were up 8% and in China were up 17%. Year-end total inventory was down by more than 100,000 units or 14%, which is the lowest level in 4 years, so if 2015 was indeed the peak, the company is well prepared. In January, the company is launching the popular Chevrolet Malibu and is optimistic that it can continue to lead to improving sales and financial results due to its higher profitability makeup than previous iterations. In Europe, Opel and Vauxhall saw improved full year sales and market share for the 3rd straight year. Chinese sales for GM were up 5% YoY, to 3.6MM vehicles. Increasingly, the sales in China are the more lucrative SUV brands led by the Buick Envision and the Baojun 560. In 2015, one in every three of GM's retails sales was financed by GM Financial, which was up from one in ten just a year ago.
Over the course of 2015, GM returned $5.7 billion to shareholders in 2015, including $2.2 billion in common stock dividends, and $3.5 billion in stock buybacks. For all of 2015, automotive free cash flow was $2.2 billion, down from $3.1 billion a year ago. GM ended the year with automotive liquidity of $32.5 billion, down from $37.2 billion at the same time last year. The company has ramped up its stock buyback and its dividend, which at current prices is immensely compelling. Each share retired saves the company on dividends that are paid out and increases earnings per share, due to the crazy low valuation at which shares can now be purchased at.
GM has been consistently taking steps to improve efficiency. The company is well on its way to achieving the $5.5 billion in cost efficiencies that were planned by 2018, freeing up money that is allowing the company to reinvest in its brands and technology. In 2015, GM had more than $2 billion in saving in non-raw material and logistics, ahead of schedule and twice what the company achieved in 2014. The company has further room for improvement, particularly in the areas of material and logistics, which gives the company confidence that it can continue to make margin enhancements. While many analysts seem to be advocating that U.S. auto sales have reached a peak, CEO Mary Barra seems to be taking a different view. Her view is based on the fact that industry fundamentals, such as the age of the vehicle fleet, firm used car pricing, credit availability, are all supportive of continued strong sales. Regardless, it is an inevitability that GM is in a cyclical industry but the company hasn't been as well prepared, as it is now, to deal with a challenging downturn in many decades. GM's breakeven point in the U.S. has been maintained at an industry level of between 10 million and 11 million units since the company has kept its fixed costs flat over the past number of years.
The company reaffirmed its expectation that its EPS-adjusted will be between $5.25 and $5.75 per share in 2016. While 2016 might not be as good as 2015, it should be pretty close. Low gasoline prices are shifting the product mix towards SUVs which carry higher profit margins than smaller vehicles. I don't believe that the U.S. consumer is in nearly the dire straits as is implied by the current GM share price. Coming out of such a steep recession, I believe we will see a longer recovery cycle, but GM should definitely be prudent and maintain its eyes on inventories. If GM can reduce losses in Europe and South America, the profitability of the company can improve markedly even if we don't see the same growth in the U.S. and China. For long-term investors, buying now and capturing the yield and at least 25% upside seems to make quite a bit of sense.
Disclosure: I am/we are long GM.
I wrote this article myself, and it expresses my own opinions. I am not receiving compensation for it (other than from Seeking Alpha). I have no business relationship with any company whose stock is mentioned in this article.