Sina (NASDAQ:SINA) reports 4Q11 results on February 27th. The Street expects the company to earn $0.21 per share on $129.3 million in revenue.
In 3Q11, Sina reported $0.26 per share on $130 million in revenue on a non-GAAP basis. However, on a GAAP basis, the company recorded an one-time impairment charge of $5.01 per share. The impairment charge was due to a write off on the intangible assets in mobile value-added-services, China Real Estate Information Corp (NASDAQ:CRIC) and Mecox Lane (NASDAQ:MCOX). For a detailed overview of Q3, please see my November 13th note titled "Sina Q3 Highlights: Weibo Monetization Taking Off".
Heading into earnings, investors need to focus on the regulatory impact of real-name registration on Weibo in 1Q12. Last December, Beijing Municipal Government required Weibo users to provide real-identities in their accounts. While I pointed out that such regulatory policy will have minimal impact on Weibo in my December 25th note titled "Beijing Real-name Policy On Sina's Weibo", on February 7th Beijing Municipal Government announced that Weibo real-name registration deadline is set to March 16th, after which non-real name users will only use their account in read-only mode that prevents them from sending, forwarding, or replying to messages.
The introduction of a deadline is concerning because it indicates that the government is serious about the policy and that such a policy could eventually become nationwide in the foreseeable future, most likely by the end of this year. Because it is highly uncertain how many Weibo users will comply with this policy, a large percentage of non-compliance could negatively impact the value of Weibo as the user base and the number of hours spent on the platform declines. The nationalization of the real-name policy will ultimately hurt Sina since much of its valuation depends on Weibo monetization.
According to iResearch, China's online ad market is expected to grow 55% y/y in FY2012. However, portal advertising is expected to grow only at 26% y/y, and to 20% y/y in FY2013 and 18% in FY2014 as advertisers ramp up spending on Web 2.0 platforms such as SNS and online video.
right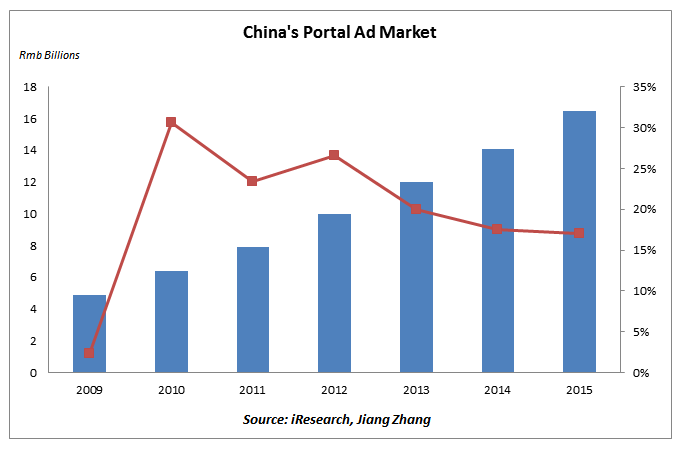 With slower revenue growth expected in Sina's main portal business due to an industry slowdown and the uncertainty involving Weibo monetization, Sina needs to implement a sound strategy that will prevent the exodus of its Weibo users so that its valuation will not be jeopardized.
Disclosure: I have no positions in any stocks mentioned, and no plans to initiate any positions within the next 72 hours.