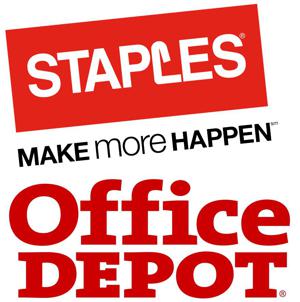 In the midst of a decline, Staples (NASDAQ:SPLS) has agreed to purchase Office Depot Inc. (NASDAQ:ODP) for a sum of $6.3 billion. This offer comes at a time when the entire office supply store industry, consisting of over seven thousand businesses, has been experiencing a steady decline. At an average yearly revenue reduction over 4%, the office supply stores industry's sales are being increasingly disrupted by the further digitalization of business (especially of small businesses, households and school administrations) and the low prices of big-box retailers and e-commerce sellers. Staples and Office Depot are not unique in their respective declines.
Last month, Staples announced that it plans to fight with the Federal Trade Commission to get their proposed merger approved. Their chances of success are slim to none for different qualitative and quantitative factors. First and foremost, it is an unusual and unique event when, if ever, the Federal Trade Commission overturns a preliminary ruling. The Federal Trade Commission does thorough analysis, drawing upon industry and financial experts, to make a determination into the effect such proposed merger will have on the industry, which includes their relative pricing power, bargaining power, and market share. A quantitative representation of adjusted market share and industry concentration is called the Herfindahl-Hirschman Index (HHI).
The HHI quantifies market shares in a measurable, meaningful way and can be used to illustrate the effects of proposed mergers. By calculating the change in industry concentration, it is determinable whether a proposed merger will or will not be approved. The Department of Justice uses a rule-of-thumb that if the increase in industry concentration of the proposed firms is greater than 50 on the HHI, the merger may raise significant concerns over competition. Post-merger entities are generally grouped in one of three categories. Post-merger HHIs of 1000 aren't concentrated and are therefore not expected to cause any harm to competition. Post-merger HHIs between 1000 and 1800 are a grey-area, where the industry is somewhat concentrated and the merger may or may not cause harm. The category Staples and Office Depot's proposed merger falls in is the post-merger HHI or above 1800, which applies to already highly concentrated markets. The ability to lump the merger into this group comes from the simple HHI equation, which squares the market share of Staples and the market share of Office Depot and adds them together. Staples has a market share of 38.7% and Office Depot has a market share of 37.8%. The resulting sum of the two squares is a resounding 2,926.53 (this is the merger's combined HHI) well above the 1800 line.
Even if the HHI is high, meaning concentrated, mergers may still go through if the change in HHI is relatively small and insignificant. Generally, a change in HHI of below 50 is considered small enough to allow. Any HHI change above 50 will potentially raise serious concerns about industry competition. A calculation of the increase in post-merger HHI is two times the sum of the two firms' market shares. Doing so provides an increase in HHI of 153, significantly higher than 50. The Department of Justice states very clearly, "[w]here the post-merger HHI exceeds 1800, it will be presumed that mergers producing an increase in the HHI of more than 100 points are likely to create or enhance market power or facilitate its exercise." Even in a declining industry, the Federal Trade Commission will make no exception to anti-trust laws, which is why Staples and Office Depot will, in my opinion, not happen.
Disclosure: I/we have no positions in any stocks mentioned, and no plans to initiate any positions within the next 72 hours.
I wrote this article myself, and it expresses my own opinions. I am not receiving compensation for it (other than from Seeking Alpha). I have no business relationship with any company whose stock is mentioned in this article.