There have been numerous articles on AerCap (NYSE:AER) posted in the past few months touting the stock as a great long value idea. Despite that, the stock has dropped steadily from $50 last summer, to $28 today. From 8.5x earnings, the stock now trades at 4.5x 2016 earnings. While there have been plenty of articles explaining the solid nature of the industry (impressive ROEs through the cycle), in this piece I thought we would explore why the name has underperformed so dramatically, as well as examine a few downside scenarios.
I think the upside is easy to understand. Given historical earnings multiples in the 8-10x range and multiples of book value in the 0.90x-1.20x range, the target prices range from $36 to $61 per share. That is upside of 35-125%. Patience is likely required here, but the margin of safety appears to be quite high.
Summary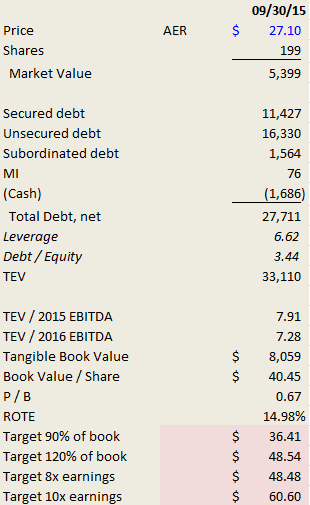 Business
AerCap is essentially a finance business for the airlines. The company buys planes and leases them to carriers on a net basis, whereby the airline pays for maintenance and service costs. AER takes the residual value risk on its fleet.
Its leases, on average, have 6.0 years of life remaining, and the fleet is 99.1% utilized today. Overall, AER owns 1124 planes, which are 7.7 years old, on average. That is roughly $35 billion worth of aircraft leased all over the world to various airlines big and small.
Defaults by customers have been extremely low over time at only 0.8%.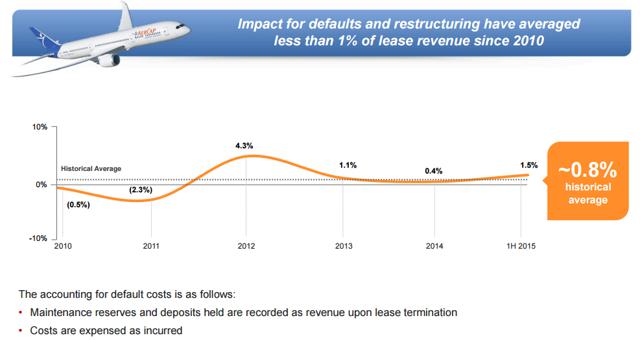 There has been a nice structural shift, from the airlines owning planes to airlines leasing planes. AER should capture a growing share of aircraft in addition to industry growth in the 2-4% range.
Here is a snapshot of the company's fleet as of September 30, 2015: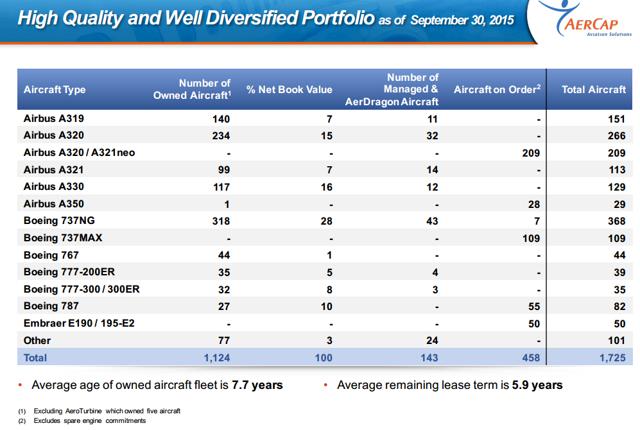 Management has a performed admirably, having grown book value per share from $8.83 in 2006 to $40.45 today. Similarly, EPS has grown impressively, from $1.29 in 2006 to approximately $6.00-6.25 in 2015.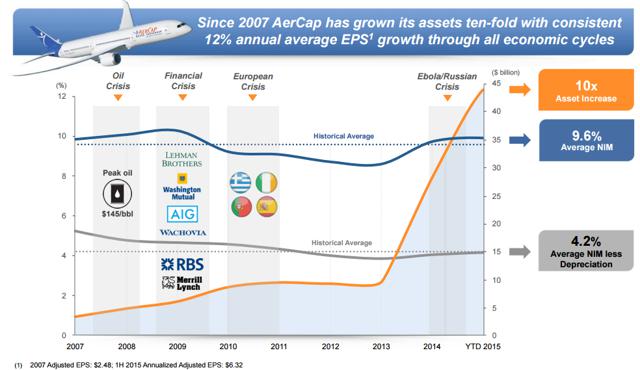 EPS (unadjusted) looks like this going back to 2008: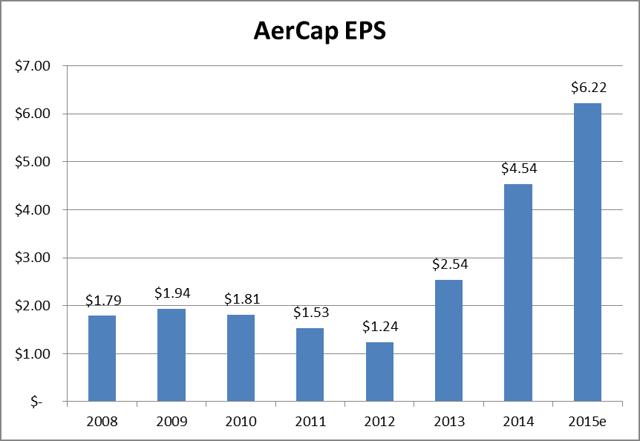 Book value per share also has grown nicely, with the bump in 2014 owing to the ILFC acquisition: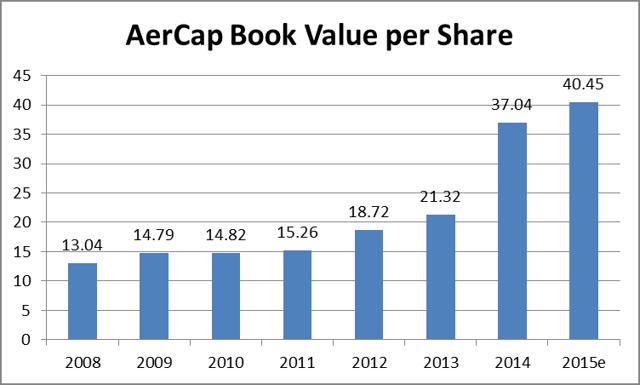 A couple of points here:
1) The company never lost money throughout the financial crisis. Generally, only the best financials/banks managed to post positive earnings in 2008-2009. I tend to stay away from any financial that lost a lot of money during the crisis, as it speaks to poor underwriting, and also poor management in general. Citigroup (NYSE:C) is a great example of a stock I'll probably never buy and that will always appear cheap. Overall, the leasing industry offers steady Net Interest Margins (NIMs, typically around 10%) and can be enormously cash flow-generative (particularly for the biggest players with scale).
2) Earnings could, and arguably will, be stagnant over the next couple of years. As we saw in 2008-2011, EPS dropped from $1.94 to $1.24. However, the company sells older planes, and the noise from asset sales tends to be lumpy. Almost always there are gains, but the dip in 2012 makes one wonder what happened. Simply put, EPS was skewed downward that year by losses on sales of planes.
Let's go into a bit more detail on this and break up AER's business model into leasing versus residual value risk.
Leasing (Credit) Risk
Like we said, the company takes counterparty credit risk and residual plane value risk. That is the business model in a nutshell. The market today is fearful of both. So, let's first look at the credit side of the business, generally impacted by defaults and lease rates.
To do this, I thought it was worth building AER's income statements going back to 2008, EXCLUDING gains/losses on sale of aircraft. That is, let's look at this, ignore the residual plane value part of the business model and see the kind of earnings generated just from leasing planes.
To do that, we simply back out of EPS earnings associated with asset sale gains and losses. Here is what the company's EPS (ex gains/losses) looks like since 2008: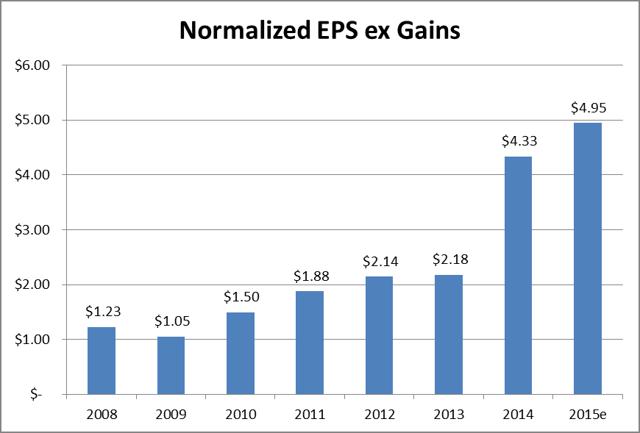 Overall, these appear to be quite impressive, high-growth figures, with only a 12% dip in earnings in 2009. As we can see, the reported declines in EPS in 2012 disappear entirely, with earnings following a nice upward trend. Again, 2014 benefited from accretion due to the ILFC acquisition.
Residual Plane Risk
So, what do earnings look like on the residual plane side of the business model? Here are the EPS figures. We can see why earnings in 2012 were weak.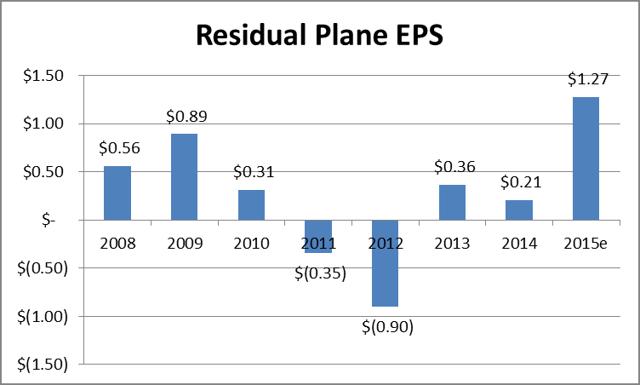 The good news is, over the past 6 years, AER has reported more net gains than losses, even against impairments taken. That is, from 2009 to 2014, it took $120 million of impairments and booked actual gains on sales of $256 million.
So, through the cycle, AER has booked positive income statement gains from residual value risk - to the tune of $136 million pre-tax. That speaks to solid management, which was able to purchase planes and liquidate them for net gains.
However, this part of the business is very lumpy, and I am not sure I want to ascribe a real earnings multiple to what amounts to a plane trading business. Yes, they are pretty good at it, with gains over time. But they do have off years, typically on a lagged basis relative to the economic cycle it appears.
So, in 2015, the Street is expecting $6.23 in EPS. That breaks out to $1.27 in asset sale gains and $4.95 of EPS from lease income.
A conservative investor would simply capitalize the $4.95 figure and probably ignore plane sale gains (or ascribe very little value to it).
News Flow
So, why has the stock performed so poorly lately?
First, the technical picture has been horrible:
American International Group (NYSE:AIG) sold a total of 82 million shares this summer, which is a massive quantity given the total float is around 169 million shares today. Absorbing these shares has been a huge overhang.
Hedge funds, in particular Einhorn's Greenlight, are big holders of AER. With value stocks well underperforming growth, it is likely there are redemptions and funds de-risking, which continues to weigh.
Overall, we cannot control the technicals. Fund flows could continue to be negative, but at some point, valuations matter, and the market clears. The AIG overhang is well over, as the company has no more shares to sell. We think the stock has suffered so much too, that while there is a chance of further declines, at 5-6x earnings, we sense a floor somewhere in the current neighborhood of where AER is trading.
Stocks rarely get this cheap without bankruptcy concerns or fraud risk, which should not be a problem for AER given its strong liquidity position and improving balance sheet.
The fundamental news has been perhaps more alarming to investors:
Delta (NYSE:DAL) management first pointed out weakness in the older vintage widebody market last October. Namely, 10-year old 777-200s are seeing weakness in pricing, as well as older Airbus A330s.
Boeing (NYSE:BA) reported the demand for newer model planes is slowing, and it is cutting production.
TransAero out of Russia filed for bankruptcy. It operated 100 aircraft in total, including lots of 777s and 767s.
Slowing growth in China has investors worried.
The Zika virus outbreak has some concerned about its impact on travel demand.
Lease rates are softening for certain aircraft, according to Ascend data.
As for credit risk with TransAero, AER was able to repossess all 10 of its planes leased to TransAero in October, apparently within a 72-hour period. Nine of these aircraft have been re-leased, and one was sold. Revenue should not be really impacted in Q4, according to company management.
The Zika virus outbreak seems unlikely to be a meaningful factor. This type of event has happened numerous times in the past, including SARs, swine flu and Ebola. Never has a viral outbreak had any impact whatsoever on a lessor's cash flow.
The risk with China is a factor, albeit a small one, in our opinion. Traffic continues to improve, and while growth appears to be slowing, China is a resource importer. That is, the country's economy tends to fare better with lower commodity prices.
Yuan devaluation obviously hurts dollar-denominated liabilities, but it appears abundantly clear that any devaluation here will be gradual, and likely helpful to the economy. I would surmise that Russia's oil & gas-driven economy is more of a concern.
Here is a good summary slide from AER recently on China: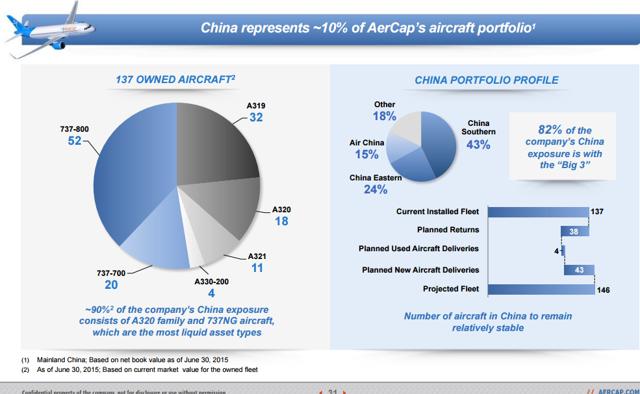 Management notes that most of the planes leased to Chinese airlines too are narrowbodies, which continue to maintain their values and lease rates. Lessors are also mostly with the "Big 3", who are performing quite well lately given low oil prices. 737s and A319s/A320s are "liquid" aircraft, easily sold and leased given that they are the workhorses of the industry.
As for Boeing's production cuts, these should be viewed positively by lessors like AerCap. With rational acting producers, there is less likelihood of a glut of planes, which could damage plane values and lease rates. Don't forget that last year, Airbus cut production rates on its widebody A330s from 9 planes to 6 planes per month.
As for weakness in widebody aircraft values, these mostly are tied to old Boeing 777-200s and also to older Airbus A330s. The 777-300s have been performing better.
Some math on AerCap's widebody fleet is worthwhile, as about 20% of the company's planes are older widebodies.
In total, AER owns 117 A330s (at a $5.2 billion book value) and 35 Boeing 777-200s (at a $1.6 billion book value). That is roughly $44 million per plane. Given there isn't granularity on vintages and age of aircraft, some digging around provided some values, although in a pretty wide range. We discounted Delta's claim that a 10-year old 777-200 can be bought for $10 million.
We noted a couple 777-200s are for sale for $60 million and $24 million. J.P. Morgan research believes a fair price is around $43 million for a 10-year old 777-200. Merrill research suggests $38 million per plane. That averages around $40 million per plane.
To be draconian, we assumed a $35 million value per plane today, which would imply a $7 hit to book value. At $28, the stock would still trade at a big discount to book. Don't forget that the company will generate $5 per share in cash leasing margin per year to offset any impairments or asset sale losses.
Given management's ability to generate gains in the sale of aircraft on average (over many years), we actually consider a more likely outcome to be something akin to the losses in 2011 and 2012 ($0.35 and $0.90, respectively). If we double these, that implies $2.50 in losses perhaps over a couple years' period (or $1.25 per year).
Compared to roughly $5.00 in leasing income per share, we get earnings in the $3.75 range.
It's hard to put a trough multiple on trough earnings, but if $3.75 were correct (and probably even too low in a recession), then at 6x, we would get $22.50, which I consider to be the downside. That also happens to be 56% of current book value.
Finally, as for lease rates softening, the data suggest otherwise. Here is a good table from Merrill Lynch research showing lease yields and market value for a variety of planes. Yield continues to appear solid today at 10%. Also note that the market values for widebodies appeared to actually be ticking up in January.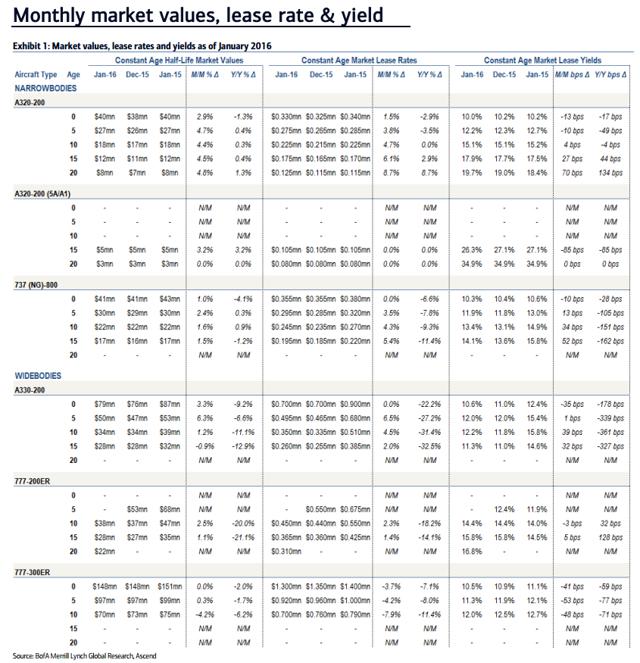 Financing
Finally, we would point out that any financing model depends on easy access to cheap capital. In AER's case, the company did lever up to purchase ILFC. But it has quickly delevered to 3.2x as of September. AER's 2021 bonds trade at 4.9% yields too, implying very little credit concerns associated with the company.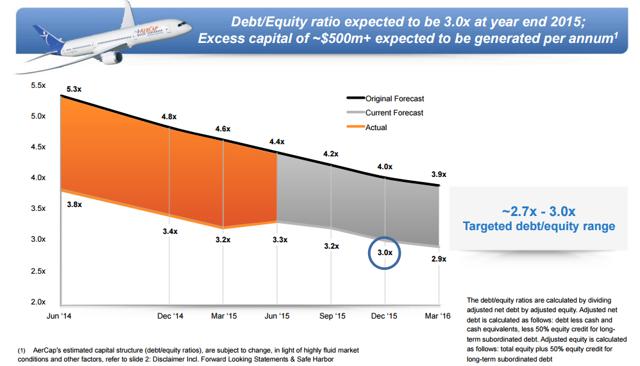 While the company is rated BB+ by S&P, management believes an investment-grade rating is imminent.
Conclusion
Given the environment we are in, a recession feels quite possible. However, AER continued to perform during the Great Recession, and today, airlines are in far better condition financially then they were back then. While low oil prices hurt new (more fuel-efficient) plane lease rates and values to some extent, they also help older, less-efficient plane values. Most importantly, they improve the credit quality of customers.
We see risk to residual plane values perhaps acting as a headwind for a year or two, but generally find the valuation of the stock more than compensates for these risks. Earnings power with future deliveries should enable 5% type EPS growth (excluding asset sales), and at steady 10% NIMs. Peers Aircastle (NYSE:AYR) and Air Lease (NYSE:AL) trade at 8-9x earnings, and Avalon is being acquired at 10x. There seem little justification for the premier industry name to trade at 6x earnings.
Once past some inevitable impairments, its earnings power could easily approach $6 per share. At 10x, AER would be worth $60 - more than a double from here.
Finally, Waha Capital recently indicated they may purchase up to 1.96 million more shares of AER (they already own 15% of the company). With share buybacks and support from Waha, the stock perhaps may begin to recover.
Sources: Company annual and quarterly financials, presentations, investor calls, JP Morgan and Merrill Lynch research
Disclosure: I am/we are long AER.
I wrote this article myself, and it expresses my own opinions. I am not receiving compensation for it (other than from Seeking Alpha). I have no business relationship with any company whose stock is mentioned in this article.