After mornings like February 3, when the stock market collapsed the moment gasoline inventories came in higher than expected, or February 4, when higher prices point to a rally, it is worth asking what might break the grip of oil prices on the stock market.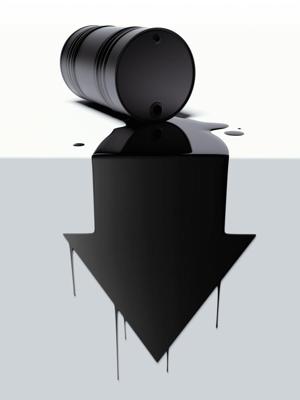 The correlation is too close, and has now lasted too long, to be anything but causation. When oil goes up the markets go up. When oil goes down, so do stocks.
Jim Cramer tweeted Thursday morning that it was "the moronic oil, tick by tick game." It seems moronic. But it's not. And there is an easy way to end it.
Foreclose. Liquidate. Take out all the worthless oil exploration and production companies we call "dead men drilling."
The irony is that politicians funded by these oil deadbeats are the folks most likely to demand just that when anyone else is the debtor. Whether it's a homeowner, a car owner, a school district or a country, they live by the quote Wikimedia says is falsely attributed to Hoover Treasury Secretary Andrew Mellon - "liquidate labor, liquidate stocks, liquidate farmers, liquidate real estate…it will purge the rottenness out of the system."
Well, liquidate frackers. Liquidate traders. Liquidate oil stocks and oil lease holders. So long as this economic Sword of Damocles remains poised over the economy, stocks will remain tied to the price of oil, and will continue to head generally lower.
Now, there is a risk in all this. Sudden liquidation could cause a market earthquake. The dribbling of liquidity from the pockets of oilmen would become a flood. An announcement of major oil patch liquidations could cause one of those 1,000-point down days we keep hearing about.
But we can only start building a base to move up once the deadwood is cleared out. The fact is the U.S. still imports 5 million barrels of oil per day, and we should be getting stock rises when oil falls. That's why we went all "drill baby drill" in the first place - because we'd grown tired of the last decade's correlation, where stocks headed down each time oil went up.
Self-liquidation, according to Anatole Kaletsky, would put cash into shareholders' pocket, as it did with tobacco, and it's where the market is headed anyway. Dennis Gartman suggested as long ago as last summer that either oil companies liquidate themselves calmly or the market will do it for them.
We see that panic each time another oil trader goes broke, whether here or elsewhere. Oil traders whine that Saudi Arabia has crashed the market in order to take out American competition, but new drillers could quickly be capitalized if oil prices skyrocket so why not kill some now?
Once liquidation occurs we might get back to trading stocks on fundamentals. The memory might even give some Texans humility when the rest of us get in over our heads.
Disclosure: I/we have no positions in any stocks mentioned, and no plans to initiate any positions within the next 72 hours.
I wrote this article myself, and it expresses my own opinions. I am not receiving compensation for it (other than from Seeking Alpha). I have no business relationship with any company whose stock is mentioned in this article.