An independent investigator lead study, executed at the Odense University Hospital in Denmark, has shown excellent results in restoring erectile function in patients who had undergone radical prostatectomy within 5-18 months prior to the study.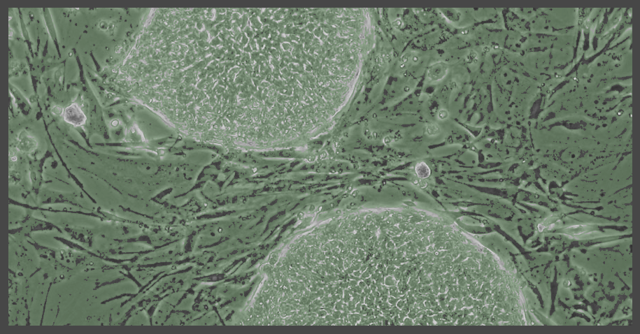 Source: NIH Photo Edited by Author
A total of 17 patients were enrolled in this study using Cytori Cell Therapy. In this open label Phase I trial, fat was extracted from the each patient under general anesthesia. The fat (more specifically, lipoasparate) was processed through Cytori Therapeutics' (NASDAQ:CYTX) proprietary Celution System to create a cocktail of adipose derived regenerative cells, commonly referred to as ADRCs. These cells were injected directly into the corpus cavernous immediately after they were harvested.
As has been shown in numerous previous studies, the use of autologous ADRCs was safe and well tolerated. Furthermore, although this was a small open label trial without a placebo control, efficacy was very impressive in the subset of patients who were continent prior to the procedure:
A post-hoc analysis was performed in which patients were divided into those who were continent prior to treatment (11 patients) and those who were incontinent (6 patients). Of the 11 in the continent group, 8 (73%) recovered erectile function which remained improved at 6 months. None of the incontinent patients recovered function.

The international index of erectile function-5 score (IIEF) for continent men improved from 7 (baseline) to 17 units at 6 months (p=0.007). The erection hardness score (EHS) improved from 1 (baseline) to 3 units at 6 months (p=0.03). The IIEF and EHS did not improve in the incontinent group.
While this is an open label trial, a sustained recovery of 8 out of 11 in the continent group showed significantly significant p-values. These data are a strong indication that the results should hold up in a placebo controlled pivotal trial with an added patient criterion that excludes incontinent patients.
This is the latest in a string of good news from a company that has seen its shares plummet to penny stock status (and its market cap fall to $35,000,000) in the wake of damaging equity financing transactions and prior mistakes even as the company's pipeline restructuring continues to show substantial progress. Despite the low share price, Cytori has three Phase III trials currently enrolling with two related to hand dysfunction caused by scleroderma (in the U.S. and Europe) and a third Phase III enrolling for urinary incontinence in Japan: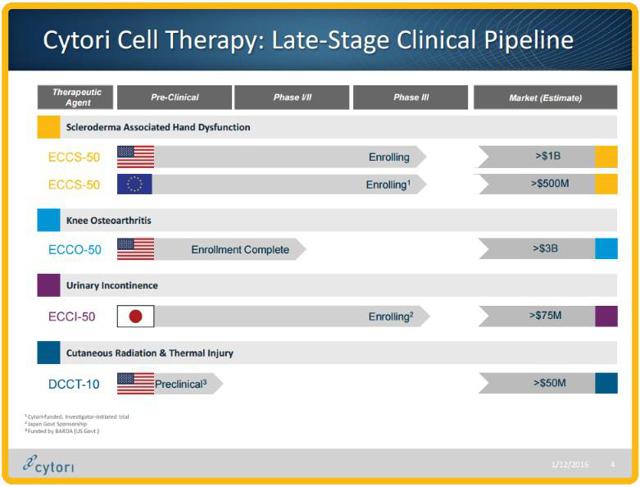 Source: Cytori Therapeutics
Soon Cytori will be reporting Phase II interim results in knee osteoarthritis using autologous ADRCs in an FDA approved trial. Similar procedures have been used successfully in animals for many years. Ironically, there have probably been thousands of similar procedures already performed in humans in defiance of FDA regulations by stem cell clinics located throughout the United States. As an example, see this link to a large stem cell network with affiliates located throughout the country. However, this wild, wild west of unregulated stem cell therapies could soon be coming to an unceremonious end. On December 30, 2015, the FDA sent out its first related warning letter in years, informing a small stem cell clinic network that it needed to obtain a biologic licence to perform each of its many unapproved procedures.
Cytori has a significant opportunity to fill the gap that may soon be created if the FDA enforces its own regulations regarding stem cell treatments. The demand for ADRC type therapies has already been demonstrated in the private pay market despite FDA regulations that make them illegal. The first company that can go through the rigorous process of obtaining FDA approval for autologous ADRC therapies supported by reimbursement should see great success. No company is closer than Cytori Therapeutics in achieving this goal but a partner and cash infusion is needed.
Balance Sheet and The Need For a Partner
This article is not intended to be a full fledged in depth analysis on Cytori and more information, including interesting near term revenue opportunities from a recently announced Managed Access Program in scleroderma, can be found in this recent company presentation. However, no discussion about Cytori can be complete without discussing the balance sheet.
The company closed September with about $19,000,000 in cash and has a senior term loan of $17,700,000 on the books due on June 1, 2019 that starts to amortize at the end of May 2016. However, should Cytori achieve positive osteoarthritis clinical trial data or close a licensing, partnership or similar transaction on terms acceptable to the lenders, the commencement of amortization would be extended to December 2016.
The company has projected $22,000,000 in cash burn for all of 2015 and after burning through $15,900,000 for the nine months ended September 30, 2015. Cash burn for the 4th quarter has been projected by the company at $6,100,000 and should decline going forward with the completion of enrollment in the OA trial and short term revenue opportunities from the new Managed Access Program for scleroderma.
As I discussed in this recent article, there has been significant recent partnering and acquisition activity related to U.S. based stem cell companies coming out of Japan. Cytori needs to attract a partner with up front cash or find other non-dilutive means to manage its balance sheet in order to begin to regain the shareholder value that has been destroyed by past mistakes and miscalculations. A partnership in scleroderma or osteoarthritis is the catalyst that can begin to turn things around for Cytori but until they pull it off the waiting game continues.
Disclosure: I am/we are long CYTX.
I wrote this article myself, and it expresses my own opinions. I am not receiving compensation for it (other than from Seeking Alpha). I have no business relationship with any company whose stock is mentioned in this article.
Additional disclosure: These are the personal views of Wall Street Titan Research and should not be relied upon for your investment decisions. All investors should always do their own due diligence.
Editor's Note: This article covers one or more stocks trading at less than $1 per share and/or with less than a $100 million market cap. Please be aware of the risks associated with these stocks.