Gold is continuing its impressive 2016 rally into early February. But the recent surge may be coming to the end of the line, at least for the short term. Gold has not only reached overbought levels, but it is also missing an important silver lining of support behind its advance.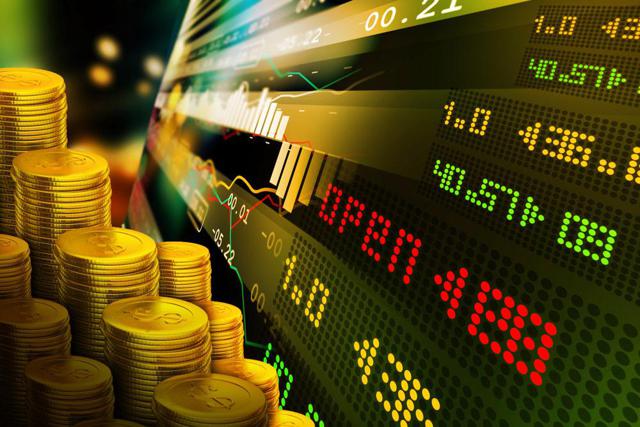 Overbought
We have seen this story play out six times before since the start of 2013 when the gold (NYSEARCA:GLD) price decline really started to pick up steam. It happened once in 2013, twice in 2014 and three times in 2015 prior to today. And in each of the past six instances, gold ended up retreating back to the downside and ultimately went on to set new cycle lows.
So what exactly is the similar set up? It is shown in the chart below.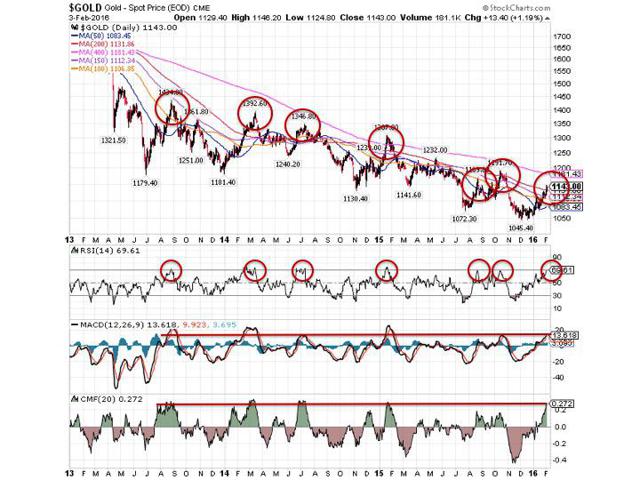 First, in each of these past instances, gold surged strongly to the upside. In four of these past six instances, gold managed to break out above its 200-day moving average just as it did on Wednesday. In one case at the start of 2015, it even went so far as to pierce above its 400-day moving average.
Second, gold reached overbought levels as measured by the RSI - relative strength index.
Third, momentum has risen to levels that were equal or greater to the levels that gold currently has today.
Lastly, in only two of the past instances was money flow as high or higher than it is today.
All of these readings suggest a gold price that has potentially risen too far, too fast and may now be on the brink of retreating back as it did in each of these past six instances. And the only instance where gold managed to regain its footing and push higher in the short term was following the late August peak, but it is worth noting that momentum and money flow readings were not as stretched as they are today.
In summary, gold is now running hot by a number of readings and is overdue for a pullback. And if history is any guide, such a pullback has the potential to eventually lead to new lows.
No Silver Lining For Gold Today
Another important show of support is missing for gold in its latest advance. Silver (NYSEARCA:SLV) is a precious metal that is closely related to gold. And since the major price decline in the precious metals got underway in 2013, the yellow and white metals have moved mostly hand in hand to the downside in the more than two years since.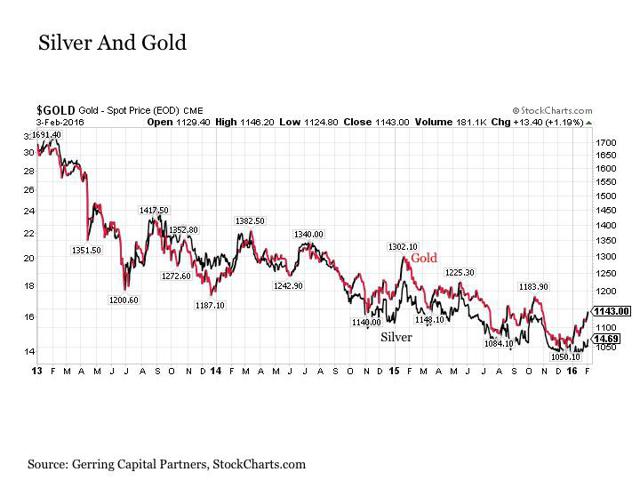 What has been notable during the most recent rally for gold has been the relative lack of participation by silver.
While gold has surged since early December and has achieved some impressive breakouts to the upside in the process...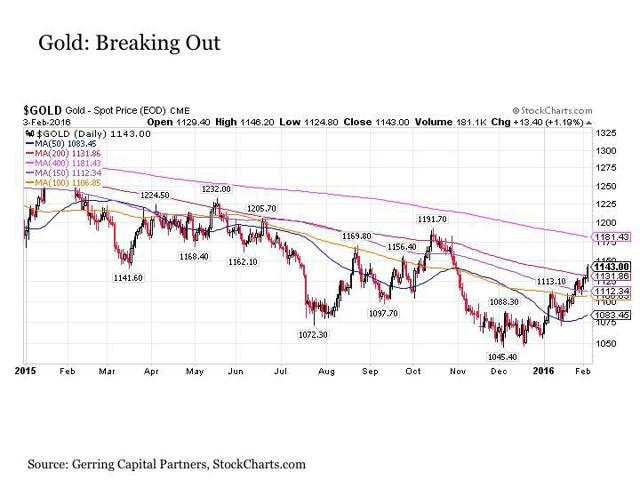 ... silver has largely languished and until Wednesday was not any higher than it had been more than a month ago in late December.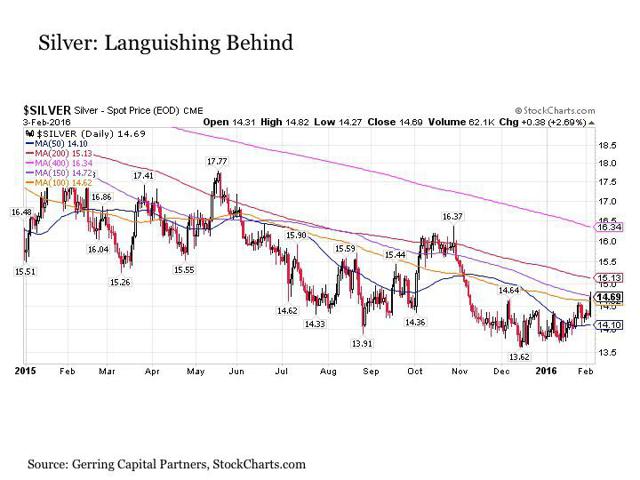 Several factors may explain this differentiation. Precious metal bulls might suggest that silver simply needs to catch up to gold on the upside, and perhaps this will come to pass following Wednesday's strong upside surge thanks in part to the drop in the U.S. Dollar (NYSEARCA:UUP). Or perhaps the silver price has been constrained during the latest rally given silver's more prominent industrial properties and associated exposure to China relative to gold. Or perhaps silver's underperformance can be explained in part by effects associated with some of the recent price benchmarking issues in the silver market. Time will help provide us the specific answer to this question.
Bottom Line
Regardless of the reasons, the fact that gold has reached overbought levels that have resulted in a reversal pullback coupled with the fact that silver has not meaningfully participated to support the recent gold price advance does not bode well for future gains in the gold price, at least in the short term.
With that said, if gold does continue to advance despite reaching these overbought levels, it would be an indicator that the more than four-year long bear market in gold may finally be drawing to a close.
It will be interesting to see. But at the moment and into the short term, risks are becoming increasingly tilted to the downside for the gold price.
Disclaimer: This article is for information purposes only. There are risks involved with investing including loss of principal. Gerring Capital Partners makes no explicit or implicit guarantee with respect to performance or the outcome of any investment or projections made. There is no guarantee that the goals of the strategies discussed by Gerring Capital Partners will be met.
Disclosure: I/we have no positions in any stocks mentioned, and no plans to initiate any positions within the next 72 hours.
I wrote this article myself, and it expresses my own opinions. I am not receiving compensation for it (other than from Seeking Alpha). I have no business relationship with any company whose stock is mentioned in this article.