OAS Reported As Expected 4Q11 Results; Valuation Divergence With Other Bakken Leadership.

Note: Liquids were 94% of volumes and 97% of revenues in 4Q11.
Guidance. (NYSE:OAS) has no mention of guidance in last night's press release but we know from a previous release that December production was 16,177 BOEpd and so 1Q12 guidance remains 15,000 to 16,500 which sounds a lot like they are bagging the Street here. No reason to think they would change full year yet from the prior guidance of 18 to 22,000 BOEpd equating to 86% growth on the mid vs 2011.
Highlights:
Williston Acreage: Net acreage count moves up from 303,000 to 307,400 acres as stated earlier in February so nothing really new there but take note that Oasis now trades on an unadjusted basis of $10,900 per straight net acre or at or $5,900 per production adjusted net acre (using the 4Q production level and $100,000 per flowing BOE. While not all Williston acres were created equal, the discount to another operated pure play leader in the basin, Kodiak, (NYSE:KOG), seems extreme with KOG's straight acreage valuation trading just under $20,000 per acre or $8,400 per acre using best estimates for current production. Further note that by year end, should OAS achieve their guidance the $ per acre falls into the negative.
Note in the graphs below that EBITDA is soaring on an absolute basis and this year it should grow on an EBITDA per BOE basis as volumes rise over the course of 2012 as per unit lifting and G&A costs decline.
As usual, no well level detail in the press release.
Nutshell: Everything looks to be on course with marked EBITDA and Per BOE EBITDA growth in 2012 while the name continues to be cheap on an acreage basis and is getting there on traditional metrics of flowing barrels ($219,373 / BOE now which is not cheap until you consider the ongoing repeatable growth and nearly untapped nature of their Williston position as well as where the "Bakken Players" have in recent times traded) and reserves in the ground ($42.50 per proved BOE but we're still relatively early stage here).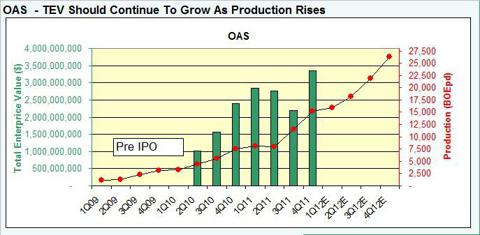 I'm looking for more color on the call regarding downspacing and Three Forks tests as well as their progress in getting their in house frac spread on line and the impact that will have, once smoothly running on EBITDA and per well costs. I continue to hold the position as a core with trading positions on top in the ZLT. This is not a knock on KOG, a name we have owned for quite some time now, but instead a comment on what seems to be a dislocation in the market place for OAS.