"Gobble, Gobble, Gobble." It is not the sound of our 2016 Thanksgiving feast prancing outside the window but the sound of independent gas utilities being gobbled up by larger utilities and is the sound one hears when milling around the natural gas utility segment these days. The trend of consolidation in the utility sector continues, with the latest round of natural gas acquisitions dating back to 2006.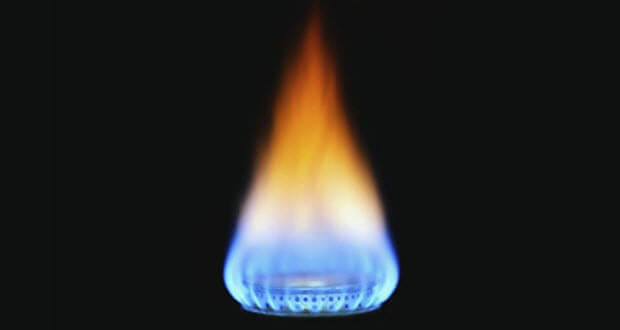 From 2006 to 2009, Aquila made several acquisitions and then sold itself to Black Hills (NYSE:BKH), National Grid (NYSE:NGG) acquired NE Gas, and North Utilities and Granite State Gas went to Unitil (NYSE:UTL). There was a pause in major gas utility realignments until 2014 when the cycle began again.
Starting in 2014, New Mexico Gas was bought by TECO (NYSE:TE). UIL Holdings Corp announced its merger with Spanish firm Iberdrola and changed their name to Avangrid (NYSE:AGR). In this most recent cycle, Black Hills bought both Energy West and Source Gas Holdings. Canadian-based Emera (OTCPK:EMRAF) announced it was acquiring TECO. Dominion Resources (NYSE:D) most recently announced it was buying Questar (NYSE:STR) gas utility after Duke Energy (NYSE:DUK) announced it was buying Piedmont Natural Gas (NYSE:PNY) and Southern Companies (NYSE:SO) announced it was buying AGL Resources (NYSE:GAS). Even the smallest gas utility, Corning Natural Gas (OTCQX:CNIG) is spending $16 million to buy 5,800 gas and electric customers from ConEd (NYSE:ED).
"Gobble, Gobble, Gobble." Why are natural gas firms attractive for electric and diversified utilities?
It is important to understand the forces behind the overall consolidation trend in the utility sector. Money manager Mario Gabelli has been very vocal in his support of investing in the merger trend. From his 2nd qtr. 2015 shareholders comments,
Over the past few years, utility mergers have involved U.S. electric and gas utilities, Canadian utilities, and private equity with motives ranging from gaining size to potential strategic rights of way. Since 1995, the electric utility sector has experienced over 125 acquisition announcements and nearly 100 completed deals. Consolidation activity peaked from 1996-2000, when it appeared that the industry would deregulate. We expect consolidation to continue for years to come, driven by ongoing challenges related to climate change and earnings growth.

For several decades, utility companies have acquired other utilities and utility assets for the sake of gaining economies of scale and efficiency. The same forces that resulted in more than one hundred utility takeover announcements over the past two decades remain in place, and new forces have come into play that continue to drive this long term trend. Climate change and environmental policy have pressured marginal players. The electric and gas utility sector remains fragmented, with roughly sixty electric utilities and thirty gas utilities. This is fifty more than we need from the standpoint of economic efficiency.
Many local gas distribution utilities LDC come with ancillary assets besides the retail business. For example, STR has about $450 million in midstream assets which could be dropped down to Dominion's Resources MLP, Dominion Midstream (NYSE:DM). AGL offers Southern Company control of some interesting pipelines that connect the growing use of natural gas for power generation.
The growth of natural gas demand is expected to outstrip the growth for electricity. Electricity demand is expected to grow by 0.7% annually while the consumption of natural gas is expected to increase by upwards of 1.8% a year. Below is a table of estimated natural gas consumption by sector offered by EIA as of mid-January 2016: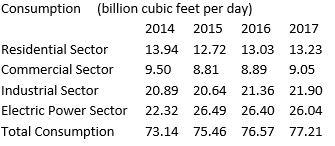 Over this 4-yr stretch, consumption declines in the residential and commercial segments are more than made up from growing industrial and power generation demand. This trend should continue for the next several years, at a minimum.
An interesting article appeared in the fall 2015 issue of Energy Litigation published by the American Bar Association titled "An Uptick in Recent Electric - Gas Utility Mergers: Expect More of the Same". It outlines much of the same justifications for the continuation of this merger trend (an important operational consideration is highlighted by me in bold).
For predominantly electric utility holding companies, investment in natural gas utilities has become attractive for several reasons. First, many electric utilities are experiencing low load growth, which has led to a more cautious approach to infrastructure investment and a desire to look at other infrastructure opportunities. Load growth is at historic lows and the U.S. Energy Information Administration (US EIA) predicts that load growth will remain at or below this level for the future. In a low load growth environment, a utility may not be able to reinvest retained earnings without substantial rate increases, which are always politically difficult to accomplish. Capital can instead be invested and reinvested more opportunistically in the natural gas system.

Second, many utilities own natural-gas-fired plants and can own assets further up the supply chain. Having access to transportation and sourcing options can yield economies of scope to owners of gas plants. Among power plants owned by electric utilities, natural gas plants (as a percentage of total utility-owned nameplate capacity) have increased from 29 percent in 2005 to 42 percent in 2014. The economies of scale from operating multiple utility companies under shared services are just as important as the economies of scope. While both companies sell different commodities, the similarities between gas and electric utilities are drivers of significant merger activity
The article also postulates the average age of the capital investments by natural gas firms still offer approximately 62% depreciation value remaining. With higher growth in demand for gas over electricity, and as returns on new capital investment is an important consideration for utility earnings growth, it would seem capital expenditure opportunities may be greater in the gas arena than electricity.
"Gobble, Gobble, Gobble." Who could be next? Who is left?
Below is a list of publicly-traded natural gas utilities not already spoken for with their respective market caps and current dividend yield. The top four are CenterPoint Energy (NYSE:CNP), Atmos Energy (NYSE:ATO), NiSource (NYSE:NI), and UGI (NYSE:UGI). At the bottom are a few companies with large natural gas utility segments: National Fuel Gas (NYSE:NFG), Spectra Energy (NYSE:SE), and Canadian-based Algonquin Power (AQUNF).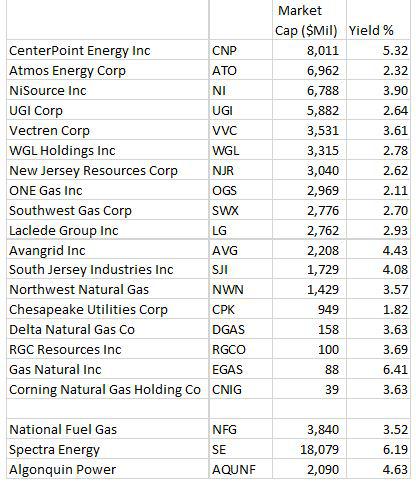 It would seem since the acquirers have been large utilities with substantial market caps, the size of the acquisition would lean towards larger cap gas utilities in order to "move the needle" for incremental earnings. For instance, while Corning Natural Gas is in the back door of National Fuel Gas, the addition of its $22 million in revenue would hardly impact NFG's overall revenue of $1.7 billion.
There are no ETFs or readily traded indexes for natural gas utility stock performance. However, there is a mutual fund that tracks the industry, Hennessey Gas Utility Investor Fund (MUTF:GASFX) with 65% of assets in gas utilities and 35% in energy companies, many with utility exposure. The issue with GASFX is its exposure to natural gas pipeline firms which have been under investor scrutiny for the past year. The following chart compares the stock performance of the top four gas utilities and GASFX going back 2 years.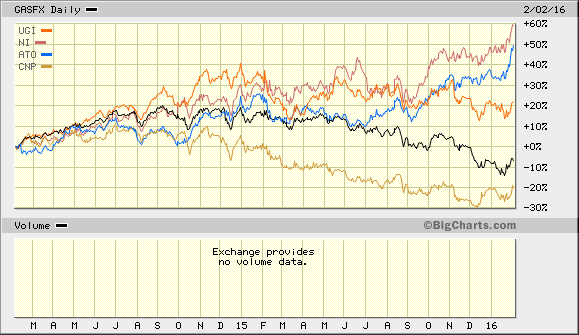 As shown, three of the four have seen share price appreciation of between 20% and 60%, and I think this would be representative of the industry as a whole.
While it is fair game to play "Whose Next" with gas utility mergers, I agree with Mario Gabelli's approach: Buy the utility first as a reasonable stand-alone investment and if a buyer comes along, it becomes the icing on the cake.
Of the list above, I still like CenterPoint especially with the poor performance over the past year. CNP has interests in a midstream MLP that has brought down earnings. Management recently announced a strategic review of this business with an eye for its sale or disposal, refocusing on its electric and gas utility business. Management forecast EPS for 2016 to be $1.16 mid-point, up from $1.07 mid-point in 2015, and the current yield is around 5.5%. With the MLP issue resolved, CenterPoint may be of greater interest to an electric utility looking to expand into the Houston area. I wrote a review of CNP last Oct and recently added the stock to my utility portfolio.
With a consolidation trend well entrenched with gas utility investors and with speculation rampant as to who is next, current share prices on average offer little room for doubt as valuations are stretched. Tread lightly and carefully.
Author's Note: Please review disclosure in Author's profile.
Disclosure: I am/we are long AQUNF, CNP, D, DM, EMRAF, NFG, SE, SO.
I wrote this article myself, and it expresses my own opinions. I am not receiving compensation for it (other than from Seeking Alpha). I have no business relationship with any company whose stock is mentioned in this article.
Editor's Note: This article covers one or more stocks trading at less than $1 per share and/or with less than a $100 million market cap. Please be aware of the risks associated with these stocks.