Opportunity knocks when you can combine strengthening company fundamentals in one hand with an improving technical picture for the stock price in the other. Clench these two hands together to make a fist, and it's time to strike. That is the situation with AT&T (NYSE:T). Add to this combination the tailwind of improving relative strength for the telecommunications sector and a macroeconomic environment that is starved for growth and you have the ideal stock for 2016.
Fundamentals
This company is not a juggernaut of growth, but it is growing its revenues and earnings, albeit at a modest pace, in an environment where seeing both increase at the same time is becoming exceeding hard to find. More importantly, it is selling a product that has become a consumer staple in voice, Internet and video services offered across multiple platforms, and in a variety of bundles, with tremendous economies of scale that make its growth relatively predictable. Predictability is of great value today.
Last week the company reported impressive earnings results for the fourth quarter of 2015 with what looks to be sustainable growth within every segment of its business, reaffirming the $60 price target that was substantiated in an article written by my father last December. The reduction in operating expenses and margin expansion, while still investing $20.7 billion in capital expenditures in 2015, were the most notable aspects of the report. Albert Alfonso wrote an excellent summary of the earnings results, focusing in part on the margin improvement and expense controls within the wireless segment.
There were net additions to the wireless, Internet and DIRECTV subscriber bases. Within the wireless segment, the company added 2.2 million subscribers and realized a lower year-over-year churn rate for pre-paid and post-paid subscribers. The average revenue per user, or ARPU, for the more lucrative post-paid wireless subscriber base increased sequentially and year-over-year as well. The EBIDTA (earnings before interest, depreciation, taxes and amortization) service margins for the wireless segment rose to a record 43.2%.
The company also realized growth in its business solutions segment, where double-digit services revenue growth offset a decline in equipment revenue growth, leading to an increase in margins and overall EBITDA for this segment. Its expansion into Mexico continues with the addition of 593K wireless subscribers during the quarter, mostly pre-paid, as it continues to build out the infrastructure for deeper penetration into that market.
It is clear that years of capital investment are starting to pay off in the form of operational efficiencies that are improving margins, as was most pronounced in the wireless and business solutions segments in the fourth quarter. One such investment has been AT&T's shift to a software-designed network, or SDN, designed to replace hardware, which has improved the network's functionality and allowed it to run more efficiently. Investments like this should help to mitigate larger increases in capital expenditures for network upgrades in coming years.
If there were any concerns about AT&T's ability to pay its dividend, which stands at 5.3%, this earnings report should put those concerns to rest. In fact, it looks as though 32 consecutive years of dividend increases will continue for the foreseeable future, with free cash flow having risen to $15.9 billion in 2015 and forecasts by company management for continued growth in free cash flow, resulting in dividend coverage at approximately 75% in 2016. Tradevestor builds a strong case for why this dividend is not only secure, but likely to continue increasing in the years ahead.
First-Hand Analysis
It was Peter Lynch, the wildly successful manager of the Fidelity Magellan fund in the 1980s, who said that our best research tools are our eyes, ears and common sense. If something interests you as a consumer, then you should consider it from an investment perspective. Fortunately, I was buying AT&T stock well before I became a new customer just six weeks ago. I used the experience of switching over from a competitor, in this case Time Warner Cable (TWC), as an opportunity either to poke holes in my investment thesis or to affirm my resolve. It's one thing to read research reports about a company and analyze the numbers, but it's another thing altogether to actually use the products and services as a customer.
I had been a "triple play" customer of Time Warner Cable's for several years, subscribing to their phone, high-speed Internet and cable TV package. It was not uncommon to have our Internet service go out temporarily once a week, typically in the evenings. Certain premium cable channels that I was paying for would be "unavailable" now and then with no explanation. I would call customer service and be told to "reboot the cable box," which was a ten-minute exercise. In general, the service was unreliable and of poor quality. There was also a significant price increase each year for no particular reason that I would get reduced to a more modest increase by complaining about the low quality of the service. Still, I wanted the convenience and cost savings of a bundled package, and there was no competing service in our area.
I learned of AT&T's offering in our neighborhood the hard way. The company was granted an easement to dig up my front yard a few months ago in order to install fiber cable underground. I was particularly perturbed to learn that I had won the junction box lottery. Yes, I was going to have the eyesore of a junction box planted in the ground near the curb on my side yard. Here is what it looks like -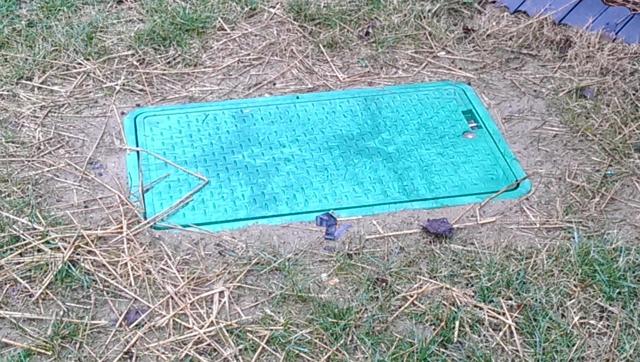 My yard had been aerated and reseeded in the fall, so with the lawn looking pristine, I was none too pleased to have it dug up by the workers to install this box or pull the fiber underground. After expressing my concerns to the sub-contractor, I was put in touch with the representative from AT&T who was overseeing the project. He addressed my concerns, followed up by email and phone call, and assured me that if the repair work was not done to my satisfaction he would attend to it personally. He promised to have sod put down in the area that was dug up should the grass not grow to my satisfaction in the spring. While still not happy about an easement that was entirely out of my control, I was surprisingly satisfied with the attentive response from the AT&T representative.
Shortly thereafter, I made the switch to AT&T's bundled service. I completed the ordering process online, which was simple and straightforward, opting for U-verse high-speed Internet Max Plus (download speeds up to 18 Mbps) and U300 digital TV service. The installation process was smooth and the service has been excellent with no disruptions. The tested download speeds are actually 21.4 Mbps. The AT&T website is far more informative and user-friendly than the one I used for Time Warner Cable to pay my bill and manage my services. I reduced my monthly costs by nearly half with the one-year promotion, and when the promotion expires, the adjusted cost will still be lower than what I was paying Time Warner Cable. I also received a $99 voucher to renew my Amazon Prime membership and a $100 Visa rewards card within 30 days of installation. The process was seamless and I couldn't be more satisfied. I also took note that I could have completed the entire process from start to finish without speaking to a single person other than the gentleman that completed the installation.
I realize that there are unsatisfied AT&T customers out there, just as there are with every competitor. Still, having a very positive first-hand experience strengthens my resolve with respect to the fundamentals of this company and its potential to grow its business at the expense of its competitors. Several of my neighbors have switched to AT&T in recent weeks, as well as friends of mine in other neighborhoods. The reviews have all been good. If my personal experience with the installation process, the product offering or the company's management team at the time of disruption to my property had been anything other than smooth, it would have given me pause.
Technical Picture
The technical picture for this stock is extremely strong. It is in an uptrend and trading above its 50-day and 200-day moving averages. While there are very few stocks challenging their 52-week highs today, AT&T came within pennies of its 52-week high of $36.45 on Monday. The only caution sign on the technical front is that the stock is overbought on a short-term basis, having risen significantly since the beginning of the year, and is not at an optimal price point for new purchases. Typically, after a significant move upward in a stock price, there will be a period of consolidation that allows for a better entry point when profit-taking ensues.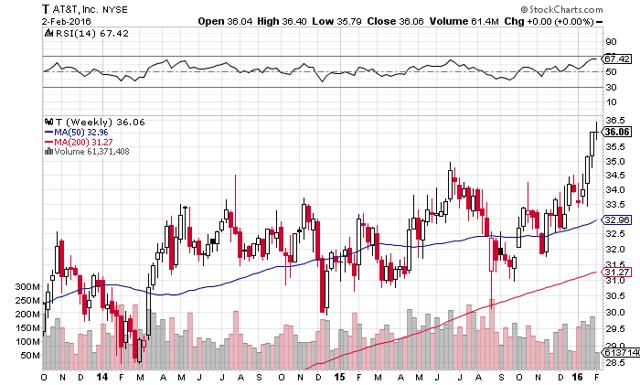 The relative strength of AT&T's stock price, exclusive of dividends, is also improving when compared to the S&P 500 index (NYSEARCA:SPY), as can be seen below. The stock is now outperforming the index on a trailing two-year basis, but I believe this outperformance has more to do with macroeconomics, sector rotation and the broad market environment rather than improving company fundamentals.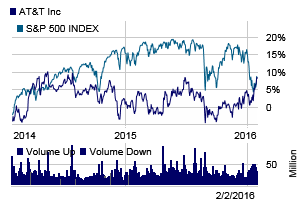 The Market Environment
In my view, most investors spend more time focusing on the individual company or stock that they intend to purchase than they do on the sector in which the stock belongs or the overall market environment. There is risk at the stock, sector and broad market level. I believe that sector and market performance, and the risks associated with both, have more to do with the success or failure of our individual stock investments than do the underlying company fundamentals. There are obviously exceptions to this, but I think that sector and market forces are the predominant determinants of success.
I have built a case over the past year in numerous writings as to why I believe we are in the midst of a bear-market decline for the broad stock market. As the benchmark indices have corrected, both individual and institutional investors are positioning more defensively, and I suspect that this will continue in the months ahead. Cornerstone Macro's Carter Worth highlighted a sector performance statistic this week that supports my outlook and this defensive posture.
Worth points out that the utility sector (NYSEARCA:XLU) is starting to outperform the S&P 500 index for the first time since the bull market began in 2009. More importantly, the performance spread between the Dow Jones Utility Average and the Dow Jones Industrial Average (NYSEARCA:DIA) for the month of January was more than 1000 basis points (10%), as can be seen below. Going back to the year 1900 there has only been one other time that we saw a performance spread of more than 1000 basis points between these two averages during the month of January. It was January 2007. That turned out to be a foreboding sign of things to come.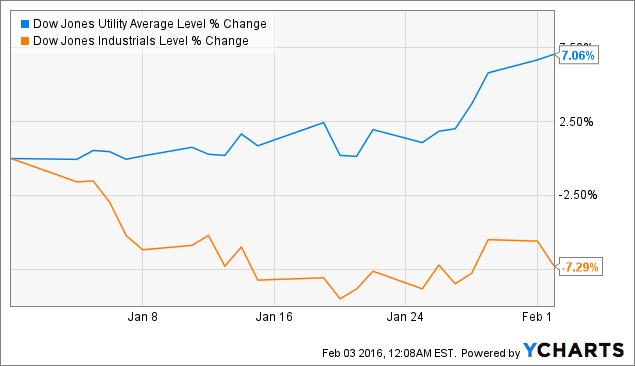 I do not think that the recurrence of this performance metric suggests that we are heading for another financial crisis. Instead, I think it signals that we are headed for a bear market decline in the S&P 500 index from the all-time highs, and that investors are aggressively moving to become more defensively positioned.
AT&T is not a utility company, but as the largest weighting within the Dow Jones Telecommunications Index, which has risen nearly 5% this year, it is viewed as a defensive holding. I think that its impressive performance year-to-date, which I expect to continue, is a function of this more defensive positioning into sectors like utilities and telecommunications.
There is a lot of long-only money that is mandated to stay invested in the stock market. The macroeconomic uncertainty combined with the heightened level of broad market risk should continue to favor companies in defensive sectors with predictable revenue and earnings streams. AT&T is at the top of this list, with revenues growing this year at a double-digit rate and earnings growth in the mid-single digits. It also has a very secure dividend yield of 5.3% that rivals that of junk-bond ETFs (NYSEARCA:HYG). Despite a rate of revenue and earnings growth that will likely exceed that of the S&P 500 index in 2016, the stock trades at an earnings multiple of less than 13 times this year's projections, which is a significant discount to the market.
The company fundamentals, stock price technicals, aspects of sector rotation and broad market environment are all tailwinds for AT&T. As bearish as I have been, and continue to be, with respect to the broad stock market, my tactical approach to asset allocation demands that I always maintain some exposure to stocks. With my exposure at the minimum of my acceptable range, AT&T is a core holding within that minimum, and what I believe to be an ideal stock for 2016.
Disclosure: I am/we are long T, JAN 2017 CALL OPTIONS.
I wrote this article myself, and it expresses my own opinions. I am not receiving compensation for it (other than from Seeking Alpha). I have no business relationship with any company whose stock is mentioned in this article.
Additional disclosure: Lawrence Fuller is the Managing Director of Fuller Asset Management, a Registered Investment Adviser. This post is for informational purposes only. There are risks involved with investing including loss of principal. Clients of Fuller Asset Management may hold positions in the securities mentioned in this article. Lawrence Fuller makes no explicit or implicit guarantee with respect to performance or the outcome of any investment or projections made by him or Fuller Asset Management. There is no guarantee that the goals of the strategies discussed by will be met. Information or opinions expressed may change without notice, and should not be considered recommendations to buy or sell any particular security.