On Thursday morning, cigarette giant Philip Morris (NYSE:PM) reported its fourth quarter results. As currencies continue to hurt, the company missed revenue estimates while reporting adjusted earnings that matched street estimates. More importantly, the company's forecast for 2016 disappointed, primarily thanks to a large increase in the negative impact from currency movements. While another quarter is in the books, the status quo for Philip Morris remains unchanged.

Reported revenues for Q4 plunged by 11.2% over the prior year period. If you take out currencies and acquisitions, the top line would have grown by 4.0%. The revenue figure missed analyst estimates by about $100 million. On the bottom line, adjusted earnings matched expectations at $0.81, down 21.4% from the year ago period, or a 3.9% decline when excluding currencies.
Back in November, the company provided some initial color on this year. While management was not expecting the 2016 currency hit to be as bad as 2015, it still called for a 27 cent EPS hit. Unfortunately, the situation has changed in recent months, and not for the better. Now, management is calling for a 60 cent hit to EPS thanks to currencies. Adjusted EPS are expected to rise in the low double digits, while there is no expectation for stock buybacks currently. Unfortunately, this new forecast changes the narrative a bit, as seen in the chart below.
(Source: Philip Morris quarterly earnings page)
For the full year in 2015, the company did report a $319 million increase in free cash flow, primarily thanks to a strong finish to the year. This could bode well for those looking for another dividend raise this year, a key question for 2016. Lower earnings will hurt cash flow, and a rising share count won't allow for as much of a dividend raise, but I still think a penny or two a quarter will come. Again, no buybacks are currently forecast, which isn't much of a surprise given the cash flow situation. I'm more interested at this point to see what happens with the debts maturing this year, to see if the company can refinance at lower rates or if they are paid off.
Overall, the report from Philip Morris was a bit underwhelming. Q4 results were a bit weak, and the 2016 forecast was worse than expected. While shares are down on the news Thursday morning, they are still at the upper end of their yearly range. As seen in the chart below, this is not the time to be accumulating shares. Wait for the next pullback, as the best time to buy is usually below the 50-day moving average.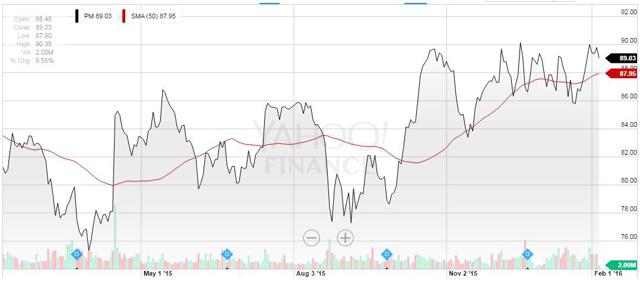 (Source: Yahoo! Finance)
Disclosure: I/we have no positions in any stocks mentioned, and no plans to initiate any positions within the next 72 hours.
I wrote this article myself, and it expresses my own opinions. I am not receiving compensation for it (other than from Seeking Alpha). I have no business relationship with any company whose stock is mentioned in this article.
Additional disclosure: Investors are always reminded that before making any investment, you should do your own proper due diligence on any name directly or indirectly mentioned in this article. Investors should also consider seeking advice from a broker or financial adviser before making any investment decisions. Any material in this article should be considered general information, and not relied on as a formal investment recommendation.