Introduction: I felt compelled to write my first article for Seeking Alpha due to the amount of confusion and misinformation surrounding crude oil at the moment. The oil rout has encapsulated the front pages of newspapers, prime-time television, and even the Presidential debates. Just today, oil prices exploded eight percent just after an inventory build of 7.8 million barrels was announced by the EIA. It seems that everyone has an opinion on where crude oil will land next; with nobody's guess being better than the other. Many respected analysts are predicting that crude oil prices are long-term oversold and may be finding a bottom here. Back in early 2015, Citi was calling for crude oil to hit the $20s (which came to fruition) yet they are forecasting prices to hit the $40s by the end of 2016. However, I will not spend any more time covering the price history of WTI as it has been analyzed to death by many.
If you have had the patience to wait on the sidelines this long then you may be wondering; what is the best way for me to go long crude oil? You may have gotten an idea after overhearing water-cooler talk: something along the lines of "buy a 3X leveraged oil ETF if you're bullish oil." These products (i.e. UCO, UWTI) definitely serve a purpose; but that purpose is not part of a long-term strategy. For more information on why, please read this excellent article by a Seeking Alpha contributor on the subject. After following the price action closely, I have articulated my bullish strategy to play a crude oil rally.
LEAPS: For those unfamiliar, LEAPS is an acronym standing for Long-term Equity AnticiPation Securities. Essentially, LEAPS are identical to standard options except they feature a key differentiator: a longer expiry. This long-term expiration proves a massive benefit to investors that desire a longer horizon. Predicting short-term market moves is best left to those with a crystal ball. The downfall with LEAPS (and options in general for that matter) is that you must pay for the time. The farther the expiration date, the more expensive the premium that you will pay. However, there is a way to pay minimally for that time, which brings me to my next point.
Deep-In-The-Money-Options: Buying deep-in-the-money (or DITM) options is a great strategy as you're paying almost entirely for intrinsic value and your options will move nearly lock-step with the underlying security. Many times have investors been disappointed when the underlying security moves drastically but the option they are holding barely makes a peep. A key metric to focus on when buying DITM options is delta. A delta of 1 (or -1 for puts) means that the call will move 100% with the underlying security. When buying DITM calls I prefer to look for a delta of .8 or higher.
For the average investor, the futures market is largely off-limits. It may seem like the wild, wild west due to the necessity for more capital, higher leverage, and rolling contracts. The most logical way for an average investor to invest in the spot price of crude oil would be through ETFs.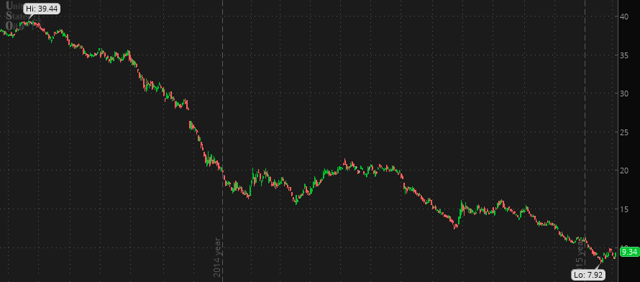 The King of Oil ETFs: The most popular non-leveraged crude oil ETF is USO, boasting an average daily volume of 41MM. The longest dated LEAP offered on USO expires in January of 2018, 716 days from the time of writing this article. To buy one call at the $5 strike-price on the aforementioned LEAP would cost approximately $500 per contract. I believe that this contract provides exceptional value for the opportunity it presents. I created the below table to illustrate the price of the call compared to the spot price of USO/crude oil. As you can see, the call provides a great alternative to strictly buying the underlying security flat out. I must note that the implied call price is theoretical as USO can experience minor slippage in comparison to the spot price. Additionally, I'm assuming value at date of expiration. If you were to sell before expiration, the call would be worth more as you would still have time-value on your option.
| Crude Oil Spot Price | USO Price | Implied Call Price at Expiration | % Gain on USO/Spot | % Gain on Jan 2018 $5 Call |
| --- | --- | --- | --- | --- |
| $33.38 | $9.60 | $5.07 | 0% | 0% |
| $35.00 | $10.07 | $5.07 | 5% | 0% |
| $40.00 | $11.50 | $6.50 | 20% | 28% |
| $45.00 | $12.94 | $7.94 | 35% | 57% |
| $50.00 | $14.38 | $9.38 | 50% | 85% |
The Cherry On Top: Due to USO being established as a limited partnership, many investors become peeved when they receive that pesky K-1 form at tax time. Buying the option helps you avoid the K-1. Additionally, options on USO are considered "non-equity options" and therefore qualify for IRS Section 1256 tax treatment. This means that if you were to sell your option within twelve months, you would pay 60% long-term gains and 40% short-term gains. This can be a huge tax advantage should your investment pay off in a shorter time frame than anticipated.
Conclusion: In summary, USO is the best bet for the average investor to play a recovery in crude oil prices. The purpose of this article is to highlight the significant advantages of buying DITM LEAPS as an alternative to purchasing the underlying security. Buying the January 2018 $5 Call gives you added leverage at a bargain while also giving you the advantage of nearly two years for your recovery thesis to occur. Keep in mind that options are not for beginner investors and carry significant risk, up to and including a total loss of the premium paid.
Note on Contango: Many have reported on the drastic effects that contango can have on commodity-based ETFs/ETNs. I have not focused on that in this article since we are bullish on a rebound in the spot price of crude oil within a two-year timeframe. Additionally, a rising price environment can experience backwardation; which would benefit the underlying ETFs. If you wish to research contango in more depth, have a look at this article.
Disclosure: I/we have no positions in any stocks mentioned, and no plans to initiate any positions within the next 72 hours.
I wrote this article myself, and it expresses my own opinions. I am not receiving compensation for it (other than from Seeking Alpha). I have no business relationship with any company whose stock is mentioned in this article.