It was only last month when I speculated that Qualcomm's (NASDAQ:QCOM) server joint venture in China could pave the way for similar joint ventures with major Cloud service providers such as Alphabet's Google (NASDAQ:GOOG) (NASDAQ:GOOGL) and Facebook (NASDAQ:FB). Bloomberg reported that Google is engaged in a partnership with Qualcomm to use its server chip in Google data centers. This could be the start of an, even more, extensive alliance between the two companies.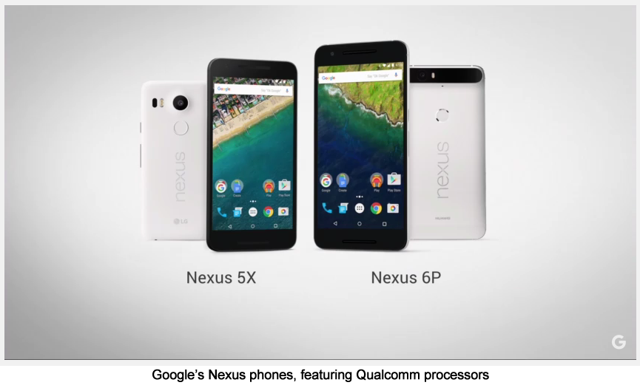 Source: Android Beat
Penetrating Difficult Markets
My recent article on Intel's efforts in data center networking received a comment to the effect that server processors featuring ARM Holdings (NASDAQ:ARMH) architecture were totally unsuited for data center use. I've often seen such sweeping generalizations on Intel's (NASDAQ:INTC) behalf such as "Intel will dominate mobile devices" and "ARM foundries will never develop 14 nm FinFET processes." Neither assertion has proved correct.
Apparently Google disagrees with the assertion about ARM suitability in the data center as well. According to the Bloomberg article, Google is taking Qualcomm's server offerings very seriously, cooperating on design work and committing to using the processors if they meet expectations.
Intel bulls would have us believe that the data center remains a secure bastion for x86 processors, and I even believed this for a while myself. A couple of factors have served to persuade me otherwise.
The first is the mounting evidence that x86 is inherently cost disadvantaged compared to ARM, assuming equivalent performance. This view is substantiated by the fact that Intel processors have achieved no meaningful penetration of the smartphone market. In lightweight tablets, Intel's market penetration has only been achieved through contra revenue subsidies.
This is further corroborated by comparison testing of the Apple (NASDAQ:AAPL) A9x processor with the latest Intel Skylake Core M3 processor performed in Anandtech's review of the iPad Pro. Overall, with graphics performance included, the processors were very comparable in performance. Estimated costs for the A9 processor in the iPhone 6s run about $30.00. Probably the cost of the larger A9x would be 50% more. But this is far less than Intel's asking price for the Core M3-6Y30 of $281.00.
The other key factor arguing on behalf of ARM in the data center is Qualcomm's recently announced joint venture with the government of Guizhou Province in the People's Republic of China. The joint venture will design and build server processors using Qualcomm intellectual property, as well as build a cloud services center in the province.
Qualcomm's selling directly to a cloud services provider has the benefit of circumventing one of the major stumbling blocks to ARM processor adoption, which has been commercial software stack maturity. A commercial cloud provider such as Google has complete control of their internal cloud software, and, with the appropriate investment, can ensure that the stack runs on the ARM platform.
As described in the Bloomberg article, the large cloud providers also manufacture their own hardware, designing their systems down to the board level. Both Google and Facebook are known to do this. Bloomberg states that Google buys 300,000 processors every quarter for its server manufacturing operation and accounts for 5% of processor shipments. So these companies can provide a huge market for processors just based on their internal needs.
The fact that Google is so interested also tends to confirm the potential cost advantage of ARM over Intel. Cost effectiveness has always been something that Intel bulls have tended to overlook. They have focused on technology advantages that were exclusive to Intel and not considered cost. The x86 vs. ARM performance debate was entirely moot. The fact that there wasn't a significant performance discriminator between the architectures wasn't as important as the performance/cost ratio.
The Deepening Partnership
I've also pointed to another area of potential partnership between Google and Qualcomm. This has to do with reports that Google has been seeking a chip partner to co-design systems on chip ((SOCs)) for Android smartphones and tablets. This is in response to the growing trend among smartphone makers such as Apple, Samsung (OTC:SSNLF), Huawei, and LG to design custom SOCs rather than buy off the shelf units from commodity suppliers such as Qualcomm or Intel. These custom SOCs have generally been higher performance and more profitable for the mobile device makers.
Controlling both the operating system and the hardware design, as Apple does, affords it the opportunity to optimize the design of both for a better integrated, more efficient and more useful system. I believe this is precisely the advantage that Google seeks through the hardware partnership.
Qualcomm is probably the best suited as Google's partner. Qualcomm's SOCs are already the de facto standard in the Android world. And Qualcomm has to some degree suffered on account of the paradigm shift spearheaded by Apple and Samsung. Cooperation between Qualcomm and Google is a natural and mutually beneficial adaptation to the paradigm shift by both companies.
Investor Takeaway
The Bloomberg report is not quite enough for investors to take to the bank, but it does claim that the partnership will be announced next week. That announcement could come at Qualcomm's 2016 Analyst Meeting on February 11.
I continue to be very impressed by Qualcomm's Snapdragon 820 SOC and wireless expertise, and decidedly unimpressed by Intel's efforts in mobile and wireless. But Qualcomm's guidance for a 17-29% y/y revenue decline for the March quarter illustrates that it still has an uphill struggle to maintain and expand its dominance of the commodity ARM processor market.
For that reason, I'm still a little cautious, maintaining a hold rating on the stock. I'll certainly revisit this after next week.
Disclosure: I am/we are long AAPL.
I wrote this article myself, and it expresses my own opinions. I am not receiving compensation for it (other than from Seeking Alpha). I have no business relationship with any company whose stock is mentioned in this article.
Editor's Note: This article discusses one or more securities that do not trade on a major U.S. exchange. Please be aware of the risks associated with these stocks.