After the surprise announcement of a Winn-Dixie (NASDAQ:WINN) buyout at a significant premium to its last trading price, investors are looking for the next takeout candidate. A troubled, low-price candidate, Supervalu (NYSE:SVU) has been bandied about as the next potential candidate.
This article will focus on three main factors that I believe will clearly show that this is highly unlikely scenario. The first reason revolves around debt. WINN has no long-term debt or any commercial borrowings, whereas SVU has a debt to equity number of 4 and well over $5 billion in debt. The debt load SVU carries when coupled with declining same store sales greatly impedes their current and ongoing future profitability. A potential buyer would have to assume the debt in a purchase, making it in my opinion highly unlikely a buyer will emerge including private capital.
One of private capital's favorite tricks is to take a stable business, load it up with debt and pay themselves a huge dividend, taking most, if not all, their original investment out. Private capital is then left with a highly leveraged business that must be expertly run to avoid bankruptcy. As long as revenue and margins are in line, they prosper; however, if there is an economic downturn and margins compress, the underlying business will suffer and will be forced into bankruptcy.
The second major difference is the business model. Specifically, WINN is strictly a grocery store chain that has been actively divesting all noncore assets. For example, in the summer of 2011 it divested itself of its soda factory. SVU's business model is that of a grocery store operator and food wholesaler. With the current state of the economy, a spin-off would be difficult, and would raise a separate question: How much debt does the wholesale division take with it? Margins in the wholesale division are compressed, forcing SVU in my opinion to spin them off with limited debt. This will further hamper the grocery store division's future profitability, being that they will be burdened with an enormous amount of debt.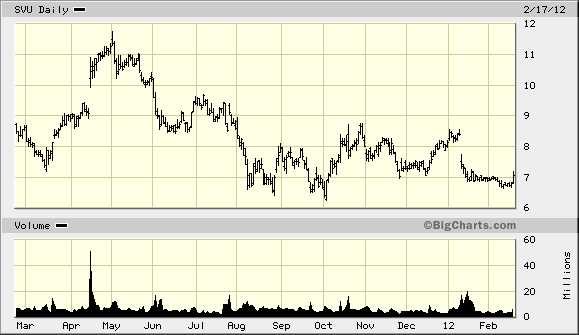 Chart courtesy of Bigcharts.com.
The third distinguishing feature is market cap. WINN is being bought out for a total of 560 million in cash for 480 stores in five states. This equates to roughly $1.16 million per store, which is inexpensive considering it typically commands $3-5 million to construct a similar store. WINN is geographically concentrated in five states in which its acquirer Bi-Lo has no presence. The potential merger would thus face no antitrust or regulatory concerns, and should proceed as planned.
SVU has a market cap of $1.7 billion, not including debt, so a similar, say, 70%, premium to an $8 stock would send the shares up to $13.60 and a market cap of roughly $2.9 billion with the assumption of $6 billion in debt. That would be a large purchase for anyone outside the majors -- i.e. Kroger (NYSE:KR), Safeway (NYSE:SWY), etc. SVU has more than 2,400 stores, making it highly unlikely one buyer would emerge. Any potential deal with a major would face extensive regulatory scrutiny, requiring extensive divestiture before being allowed to proceed.
To summarize, it is my opinion the buyout rumors are baseless, and I will not be purchasing SVU at any point in the near future. I further view the dividend as tenuous at best, and unstable.
Disclosure: I have no positions in any stocks mentioned, and no plans to initiate any positions within the next 72 hours.
Additional disclosure: Thanks for reading and I look forward to your comments. This article is for informational purposes only and not actual financial advise.