Merrimack's (NASDAQ:MACK) share price is down more than 50% from its all-time high achieved in late April 2015. The weakness was largely a consequence of the bear market in the biotech sector and came despite Onivyde's approval in October. The fear of dilution might have played a part as well, but the company alleviated those concerns with a senior note offering in late December. The offering also enabled the company to keep a promising asset to itself (MM-121), but which might have been perceived as a disappointment, since the company mentioned earlier that it will seek a partner for this asset after Sanofi backed out in 2014. I think that the 50% haircut in the share price brings a solid long-term buying opportunity and that Onivyde's current indication alone could provide some upside for long-term investors while pipeline developments could unlock significant shareholder value in the following years.
Onivyde commercialization is the near-term growth driver; expanded indication to drive higher long-term growth
In late October 2015, Onivyde was approved by the FDA in "combination with fluorouracil (5-FU) and leucovorin for the treatment of patients with metastatic adenocarcinoma of the pancreas after disease progression following gemcitabine-based therapy." This combination represents the only FDA-approved treatment option for this setting. In phase 3 trials, Onivyde with 5-FU and leucovorin achieved an overall survival of 6.1 months compared to 4.2 month survival by the control arm. According to Merrimack, there are approximately 18,500 eligible patients in the United States a year (the overall incidence of pancreatic cancer is around 49,000 a year) and the company expects $43,000 per patient for an average of 4 months on therapy. This translates to a TAM in the U.S. of around $800 million.
Baxalta (which is being acquired by Shire) is responsible for international sales, while Merrimack is entitled to up to $500 million in R&D milestone payments (not including the money the company already received) and up to $250 million upon achieving specific sales milestones and royalty rates in sub-teens double-digits to low twenties.
Apart from the approved indication, the company is also conducting phase 2 trials for frontline pancreatic cancer and phase 1 trials for glioma, pediatric sarcoma and breast cancer (imaging). Data from the frontline pancreatic cancer should be available in 1H 2017, while the phase 1 results for the other three indications should become available this year. If successful in just one of these trials, Onivyde's TAM should increase substantially.
Pipeline might unlock significant shareholder value in the following years
In addition to Onivyde, Merrimack also has other promising pipeline candidates (see the full pipeline in the image below).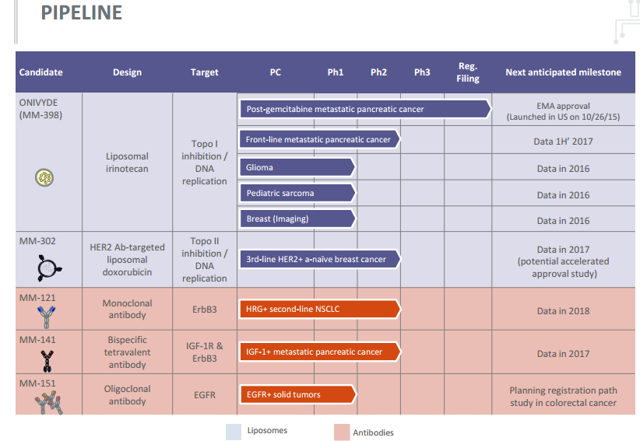 Source: Merrimack investor presentation
MM-302 ('302 for convenience) is "an antibody drug conjugated liposomal doxorubicin that targets the ErbB2 ((HER2)) receptor." '302 targets and binds to cancer cells that overexpress ErbB2 ((HER2)) and releases doxorubicin at tumor's site while minimizing uptake into normal cells. The product candidate is in phase 2 trials in combination with Herceptin in patients with ErbB2 ((HER2)) positive, locally advanced or metastatic breast cancer and is designed for a potential accelerated approval application.
MM-121 ('121 for convenience) is "a fully human monoclonal antibody that targets ErbB3, a cell surface receptor that is activated by the ligand heregulin." It was designed to "inhibit cancer growth directly, restore a tumor's sensitivity to drugs to which it has become resistant, and delay the development of resistance by a tumor to other agents." The company believes that '121 has a broad range of potential applications of metastatic tumors: lung, prostate, breast, ovarian, colon and pancreatic. Since '121 is targeting the heregulin-dependent ErbB3, this means that it is relevant to about 35% to 50% or more cancer patients with these types of tumors.
In 2014, the company announced results from four phase 2 trials in metastatic cancers, which showed that '121 in combination with a standard of care therapies was more effective than the standard of care alone in prolonging progression-free survival, or PFS. For example, '121 in combination with paclitaxel in platinum resistant or refractory advanced ovarian cancers showed a PFS of 5.7 months compared to 3.5 months for paclitaxel alone with a hazard ratio of 0.37 (a hazard ratio below 1 indicates that a patient is likely to progress less quickly compared to the control arm) and a p value of 0.007. Similar results were achieved in metastatic ER/PR+, ErbB2 ((HER2)) negative breast cancer where '121 was used in combination with Exemestane, with a median PFS of 3.8 months compared to 1.9 months on Exemestane alone, a hazard ratio of 0.26 and a p value of 0.003. These results seem quite promising and I have seen peak sales estimates just for the U.S. in excess of $1 billion, while fellow contributor Decision Analytics points out the significant addressable markets in targeted indications.
Sanofi (NYSE:SNY) was Merrimack's partner for '121 but has decided to terminate the deal in 2014. The company has indicated a strong interest in partnering this asset once again, but has recently decided to develop it alone.
Valuation
I think that Onivyde's current indication can support worldwide annual sales of around $500 million. The company should capture a significant part of the $800 million U.S. market - I expect a 40% to 50% penetration rate at peak, which results in annual sales of $320 million to $400 million (Oppenheimer, for example, expects U.S. sales to peak at $440 million or a 55% penetration rate), while international sales, for which Baxalta is responsible should yield annual royalties of around $40 million to $50 million, based on a royalty rate in the high teens or low twenties and sales between $200 million and $300 million. Given the high R&D expenses and relatively low sales expenses (the company has only 50 sales reps), I would not expect a very high net margin (which is usual for high margin products like Onivyde) in the low end of the revenue range, but the upside to margins should come from international sales, which should bring the net margin to 30%. Based on the low end of the revenue range ($320 million in U.S. plus $40 million in royalties), this translates into annual net income of around $110 million. If we assume 5 years for sales to peak and a 15% discount rate, we get a $7 price target on Onivyde's current indication alone.
| | | |
| --- | --- | --- |
| | Low estimate | High estimate |
| Onivyde revenues | 360 | 460 |
| Net income | 108 | 161 |
| Multiple | 15 | 15 |
| Future value | 1620 | 2415 |
| Diluted shares outstanding | 116 | 116 |
| Future EPS | 0.93 | 1.39 |
| Discount factor | 0.497 | 0.497 |
| Present value | 805.43 | 1200.68 |
| Price target | 6.94 | 10.35 |
Source: Author's calculations
Applying more aggressive peak sales targets for both the U.S. ($400 million) and international sales ($300 million) would result in annual revenues of around $460 million and a net margin of 35%, 5 years for peak sales and a 15% discount rate results in a price target of around $10.
Both scenarios are based just on Onivyde's current indication and with no value coming from the other two pipeline candidates and do not account for significant development and sales milestone payments from Baxalta. Analyst price targets are in the $13 to $15 range, and point to significant upside from current levels.
Risks
The political rhetoric is clearly having a negative impact on the biotech sector in addition to the weakness in the general market. Uncertainties regarding drug pricing are expected to have a negative impact on the whole industry until the elections are over, or even longer depending on who wins the elections. However, I am not expecting significant changes in the industry, and think that significant pricing controls would be damaging for both the United States and the rest of the world. Merrimack is a clear example. The company is targeting a small patient population with a devastating disease and its accumulated deficit as of September 30, 2015 was more than $750 million and likely to approach $1 billion by the end of 2017. The costs of developing drugs are certainly high and I do not think that any commercial company would try to develop a drug without a chance of becoming profitable in the future. I think that Onivyde's price is fair relative to its development costs and the patient population and future revenues will allow for more R&D spending, and hopefully lead to more efficacious drugs in the following years. That said, it is clear that Merrimack might move down further if the sector or the whole market continue to go down, but I believe that the current price represents a good value for long-term investors.
Onivyde's uptake is the other and more significant risk. If Merrimack fails to get the majority of patients on therapy in the United States (and the same goes for Baxalta internationally), the company will likely need additional funds, which could dilute the current shareholder base. The company had $62 million in cash and equivalents at the end of Q3, has received a $47.5 million milestone payment from Baxalta and has raised $175 million through a secured note offering in late December. Quarterly expenses in the last couple of quarters were around $50 million and should not be much higher going forward given a small sales force of less than 50 reps and the geographic concentration of cancer treatment in the U.S. The current cash balance should be enough to cover expenses over the next four quarters, but Onivyde sales could reduce the quarterly cash burn significantly in the following quarters and milestone payments should also increase the cash balance during 2016. The current analyst consensus for 2016 revenues is $164 million, which implies a cash burn of around $50 million or less this year. If Onivyde picks up as expected, additional dilution is unlikely, but if it does not, the company would need to raise significant funds through a secondary offering, while the alternative is to find a partner for other pipeline candidates and secure a substantial upfront payment.
The third significant risk for the company is the competition. There are a number of competitors in all the targeted areas, both commercial and in development. If some of the competing product candidates show better efficacy and safety, Merrimack's future revenues could be reduced significantly.
Conclusion
Merrimack looks promising. Onivyde's current indication alone could be enough to justify the current valuation and could even provide solid upside based on the high end of my revenue expectations, while pipeline candidates (including Onivyde's potentially expanded indications) represent a free call option for long-term investors. '121 alone has the potential the significantly exceed the value of Onivyde for Merrimack, and results from trials could be the largest catalyst for the stock in the following years. In the near-term, solid Onivyde sales could be the catalyst for a higher share price, while pipeline developments are the real long-term growth drivers for Merrimack.
Disclosure: I/we have no positions in any stocks mentioned, but may initiate a long position in MACK over the next 72 hours.
I wrote this article myself, and it expresses my own opinions. I am not receiving compensation for it (other than from Seeking Alpha). I have no business relationship with any company whose stock is mentioned in this article.
Additional disclosure: This article reflects the author's personal opinion and should not be regarded as a buy or sell recommendation or investment advice in any way.