For the second straight quarter, PC Connection (NASDAQ:PCCC) posted a double-digit percentage gain following earnings, this time an 11.2% jump on Friday following its Q4 release: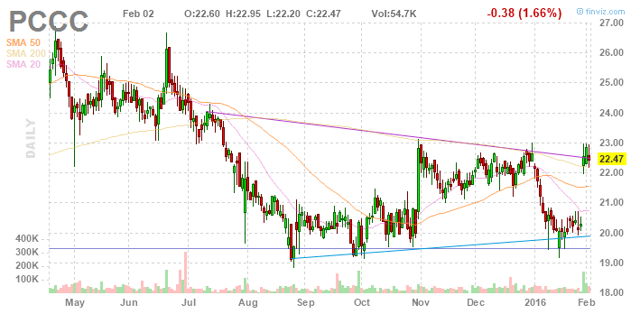 Source: finviz.com
Of course, as seen in the chart above, the problem for PCCC isn't necessarily the earnings reports, but what comes in between. Shares are essentially flat YTD at a current price of $22.47, and down about 7% from where they traded when I first recommended the stock back in May. (The company did pay a 40 cent special dividend last month, the fifth straight year it has made such a payout.)
The weak trading between reports might take some of the shine off the back-to-back beats, which, on the chart at least, look more like relief rallies than real strength. But Q3 was an excellent quarter, and Q4 showed strong performance against a tough comp. There are challenges in the IT space, to be sure, and distributors of all stripes seem to be having a tough time in the current market. But PCCC has managed in a difficult environment for years now, with the stock outperforming its peers and the company outperforming its larger rivals in the space. At a certain point, the market should give PCCC some credit, but the current valuation - ~11x trailing EPS + cash - seemingly doesn't do justice to the stock, or the company.
The Q4 Numbers
On their own, PCCC's Q4 numbers looked good. Net revenue increased 8.5% year over year; diluted EPS rose 13%. But they are more impressive considering the comparison: Q4 2014 sales were up 9% and EPS up 22%. That's likely one reason why analyst consensus was relatively conservative, with PCCC blowing by those estimates (beating by $0.06 in terms of EPS, and 5.6 percentage points in terms of growth).
On a segment basis, the clear driver was the Large Account segment, which posted its largest quarter ever. Sales rose nearly 23% year over year. On the Q4 conference call, CFO Joe Driscoll attributed some of the increase to a few large contracts pulled into the end of Q4, estimating the impact at about $20 million. Yet even excluding that incremental revenue, segment sales rose 14%. SMB (small and medium business) revenue increased just 0.4%, and Public Sector sales rose just 0.8%, but both groups had very difficult comps; traditionally lumpy government business rose nearly 19% the year prior.
Below the top line, the performance looked solid as well. Gross margin increased 20 basis points, and while that doesn't sound particularly impressive, against a year-prior margin of 13.2%, the incremental gains are meaningful. SG&A deleveraged very modestly: 4 basis points, excluding ~$300K in spend relative to a new distribution center in Ohio, which opened in Q3. Again, in absolute numbers, the margin increases aren't particularly striking, but against the razor-thin margins inherent in the distribution model (and on a percentage basis), the expansion provided a boost to net income, which rose 14% year over year off the 8.5% sales increase.
Looking at 2015 as a whole, PCCC's performance was solid. Revenue increased 4.5%, against ~3% growth in the business as whole (per commentary from PCCC on its Q3 call and larger rival CDW Corporation (NASDAQ:CDW) around the same time). Gross margin expanded 12 basis points, and operating margin 15 basis points (and 19 bps excluding the DC-related costs), with EPS increasing over 9%. And yet shares are down over the past year - total return, including the $0.40 dividend is about -4%, right in line with the broad market.
Indeed, PCCC shares have essentially stalled out, after a strong run out of the '08-'09 crisis: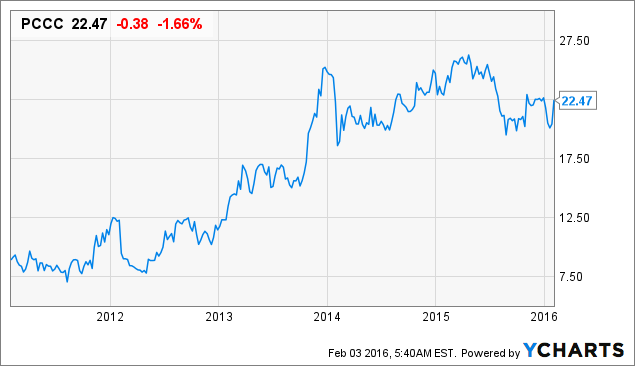 PCCC data by YCharts
And it's not entirely clear why. Yes, the IT reseller business is difficult - but it wasn't any easier in 2012 or 2013. It is possible that moves by Dell and HP Enterprise (NYSE:HPE) to encroach on resellers' turf has caused some concern, and the Dell-EMC (NYSE:EMC) merger might cause some fears that reseller margins will get squeezed. IT demand as a whole has been weak, but most end markets in the space haven't been 'hot' for nearly a decade at this point. It's difficult to argue that PCCC's positioning is markedly worse than it's been the past few years, yet the company has managed just fine, to say the least: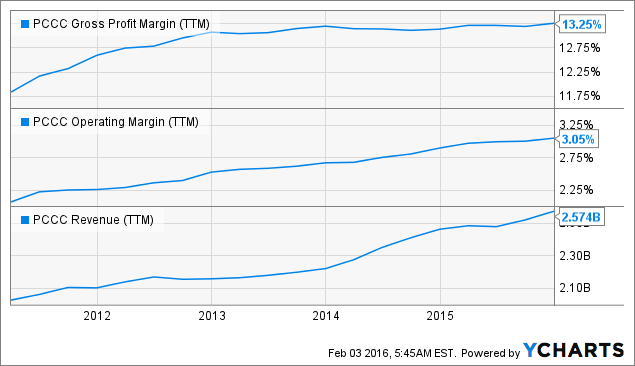 PCCC Gross Profit Margin (TTM) data by YCharts
Meanwhile, PC Connection has a clear strategy going forward, and in 2015, and particularly in Q4, that strategy appears to be working.
Looking Ahead
There seems to be a real danger in being a distributor - of anything - in this economic environment, where technology and the ever-present fear of Amazon's (NASDAQ:AMZN) plans for world domination appear to be squeezing out the middle man. Stocks like W.W. Grainger (NYSE:GWW), HD Supply (NASDAQ:HDS), WESCO (NYSE:WCC) and Veritiv (NYSE:VRTV) all have struggled over the past year or so. One might think that pressure would extend to PCCC and its peers in IT.
But that's not the case, at least from investors' perspective: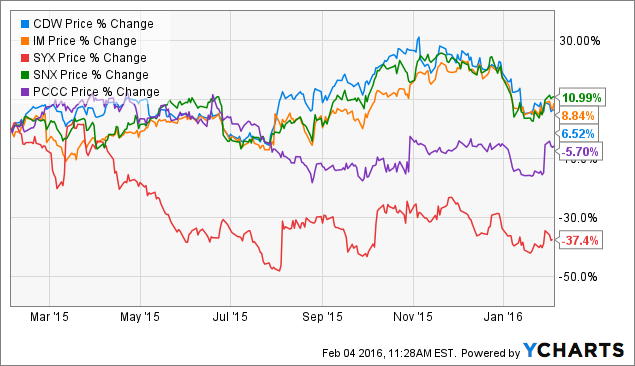 CDW data by YCharts
It remains unclear why PCCC is the laggard of the group (save for struggling Systemax (NYSE:SYX). Possibly, its smaller size means investors see it as more vulnerable - yet the company gained share yet again in 2015.
And PCCC is working to maintain its niche by moving towards a more solution-based process (smaller rival Datalink (NASDAQ:DTLK) has made the same effort, with mixed success) and expanding its reach in networking and software. (Those efforts also offer the additional benefit of boosting margins.) That focus has paid off so far: software sales were up 19% year over year in Q4 and networking helped gross margin in the Public Sector expand 41 bps. PC Connection also is targeting the healthcare vertical with great success: sales to those end customers increased 16% for the year, and 20% in Q4.
All told, this simply looks like a case where the performance of the stock isn't matching the company; looking backward at 2015, 9% EPS growth and a 4%+ sales increase don't seem like they should have left the stock trading lower than it did a year ago.
Of course, there's a possibility that PCCC simply was overvalued in early 2015, but looking at the fundamentals, it seems more likely that it's undervalued at the moment. The stock trades at just 11x trailing EPS plus its ~$3 per share in cash; even a zero-growth 12.5x multiple + cash gets shares to $25, offering 10%+ upside. To be sure, multiples in the space are relatively compressed, generally in the 11-13x range. But PCCC's growth and market share gains seem to merit a valuation towards the higher end of that range.
There's also some room to use the balance sheet: cash reached $80 million at the end of 2015, up nearly $20 million year over year, with a chunk of that balance likely excess. PCCC has nearly $19 million - enough to retire over 3% of shares - left on its share repurchase authorization, and CFO Driscoll said on the Q4 call the company still was looking at M&A as well as buybacks or dividends. This actually looks like a company, particularly given relatively meager growth in its end markets, that might benefit from a bit of leverage, particularly if the company can find a target in advanced solutions that might augment growth and/or margins.
Downside risk here seems manageable, given the multi-year strength in the business, the balance sheet, and execution to this point (particularly with the DC apparently up and running). The IT space as a whole may provide some challenges: notebooks and tablets remain a key category, and there has been some pressure there, most notably relative to tablet sales.
But I think the argument I've made for the past year or so still holds, and PCCC still looks undervalued. It's not a sexy stock; I've argued in the past that PCCC is one of those stocks investors tell other investors they should buy, but never buy themselves. (To prove my own point, I still haven't gone long myself, largely due to chasing some other sexier plays.) But even a choppy macro environment should drive some level of EPS growth this year, which combined with multiple expansion to 12-13x and another dividend offers potential double-digit returns for 2016. That's not the most head-turning bull case out there, but it's a solid bull case nonetheless.
Disclosure: I/we have no positions in any stocks mentioned, but may initiate a long position in PCCC over the next 72 hours.
I wrote this article myself, and it expresses my own opinions. I am not receiving compensation for it (other than from Seeking Alpha). I have no business relationship with any company whose stock is mentioned in this article.