Let's face it. You don't invest in MLPs for their share price appreciation, you invest in them for income. You're buying them for their ability to generate cash and pass it on to investors and Enterprise Products (NYSE:EPD) has demonstrated their ability to do so for nearly two decades now. This share price decline is the best thing to happen in years for buyers of EPD stock. Their bedrock-stable dividend growth hasn't been sold this cheap for a long time.
There was a time when MLPs typically yielded 7% to 11%, even 12% or higher in times of distress. Low interest rates and optimism over the shale oil boom ended that. Income investors and those lured by the growth of the American energy industry bid up prices and consequently, pushed down yields. The result was years of high valuations and low dividends for MLPs. At the moment, for those companies that can support their payouts at least, we're catching a glimpse of the old days. With a yield in the neighborhood of 6.5% and an almost otherworldly record of distribution growth, this could be the time to cut yourself a slice of EPD's pie if you can stomach a rocky energy market and big day-to-day price swings.
Kinder Morgan (NYSE:KMI) recently cut their dividend by about 3/4ths. They're not alone, either. Reduced and suspended distributions have been a theme of the midstream landscape given recent difficulties in the U.S. energy industry. So what does Enterprise Products plan to do in 2016? Well, in January management recommended $1.61 in distributions for 2016 to the board. If approved, that would mean a 5.2% increase over the $1.53 paid out in 2015. Distribution growth is nothing new for investors in Enterprise Products. In fact, anything else would be almost unthinkable. The latest payout from EPD marks the 46th consecutive quarterly distribution increase and the 55th since the company went public in 1998. The last time this company declined to raise its payout was 2003. In that year the U.S. invaded Iraq and quickly declared victory with George W. Bush's "Mission Accomplished" speech, Arnold Schwarzenegger was elected governor of California, and the New York Yankees lost the World Series. Clearly this was a mistake.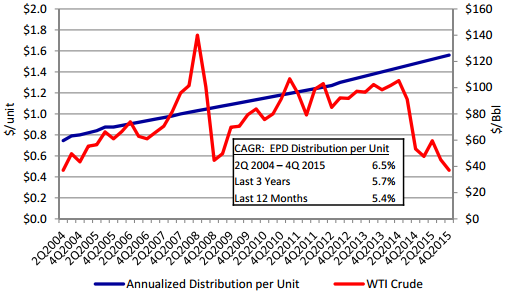 The 2016 distribution increases from EPD will be supported by $6 billion in new projects that will begin operations in 2016. These projects include two natural gas processing plants and their related infrastructure in the Permian Basin, an ethane export terminal on the Houston Ship Channel, and a propane dehydrogenation facility in Mont Belvieu. This, along with a 2015 distribution coverage ratio of 1.3 and the addition of $1.6 billion in cash from asset sales, means there's no reason to think their impeccable record of distribution growth is in any danger in the immediate future. And with continued strong insider buying, it doesn't look like EPD's management thinks so either.
However, 2015 was an ugly year for Enterprise Product's topline. Revenue fell 43.6%. Investors can get at least a little bit of comfort the further down the income statement they look. Operating income was only down 6.2% as costs fell in tandem with revenue. Net income fell 9.7% and cash flow from operations, the key driver of EPD's ability to pay investors, contracted just 3.8%. On the other hand, gross operating margin, which is EPD's preferred internal measure of the company's profitability, rose 0.9% for the year and distributable cash flow rose 37.5%, bolstered by the sale of their offshore business. For investors worried that they're divesting the business in order to maintain payouts to investors, offshore operations represented only a small slice of Enterprise Products and an even smaller slice of their income. As a less profitable and lower margin segment, it accounted for just 3% of total gross operating margin in 2014.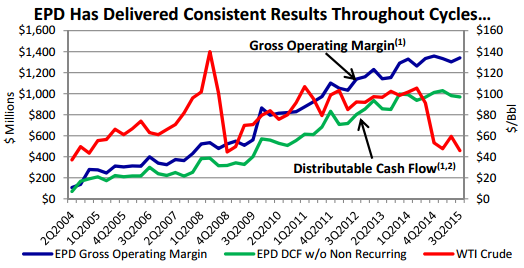 Investors can seek further consolation in the company's operations for 2015. NGL and crude oil pipeline volumes were up, NGL processing volumes were up, and $2.7 billion in organic growth projects came online in 2015. Given the backdrop of a difficult energy market, Enterprise has performed quite admirably and with their strong position in the industry, there's no reason to think they shouldn't be able to do so in the future. With one of the better financial conditions in the midstream energy industry and a portfolio that includes 49,000 miles of pipelines, 225 million barrels of storage capacity, 14 billion cubic feet of natural gas storage, and 24 natural gas processing plants, among other operations, EPD should continue to stand out from its peer group as a solid and steady business. As CEO Jim Teague says,
We believe Enterprise is well positioned to manage through this difficult period. Our integrated system provides both business and geographic diversification. Our largest customers are major consumers of energy such as integrated energy companies, petrochemical companies, crude oil refiners and utilities. We have spent the last five years developing markets and assets to cultivate incremental demand for U.S. NGLs, crude oil and refined products. Financially, we entered this cycle with strong cash flow coverage of our distributions and Baa1/BBB+ credit metrics. Our retained distributable cash flow has provided us flexibility in raising capital and a margin of safety for our distributions, Cash flow from existing assets and new assets under construction provide the foundation for continuing distribution growth in 2016.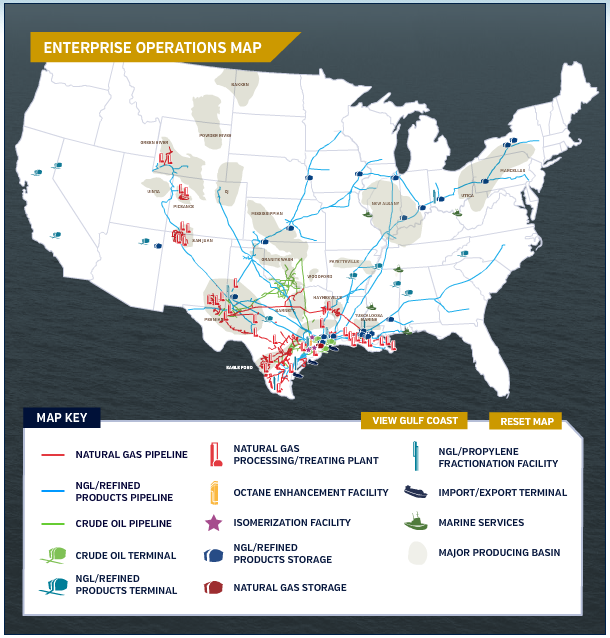 While volatile markets are unnerving, any dips could be considered an opportunity for those willing to brave price swings and purchase a steady company in what is currently an unsteady industry.
Disclosure: I am/we are long EPD.
I wrote this article myself, and it expresses my own opinions. I am not receiving compensation for it (other than from Seeking Alpha). I have no business relationship with any company whose stock is mentioned in this article.