Kamada (NASDAQ:KMDA) is a micro-cap (MC about $130m) Israeli biopharmaceutical company (founded in 1990) with about 300 employees. It focuses on the development of biopharmaceutical products, especially intravenous and inhaled alpha-1 antitrypsin protein (to be explained later) and Rabies IgG. AAT is what makes Kamada so interesting, but it is also AAT which is behind the current low price. The importance of AAT for Kamada is clear from just a single glance at their pipeline.
Kamada, as we know it today, entered NASDAQ in 2013 at $9.25/Sht. In less than a year, the price almost doubled with a peak around $17.3 and the company was on the way to becoming the second largest Israeli biotech company. This was all because of the anticipation of top line key results from the Phase II/III pivotal clinical trial in Europe and Canada of the company's proprietary inhaled alpha-1 antitrypsin therapy for the treatment of Alpha-1 Antitrypsin Deficiency. Unfortunately, in May 2014, Kamada announced that the study had failed to achieve its primary endpoint of time to the first moderate or severe exacerbation event at one year. There was no difference between the control and placebo groups. It was positive that the secondary endpoints were met, but this did not prevent Kamada's shares from collapsing and losing about 50% in a few days. Even worse, a lack of interest sent Kamada's shares to the current price around $4. So why should you care about such a company? Well, it is simple. Since May 2014, a lot has changed. Kamada has made good progress. With regard to the pipeline, sales etc., everything is brighter, but the price is lower. This, in my opinion, means that the room for another decrease is limited, but the room for gains is huge.
Alpha-1 Antitrypsin Deficiency
To understand why Kamada is so interesting, you must first understand what Alpha-1 Antitrypsin Deficiency (AATD) is. To use a medical description, we can state that it is "a genetic disorder that causes defective production of alpha 1-antitrypsin (A1AT), leading to decreased A1AT activity in the blood and lungs, and deposition of excessive abnormal A1AT protein in liver cells. Alpha-1 antitrypsin (A1AT or just AAT) is a glycoprotein which is largely produced in the liver. It is a serine protease inhibitor and its main function is to balance the action of neutrophil protease enzymes in the lungs (protect the lungs from neutrophil), egg neutrophil elastase produced by neutrophils in the presence of inflammation, infection or smoking. (Neutrophil elastase is an enzyme that normally serves a useful purpose in lung tissue - it digests damaged or aging cells and bacteria to promote healing)."
Translated into layman's English, this means that if you have this genetic disorder, it increases your risk of lung and liver diseases. Although it is a relatively common disorder and affects about 1 in 1500 to 3500 individuals in Europe and in the U.S., it is often misdiagnosed, so the real number of patients cured with the appropriate treatment (at this time, there is no cure for Alpha-1, but there are treatments that can improve symptoms) is much lower. In the best case scenario, testing should be performed at least on all patients with COPD (chronic obstructive pulmonary disease), asthma with irreversible air flow obstruction, unexplained liver disease, etc. We are not there yet, but things are (slowly) changing and, even in the small middle Europe country, where I am from, you can now hear much more about AAT. It is also important to know that the diagnosis of Alpha-1 is not difficult, and is usually determined by a few tests that require a small sample of blood.
According to RBC (2013/2014 data), annually about 5500 patients in the U.S. and about 1500 patients in Europe are treated with injectable products. This means that only about 7000 patients globally out of as many as 200,000 with AATD are being treated in the appropriate way! If you want other figures, according to the American Thoracic Society, it is estimated that there are about 117 million people worldwide that may have Alpha-1 Antitrypsin Deficiency-associated phenotypes and 3.4 million people are at risk of expressing severe Alpha-1, according to the same data. In the U.S. alone, of the 100,000 people estimated to have AATD, approximately 90% do not even know they have it. For instance, about 1-5% of all people with COPD (more than 20m cases worldwide) may have undetected Alpha-1.
Kamada's injectable product currently treats only a few hundred of the 5500 patients in the U.S. (according to RBC) at an annual cost of about $80,000 to $100,000 per patient. This is the reason why an inhaled product (naturally better than injectable) could be such a game changer. Well, we know that the trial failed in primary endpoint, but interestingly that does not mean that there is not a chance for approval and it certainly does not mean that Kamada can not treat more patients with the current products. Let us investigate Kamada's pipeline in greater depth.
Pipeline
Taken from Kamada's website, their flagship product is Glassia®, the first and only liquid, ready-to-use, intravenous plasma-derived AAT product approved by the FDA. Kamada markets Glassia in the U.S. through a strategic partnership with Baxter International, now Baxalta (NYSE:BXLT). The word "only" can be a bit confusing, because it does not mean that Glassia is the only method to combat AATD. In particular, the main competitors are Grifols Therapeutics (NASDAQ:GRFS) (there are some patent issues with them worth investigating) and CSL Behring.
But Glassia still has some competitive advantages. For instance, in April 2014, Kamada announced that they have significantly improved the infusion rate for Glassia. For the average patient weighing about 70 kg, the new infusion rate reduces the weekly infusion time from 70 minutes to 15 minutes. I agree with Kamada that this, along with its ready-to-use feature, makes Glassia a highly user-friendly and convenient product. In one of the last conference calls, Amir London (CEO of Kamada) stated that they believe that "Baxalta can continue to increase the number of patients on Glassia and gain a market share of over $500 million. The market itself is growing at approximately 10% per year due to better diagnostics and increased disease awareness."
This, of course, does not mean that $500m will go into the pocket of Kamada. As stated earlier, they have a contract with Baxalta, originally signed in August 2010. In October 2015, Baxalta announced that it is extending its Glassia supply contract with Kamada (for the third time). The agreement will now be effective through 2018 and Kamada will receive a minimum of $50m in new revenue as a result of the extension. The total revenue from the entire contract will be at least $240m, compared to a minimum of $110 million in the original agreement and a minimum of $191 million in the September 2014 extension. In 2019, Baxalta intends to begin manufacturing Glassia with a shift of royalty payments to Kamada.
Apart from Glassia, Kamada also has 9 other pharmaceutical products that are marketed through distributors in more than 15 countries, and also a few plasma-derived protein therapeutic complementary products distributed in Israel that are manufactured by third parties.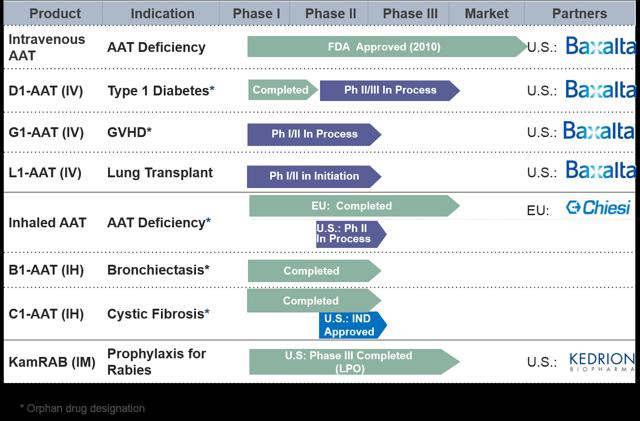 Source: Kamada's Website
Another product in the pipeline that looks promising has already been mentioned earlier. It is Inhaled AAT. In 2014, Leader & Co. projected that in Europe alone, sales could easily reach $200m annually with potential for growth. Of course, this changed in May 2014 when the Phase II/III Europe and Canada trial failed in primary endpoint, but as I have already mentioned, there still appears to be a good chance of obtaining approval. Actually, Kamada is planning to submit a Marketing Authorization Application to the European Medicines Agency for Inhaled AAT for the treatment of AATD in 1Q 2016. This is due to the fact that, despite the primary endpoint not being met, many important secondary endpoints were met. For instance, in April 2015, Kamada announced that "results from the post hoc analyzes indicate that after one year of daily inhalation of Kamada's AAT, clinically and statistically significant improvements were seen in spirometric measures of lung function, particularly in bronchial airflow measurements FEV1, FEV1% predicted and FEV1/SVC. Importantly, we believe the combination of lung functions, which are the gold standard measurements for pulmonary diseases, and symptom improvements, along with the safety profile of the product, gives us confidence that these data meet the risk/benefit balance required by EMA."
This, of course, does not mean that Kamada's Inhaled AAT must receive approval (or will be successful on the market). However, in my opinion, these results are promising because this is the first time ever that inhaled AAT has shown some ability to potentially reduce lung inflammation, as expressed by its preservation of lung function and the changes shown in the symptoms. If approved, sales would probably be lower than the anticipated $200m/year, or at least it would take more time to reach this goal. But don't forget, inhaled AAT has orphan drug designation.
The last AAT product that I'm going to mention is D1-AAT. It is Kamada's proprietary human AAT to treat newly diagnosed pediatric and young adult patients with Type 1 diabetes (T1D). In December 2015, Kamada announced that they will un-blind the current clinical trial much earlier and they have decided "to generate the final report based on clinical data from 60 patients (instead of 90) who have completed one year of therapy by the end of 2016, with results expected in the first half of 2017". Yes, that is still one year ahead, but it is almost two years sooner than expected. D1-AAT also has orphan drug designation. If this trial is successful, it could easily attract an important partnership for Kamada.
This was the first time that Kamada's drug with the AAT protein was given to children and adolescents. In the Phase 1/2 data (20 children), it was shown that at approximately 26 months from diagnosis and approximately 10 months following the last AAT infusion, 60% of study subjects who participated in the extension portion of the trial had peak C-peptide levels greater than 0.2 pmol/ml. This indicates a functioning beta cell capacity and is considered to be a higher percentage than would be expected without intervention. If (and of course, this is still a big "if") they are able to repeat these results in a larger trial, then in a few years Kamada could enter the market of 10 million Type-1 diabetic patients worldwide (3m in the U.S) and more than 100,000 newly diagnosed each year (30k in the U.S.).
Looking at the pipeline, it is shown that Kamada has many more AAT products in one or other phases of testing. Most of these have orphan drug designation (and also most are being tested in some type of collaboration with BXLT), but they are still a few years from potential FDA or EMA approval.
(This is only a brief introduction, before any decision, do appropriate DD).
Before I move on to Kamada's revenues, problems and risks, I would like to mention that Kamada is planning a Submission of Biologics License Application (BLA) for Rabies IgG with the FDA in the next few months (in December, they reported positive data). Although treating rabies might appear like a niche market, in the U.S. alone there are approximately 40,000 post-exposure prophylactic treatments administrated annually, representing an annual market opportunity of more than $100 million (but there are, of course, some competitors). This could be interesting for a company with $130m market capitalization. Since 2003, Kamada has already been selling this product in 10 countries outside of the U.S. under the name of KamRAB. In the U.S., Kamada has a strategic agreement with Kedrion S.p.A (the brand name of the product will be KedRAB).
Earnings and Next Year's Expectations
A few days ago, Kamada announced that the total revenues for 2015 were $70.1m. Revenues in the Proprietary Product segment were $43.2 million (it is lower than 2014 primarily due to ordering factor from Baxalta throughout the year and do not accurately reflect the growing patient base for Glassia, according to Kamada), and revenues in the Distributed Product segment were $27.0. These results met the lower range of the company's projection for the year 2015 and this of course is no reason to celebrate. The major proportion of Kamada's revenues comes from proprietary products. This means mostly from Glassia, KamRab and some snake antiserum, etc. Revenues from the Distribution Segment (products like Foster, IVIG 5%, Varitect, Hepatect CP and others) have been relatively stable for the past few years and I do not expect this to change. On the other hand, although revenues from the Proprietary Product segment seem to show some decline from 2013 heights (Table 1: as you can see, 2014 was a really bad year for Kamada), I expect that this will change in this and next year.
As already mentioned, the AAT market in the U.S. is growing and Kamada has signed a new extension of the contract with BXLT. I also expect KedRAB to reach the market in 2017. Kamada is expecting that revenues in the Proprietary Product segment will increase by 75% in 2017, so their set revenue goal of $100 million (about $75m revenues in the Proprietary Product segment alone) in 2017. Because Glassia is a very promising product and the gross margin in the Proprietary Products segment was 40% in 4Q 2016 (2-year record high), I do not consider this to be unrealistic.
As of December 31, 2015, Kamada had cash, cash equivalents and short-term investments of $28.3 million, compared with $51.9 million as of December 31, 2014. Well, this is a rather unclear situation. It is better than in most small-cap biotech companies without revenues, but with a burn rate of about $21m per year, if nothing changes (new partnerships, revenue growth…) Kamada will probably need to raise more money within a year. It is a good thing that since IPO, Kamada has not made any secondary offering, so it seems that the managers know how to handle cash. In CC, the managers also announced that there were some delayed sales, which have a negative effect of about $6m on the burn rate (only accounting problem: "increase of trade receivable compared to the end of 2014 in the amount of $8 million, as a result of the timing of certain product sales at the end of the fourth quarter. This amount was collected immediately after the end of the year"), so if we allow for this, the situation seems a bit safer in the near term.
Table 1
| | | | | |
| --- | --- | --- | --- | --- |
| In thousand's USD | 2012 | 2013 | 2014 | 2015 |
| Revenues from proprietary products (Glassia; KamRAB etc) | 46,445 | 50,658 | 44,389 | 43,159 |
| Revenues from distribution | 26,230 | 19,965 | 26,676 | 26,954 |
| Total revenues | 72,675 | 70,623 | 71,065 | 70,113 |
| Cost of revenues from proprietary products | 26,911 | 27,104 | 32,617 | 30,468 |
| Cost of revenues from distribution | 23,071 | 17,112 | 23,406 | 23,640 |
| Total cost of revenues | 49,982 | 44,216 | 56,023 | 54,108 |
| Gross profit | 22,693 | 26,407 | 15,042 | 16,005 |
| Research and development expenses | 11,821 | 12,745 | 16,030 | 16,530 |
| Selling and marketing expenses | 1,853 | 2,100 | 2,898 | 3,859 |
| General and administrative expenses | 4,781 | 7,862 | 7,593 | 7,040 |
| Operating income (loss) | 4,238 | 3,700 | -11,479 | -11,424 |
| Net Income (loss) | 260 | 443 | -13,213 | -11,270 |
| Diluted income (loss) per share | 0,01 | 0,01 | -0,37 | -0,31 |
Source: Kamada's Financial Reports
Risks/Problems
Biotech. Kamada already has some products on the market and it seems almost certain that KamRAB will be on the market in few months as well. This is nice, but there is still plenty of risk that current and anticipated trials could fail and so no other Kamada products will ever be on the market (do not forget that the average "success ratio" in biotech is about 1 to 6). In addition, the whole current market situation is not exactly bright and the biotech sector in particular is under huge pressure. There could also be some political issues, such as debates on drug pricing, etc. (e.g. let us not forget that Glassia is not exactly a cheap drug).
Liquidity. The biggest problem faced by Kamada is a lack of liquidity. In the past 3 months, the average volume has only been about 6300 shares per day. It is not so unusual to find days when the volume reaches only a few hundred shares or sometimes zero (and I am not kidding)! This is a really, really low volume which makes Kamada shares difficult to buy or sell. It also means that there is a relatively big bid/ask spread (about 100-200 basic points). It is absolutely necessary for Kamada's managers to do something to change the current situation. I am not normally a huge fan of press releases almost about nothing, so common for small cap biotech, but the decreasing volume of recent months is really a major problem, so anything would be better than nothing. To gain more perspective, in the months after IPO, the average volume was mostly more than 200,000 shares per day (and the share price was 4x higher). Even in the first half of 2015, the average daily volume was mostly in tens of hundreds of shares.
Institutional holdings. I do not want to state that institutional ownership, or in Kamada's case, a lack of institutional holdings, should be considered a risk, but some smaller investors prefer companies that are also in favor of institutional investors. If you are that type of investor, Kamada is probably not for you. Institutional investors hold only a small percentage of Kamada's shares and there is basically only one position worth mentioning. Paulson & Co. Inc. hold about 740,000 shares. However, before you start celebrating that Paulson is investing in Kamada, therefore you should too, you should know that this is one of the smallest Paulson positions, clearly less than 0.5% of its portfolio. I don't have a problem with this, but as already mentioned, some investors could have.
The Bottom Line
I will not give you the exact price that I'm expecting in 12 months. The reason is simple. I really don't know if the price at the end of this year will be $6 or $8 (I hope it will not be $2). This is not the way I am thinking. I am a long-term investor; I hold most of my positions for years. And in this perspective, Kamada is a clear speculative buy. Estimated sales in 2017, counting basically only current products on the market, are $100m and the current Kamada market capitalization is only $130m. It seems as if the market believes that not even one single new Kamada product can ever get FDA or EMA approval, but I think that this is wrong. The pipeline looks very promising; and most importantly, AAT is an extremely promising still growing market with huge potential and Kamada is already in.
For those who still prefer some exact price figures: in May 2015 H.C. Wainwright reiterated their "buy" rating with a $10 price target and, in November, Jefferies also reiterated their "buy" rating, but lowered the price to $7 (from $8). This means on average more than 100% upside potential from current prices and I think this might not have been far from the truth. But, as I already mentioned, in my perspective, the long-term view is much more important. I do not see any reason why Kamada shares should not reach new all-time highs in few years. Either way, before any decision, do your own DD and never ever put a huge part of your portfolio into one speculative small cap. Long and strong.
Disclosure: I am/we are long KMDA.
I wrote this article myself, and it expresses my own opinions. I am not receiving compensation for it (other than from Seeking Alpha). I have no business relationship with any company whose stock is mentioned in this article.
Additional disclosure: This article covers a speculative micro-cap biotech stock and may not be suitable for all investors. Further, all risks facing Kamada may not have been addressed in this article and investors should perform their own due diligence and consider their own personal investing situation before investing in any mentioned stocks. All views expressed in this article are my personal views and I have not been compensated (outside of anything paid by Seeking Alpha) for writing this article.