By Charles Kennedy
Oil speculators spent the latter half of 2015 with an incredibly pessimistic view of the trajectory for oil prices. Speculators piled into short positions, pushing net-shorts to multi-year highs.
But speculators are at a bit of a crossroads at this point. With oil down to $30 and below, a growing number of hedge funds and other major investors are starting to wonder whether or not the selloff has gone too far. To be sure, oil markets are still suffering from too much supply, but with so much production around the world unprofitable at today's prices, a rally will have to come eventually. While there are differing views on where oil goes from here, more and more speculators are starting to take long positions.
Crude prices fell back to $30 at the start of February, erasing some of the gains posted over the past two weeks. Still, the FT reports that speculators have formed a record level of long position for Brent crude, equivalent to 360 million barrels.
There is also a newfound interest in long positions on WTI despite the fact that short positions remain elevated. Bloomberg reported that the United States Oil ETF (NYSEARCA:USO), an exchange-traded fund that tracks the price movements for WTI, saw its largest monthly inflow in January. USO saw $904 million of capital inflows last month, an indication that more and more investors believe that oil has bottomed out. USO has lost 80 percent of its value since crude prices peaked in mid-2014.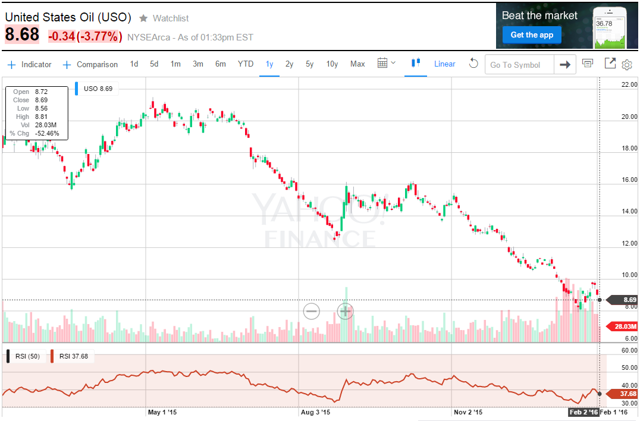 Part of the reason for the sudden surge in bullishness on oil prices was the rumor that OPEC and Russia would work together on production cuts. That sparked a sharp rally in oil prices. Speculators began liquidating their short positions and going long on oil. For the week ending January 26, net-long positions spiked by 35 percent, according to CFTC data.
The rally may not be sustained, given the supply overhang that still pervades the market and the low prospects for OPEC-Russia coordination. But the markets are clearly feeling around for a bottom, and speculators believe that there is little room left on the downside for oil. That has more putting bets on a rally, heeding Citigroup's call that oil could be the "trade of the year."
Disclosure: I/we have no positions in any stocks mentioned, and no plans to initiate any positions within the next 72 hours.
I wrote this article myself, and it expresses my own opinions. I am not receiving compensation for it. I have no business relationship with any company whose stock is mentioned in this article.