PIMCO High Income Fund (NYSE:PHK) has continued to stagnate with respect to NAV declines in 2016 in a trend that is continuing since last summer. This is to be expected with the fall in the junk bond market, yet the market is not pricing PHK appropriately.
Ideally, this well-managed fund should be priced at a low premium or even a slight discount given the circumstances, but the market has priced it at a 23.4% premium, near its average premium of 29.6% as I discussed in this article.
This problem is becoming more distressing for a number of reasons. On the surface, the distribution-to-NAV ratio of 19.1% seems particularly alarming, but that's actually not my biggest concern.
In the past, high distribution-to-NAV ratios and low interest rates were headwinds that the fund survived through. In 2015, however, the music stopped. At the beginning of the year, we saw the fund was able to maintain its NAV, but when the credit markets collapsed, the fund managers were unable to stop NAV depletion.
Although the true value of the fund's portfolio and its manager's churn strategy are impossible to reverse engineer, the way that the fund's value unraveled followed a recognizable pattern in late 2015: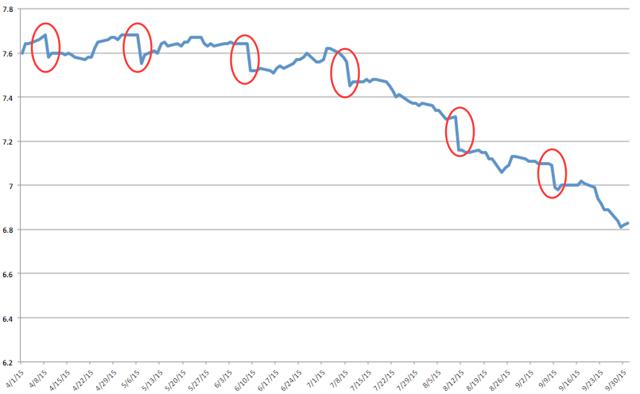 Just before the dividend cut in early September, PHK saw a consistent drop in NAV as money was taken out of the fund to pay distributions. This, however, was not really a problem in April, May, or June, as NAV appreciation through bond market prices and coupon payments bolstered values to bring the fund's NAV more or less back to its pre-distribution level.
With falling bond prices and rising yields, however, PHK was unable to repeat that same feat in July and August, making the dividend cut in September as prudent as it was irksome for investors.
Unfortunately, the dividend cut didn't mean the slide in NAV would stop, and we're now 9% below the fund's pre-cut NAV.
What's more distressing is that the failure to recover PHK's NAV after distributions is repeating itself: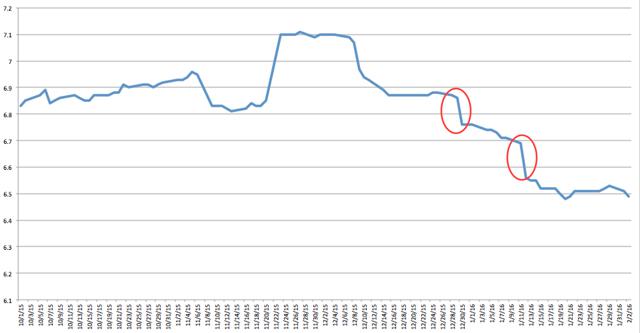 This is happening after PHK's one-time ARPS tender offer in November, which temporarily boosted NAV from around 6.85 to 7.10. If we remove that ARPS-related boost to NAV, PHK's actual NAV now would be $6.24, meaning PHK has actually lost 9.8% of its actual value since its dividend cut, largely a result of rising interest rates and higher default rates on junk bonds, as reflected in the Bank of America Merrill Lynch High Yield Master II Option-Adjusted Spread: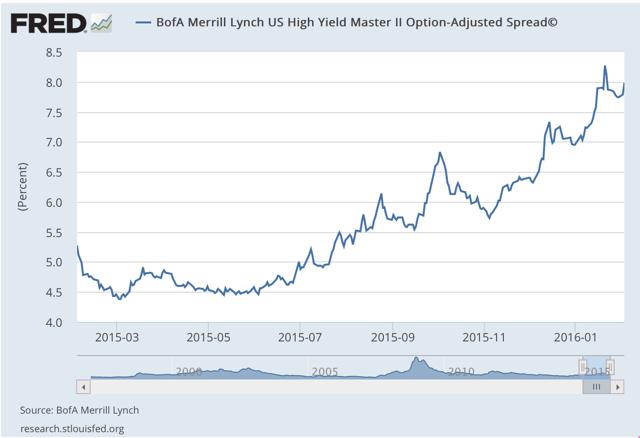 The option-adjusted spread has risen to 8% - an almost doubling in the last year, reflecting creditors' demands for higher yields before paying for bond issues from below investment-grade companies. It also means selling junk bonds in the secondary market is harder, because there are less buyers willing to pay the lower prices they paid a year or two ago.
What this means for PHK
The conclusions with regards to PHK are clear and actionable.
PHK NAVs have been severely hurt by rising defaults and falling junk bond values.
The fund managers have failed to recover PHK's NAVs after distributions. They can hardly be blamed for this; it's a junk bond fund and junk bonds have cratered in value.
This is happening even as distribution coverage has remained at around 100%. This is impressive, since the distribution yield on NAV is nearing 20%.
However, last month NII was about 75% of distributions.
Not all is bad for PHK, however. With leverage down to 24% of total managed assets, the fund is well positioned to buy new issues and bring up its portfolio NII and blended average yield on assets. However, I would not buy into PHK until we see a bottom in the junk bond market and an improvement in default rates.
Disclosure: I/we have no positions in any stocks mentioned, and no plans to initiate any positions within the next 72 hours.
I wrote this article myself, and it expresses my own opinions. I am not receiving compensation for it (other than from Seeking Alpha). I have no business relationship with any company whose stock is mentioned in this article.