| | |
| --- | --- |
| Current Price: $63.21 (2/3/2015) | Market Capitalization: $9.11 Billion |
| Enterprise Value: $8.80 Billion | P/E: 40 |
| Price Target: $31.6 (~50% downside) | Time Frame: 12 - 24 months |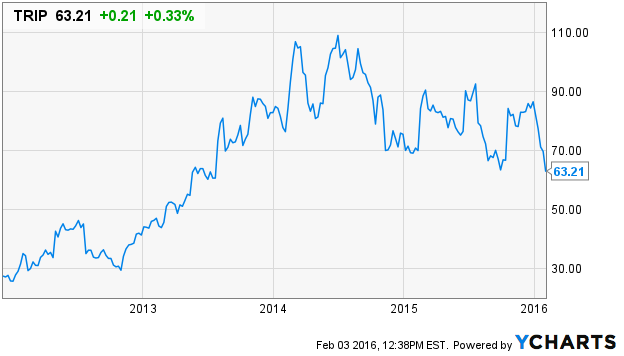 TripAdvisor Price Chart
This has been on my short watchlist for a while, but I have been so focused on filling the long part of the portfolio. I'm not a fan of shorting amidst volatility since I short with put options. The price has fallen from $85 at the beginning of the year to $63 today for no fundamental reason. It has simply been the result of the Chinese slowdown and low oil prices. Nevertheless, I feel that at $63, the stock is still overpriced.
---
Business Model
TripAdvisor, Inc (NASDAQ:TRIP) is a website that provides reviews of travel related content. The reviews are posted by its users and are accessible to anyone. TripAdvisor operates under two segments:
Hotel - Includes revenues generated from services related to hotels. In total, 91% of fiscal year 2015's revenues were derived from the hotel segment.
Other - Segment accounted for 9% of fiscal year 2014's revenues. The segment includes three sub-segments:

Attractions - This sub-segment primarily includes the 2014 acquisition, Viator. Viator is a website for researching and booking destination activities around the world. Viator works with local operators to provide travelers with access to tours and activities in popular destinations worldwide, earning a commission.
Restaurants - This primarily includes the recent acquisition Lafourchette. Lafourchette is an online restaurant booking platform with a network of restaurant partners across Europe. This is similar to OpenTable in the U.S. that was recently acquired by Priceline (PCLN). Lafourchette also offers management software solutions helping restaurants to maximize business by providing a flexible online booking, discount and data tool. Lafourchette makes money by charging a fee for each restaurant guest seated through the online reservation systems.
Vacation Rentals - The company offers individual property owners and property managers the ability to list their properties available for rental and connect with travelers using a subscription-based fee structure or a free-to-list, commission per booking based option. The properties are listed across TripAdvisor Vacation Rentals, U.S.-based FlipKey and the European-based Holiday Lettings and Niumba businesses.
TripAdvisor generates revenue through the following channels:
Click-Based Advertising - Includes links to the partners' booking sites. Partners are online travel agencies (Expedia, Priceline, etc.,). These partners pay TripAdvisor for directing traffic to their websites.
Display-Based Advertising - A variety of display-based advertising placements on the websites through which the advertising partners can promote their brands.
Subscription and Transaction Based - This includes subscription based advertising products offered to hotels, and the transaction based restaurant (Lafourchette) booking and property listings (Flipkey and TripAdvisor vacation rentals, etc.).
TripAdvisor has grown revenues at a staggering CAGR of 17.8% since 2012 (chart 2). Trailing twelve revenues for 2015 sit at $1.47 billion.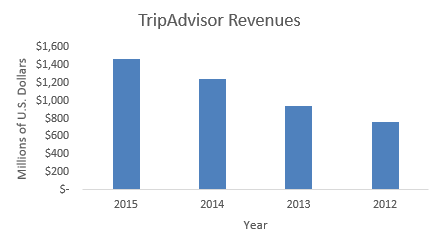 (Chart 2) TripAdvisor Revenues
The company reported net income of $226 million for the fiscal year ended 2014, and so far (TTM), $231 million.
Why Short Such A Great Growth Story?
Margin Compression Amidst Competition
Revenue growth numbers only tell one part of the story - the other side is the gross and operating margin compression trend.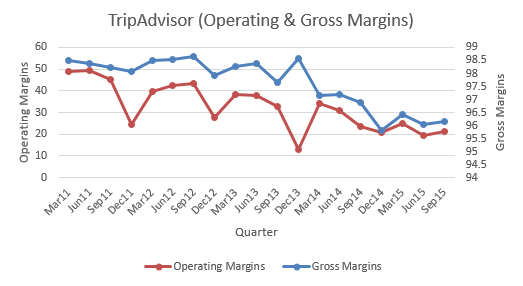 (Chart 3) TripAdvisor's Gross and Operating Margins
Operating margins have been hit, falling from 50% in March 2011 to the 20s as of September 2015 as a result of rapidly growing SG&A expenses. Falling gross margins from 98.5% in March 2011 to 96.14% in September 2015 indicate pricing power erosion as a result of growing competition (Google Hotel Finder, Bing Travel, Yahoo Travel, Airbnb, Yelp, etc.) in a moat-less industry. For Google and Bing, this is just another feature for their users, but for TripAdvisor, it's 91% of their revenues. Also, Expedia and Priceline accounted for 46% of the total revenues for Fiscal 2014. Because they account for such a large percentage of Trip's revenues, they get the better end of the stick at the negotiation table. Unlike other industries where brand power is significant, customers of the online/travel industry only care about who can provide the goods or services at the lowest possible price, and they will shop around until they find it. This ensues a price war between travel sites like Priceline and Expedia, and airlines which in turn place pricing pressures on referrers like TripAdvisor. Even Lafourchette, TripAdvisor's restaurant booking segment in Europe, will inevitably face price wars.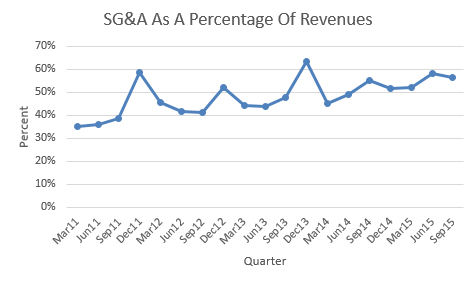 (Chart 4) Selling, General and Administrative Expenses as a percent of Sales
As I mentioned earlier, selling, general and administrative (SG&A) expenses have been growing faster than revenues since the company went public, specifically marketing expenses. The company was founded in 2000, and 16 years later, we have SG&A growing faster than revenues. Obviously, at some point, SG&A bottomed and then started rising against revenues. It speaks volumes about TripAdvisor's eroding pricing power and position in the industry. Though the online travel industry is still in a growth phase, competitors are flocking in by day and night. This means that over the long term, TripAdvisor's gross, operating and profit margins are going to keep falling. This does not bode well for a company with a P/E ratio of 40.
MOBILE ISSUES
Management praises the growth in mobile users, then reiterates that it's bad for business.
We reached nearly 175 million cumulative mobile app downloads and approximately 50% of TripAdvisor traffic visited was via tablets or smartphones in 2014. Average monthly unique visitors via tablets and smartphones grew over 60% year-over-year to approximately 140 million for the year ended December 31, 2014, according to company logs.
50% of TripAdvisor's traffic was via tablet in 2014 and growing at 60%... but then in the Risk Factors section...
Growth in the use of devices other than desktop computers may negatively affect our revenue and financial results.

Our content was originally designed for users accessing the Internet on a desktop computer. The number of people who access the Internet through devices other than desktops computers, including mobile phones, smartphones, handheld computers such as notebooks and tablets, video game consoles and television set-top devices, has increased substantially in the last few years. We anticipate that the rate of use of these computing devices will continue to grow. The lower resolution, functionality and memory associated with some of these alternative devices make the use of our products and services through such devices more difficult and versions of our products and services developed for these devices may not be compelling to users. We have developed services and applications to address limitations of these devices and our advertising revenues continue to grow, however, we monetize users of these devices at a lower rate compared to users who access our websites through desktop computers.
later on..
In our experience, hotel shoppers visiting on mobile devices generally exhibit a lower rate of conversion, monetize at a significantly lower rate than hotel shoppers visiting via desktop or tablet and emerging international destinations tend to have lower CPCs associated with them. A growing percentage of our hotel shoppers are using mobile; this trend will create pressure on the revenue per hotel shopper metric, particularly if we fail to realize the opportunities we anticipate with the transition to more mobile users.
As management mentioned, mobile devices accounted for 50% of fiscal year 2014's traffic and grew 60% year over year. If mobile shoppers exhibit a lower rate of conversion and monetize at a significantly lower rate than desktop users, then where is this business headed?
SHORT STRATEGY
I bought the January 2018 $40 put options for $3.90 this morning (2/4/2015). Trip reports earnings next week, I'm not a fan of speculating quarter over quarter on what earnings will be, but I do know that over two years, margins and profitability should fall.
Disclosure: I am/we are short TRIP.
I wrote this article myself, and it expresses my own opinions. I am not receiving compensation for it. I have no business relationship with any company whose stock is mentioned in this article.