As of 2014, in the U.S. supermarket and grocery store industry, Wal-Mart Stores, Inc. (NYSE:WMT) comes out on top with a market share estimated by Statista to be at 24.5%. Next in line, and admittedly some distance from Walmart was Kroger Co. (NYSE:KR) with its market share of 12.9%. Together these two giants make up over a third of the entire market. This has been duly noted by German discount supermarket giant Aldi, and we feel they have long-term aspirations to eat into this market share. In our opinion, both Kroger and Walmart should be worried about the effect this could have on their businesses.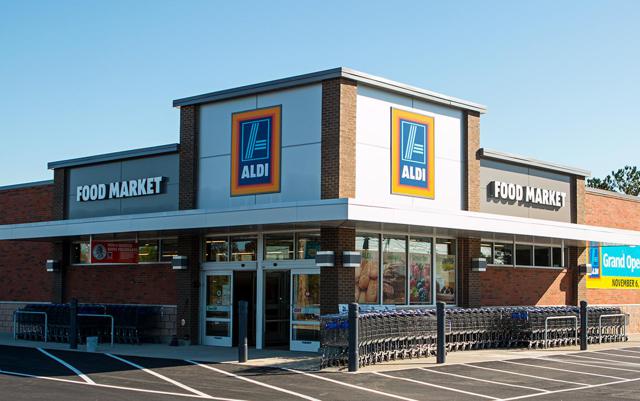 A lot of readers may be unfamiliar with privately-owned Aldi, so we'll give you a little background information. Aldi is known as a no frills, discount retailer, which generally offers one of every item rather than a selection of the same item to choose from. By doing business this way the company can purchase these items in massive quantities at a discount, passing on the savings to the consumer. The other advantage of not having a wide range to choose from is that its stores can be small. Typically, an Aldi store will be 16,400 square feet in size, compared to the 100,000-130,000 square feet average of a Kroger store. For this reason the company is able to operate with an average employees per store number of 20-24, allowing the company to run in a very German way - efficiently.
Over in the United Kingdom the growth of Aldi in the last few years has been relentless. It has climbed from just over a 2% market share to almost 6% in the space of 5 years. Hot on its heels is fellow privately-owned German discounter Lidl, as shown below.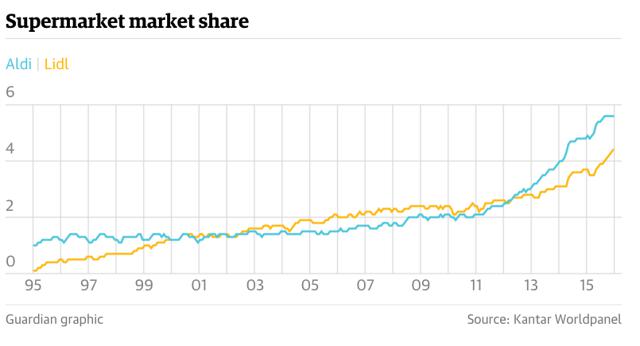 Source: The Guardian.
The aggressive expansion has come at a cost to the U.K.'s biggest supermarket, Tesco Corporation (NASDAQ:TESO), which has seen its market share dwindle. Tesco appears to have been the victim of this market share grab by Aldi, dropping from a 30.6% market share to 28.3% in the last few years, according to Kantar Research. While losing market share is not great, it is what these retailers have had to do in an attempt to save market share which has done the most damage for investors. In the U.K. the supermarkets fought back against the rise of Aldi in the only way they could, by lowering their prices. While these low prices are great for consumers, it is not great for shareholders. Ultimately the lowering of prices means that in the U.K. the big supermarkets and grocery stores are now operating on much lower profit margins than they previously were able to command. As shown below you will see the EBITDA margins for two large public listed U.K. supermarkets Tesco and WM Morrison Supermarkets Plc. (OTCPK:MRWSF) which we believe are comparable grocery stores to Kroger and Walmart.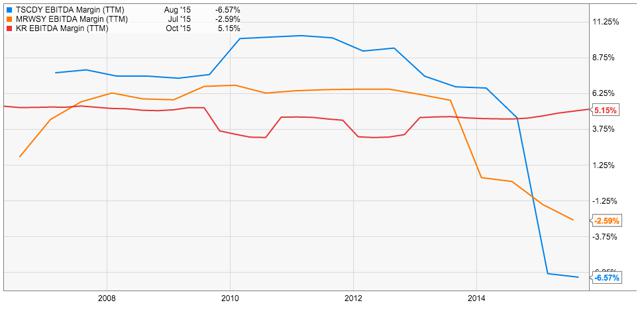 Source: Ycharts
Walmart is of course a well diversified business, but, while they don't give out exact figures, it has previously been estimated that the grocery business accounts for 55% of its U.S. sales. A hit to the grocery segment would be hard to swallow for investors.
But what is the chance that Aldi will even manage to make significant in-roads into the U.S. market? Well at present the company has an estimated 1,600 stores in the United States, which is an increase of over 40% since 2011, as shown below.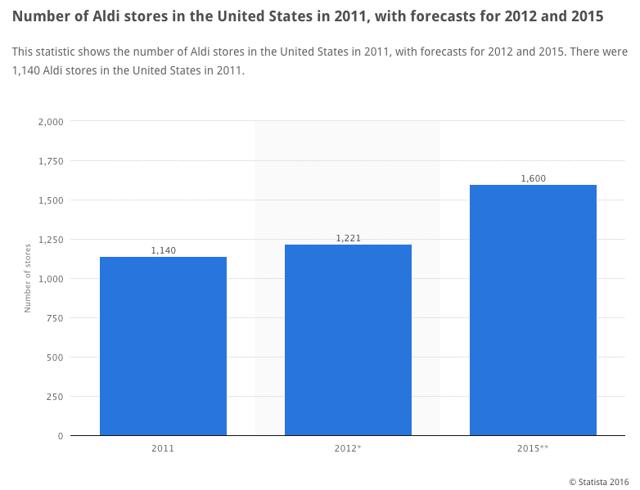 Source: Statista
This number is rapidly closing in on the 2,774 Stores in 35 States that Kroger operates. But still some distance from Walmart's figure of over 5,000 stores. The Wall Street Journal reported in June 2015 that Aldi had an aggressive $3 billion expansion plan to increase its store network in the United States to 2,000 stores by 2018. We believe that growing at this rate it could overtake Kroger's store numbers by 2022.
In 2018 another of Germany's discount supermarkets, the aforementioned Lidl, is expected to open up on U.S. soil. Lidl has been described as mixture of Walmart and Trader Joe's. It's presence in the United States will further intensify competition and put pressure on margins, just like it did in the United Kingdom.
For this reason we would caution against long-term investments in Kroger as we feel earnings will start to show weakness in 2017-2018 and the share price may decline as a result. Walmart on the other hand is, in our opinion, still going to feel the effects of the competition, but is perhaps better positioned to compete due to the diversification of its business.
We shall leave you with the words of the Chief Executive Officer of the U.K.'s second largest supermarket, Asda, who said: that the emergence of Aldi and Lidl in the U.K. has brought about the "the worst storm in retail history." America, you have been warned.
Disclosure: I/we have no positions in any stocks mentioned, and no plans to initiate any positions within the next 72 hours.
I wrote this article myself, and it expresses my own opinions. I am not receiving compensation for it (other than from Seeking Alpha). I have no business relationship with any company whose stock is mentioned in this article.
Editor's Note: This article discusses one or more securities that do not trade on a major U.S. exchange. Please be aware of the risks associated with these stocks.