Investing experts here on Seeking Alpha often tell those of us who invest for retirement that we should trust analysts' estimates and make use of them in deciding which stocks to invest in. For example, in his article, "The Two Keys to the Magic Formula for Long-Term Investment Success" Chuck Carnevale, a widely followed author here on Seeking Alpha who has had a long career as an investment advisor told us, "Looking for attractive dividend-paying stocks to add to your retirement portfolio? You might want to try trusting analysts' estimates to aid in your selection process." He then goes on to say,
"There are many who criticize or even claim that we should avoid utilizing forward earnings forecasts when trying to determine fair value, or even when trying to decide what stock to own. I find these positions rather bizarre."
To the argument some people make, that studies that have shown that analysts projections are on the whole inaccurate, he replies,
"... the biggest problem I personally have with these studies is that they are based on analyzing a large group of stocks. The reason I have a problem with that is because the accuracy of 1 or 2-year forward earnings estimates by analysts vary dramatically from one company to the next. Stated more plainly, some companies are easy to analyze and forecast, while others are much more complex. Therefore, I prefer analyzing the accuracy of analyst estimates one company at a time."
Unfortunately, though I find Chuck's F.A.S.T. Graphs software tool extremely useful for understanding how a stock has been valued in the past, the experience I have gained while using it to pick stocks over the past three years has taught me that forward valuations based on analyst estimates are at best useless and at worst, dangerously misleading.
That is because analysts estimates turn out to only be accurate if a stock continues to do almost exactly what it has done in the past. If earnings slow, forget it. When something has changed, like betrayed husbands, the analysts are often the last to know.
Hard Data Lets Us Test How Good Analyst Estimates Are in Real Time
Fortunately, you don't have to trust what either I or Chuck might say about the accuracy analyst estimates. We have a wonderful resource available here on Seeking Alpha that allows us to see how randomly chosen analyst consensus forecasts, stored via snapshots taken at different points of time, have performed over time.
These snapshots are found in the F.A.S.T. Graphs screen shots that have been published in many articles Chuck has posted since 2010. These graphs are particularly useful because they show us what the analysts were forecasting on the day the graph was created. This makes it possible to get a much more rounded picture of what analysts were forecasting for coming years, which is otherwise difficult to ascertain, since old, inaccurate analyst forecasts disappear over time, replaced by more accurate, revised forecasts made in the days right before annual earnings finally come out.
That is why, by examining this real-time data, it is possible to get a much better idea of how much you should rely on any real time analyst forecast of earnings - especially those you see in a graph you create today to help you make an investment decision.
Methodology
To see if I was being overly harsh when rejecting Chuck's advice to trust the analysts' forecast, I went back and collected point-in-time analyst forecasts for a number of very popular, large, well-followed stocks that Chuck had featured in several articles over the years. I only collected data from charts where either the graph showed the next year's forecast or, preferably, where the article contained a F.A.S.T. Graphs forecast graph that displayed the analysts' consensus forecast for the stock for the next five years. These forecasts were those that were available on the day when Chuck took the screen shot that turned into the graph published with his article. Below you will see an example of one such F.A.S.T. Graphs forecast graph.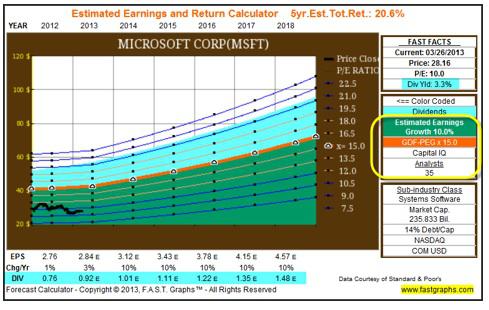 The data we are interested in is displayed under the graph, in the line labeled "EPS." All the entries in that line that are followed by the letter "E" are analyst estimates. Only the value without the "E" is based on an actual earnings report.
These EPS estimates came from the database that F.A.S.T. Graphs was accessing at the time. The specific databases used have changed a few times since 2010. The current information provider is S&P IQ. However, back in 2013 when first subscribed to F.A.S.T. Graphs and checked the data provided by F.A.S.T. Graphs' database of the time against the Yahoo Finance numbers, they were identical. So it is safe to say that the EPS lines on the graph shown above tells us exactly what the analyst consensus was about Microsoft's future earnings as of 3/26/2013.
To see how accurate the analyst estimates were, I scanned through many articles published from 2010 on and found dozens of graphs like the one you see above. I harvested the estimated EPS figures given on these graphs. Then I tabulated these analysts' EPS forecast numbers, in chronological order, and graphed them.
The resulting graphs not only demonstrate how accurate these estimates were, but also how dramatically they changed over time.
In the rest of this article, we will look at a few of these graphs and see how the analysts' forecasts worked out for several Dividend Aristocrats. These are mega cap stocks that are followed by great many analysts. As they are important stocks owned by huge numbers of retirees and other investors, you would expect that the quality of the analysts who follow these stocks would be high.
In addition, because Chuck made the point, cited at the beginning of the article, that some stocks have better analysts than others, I am focusing on this article on stocks that Chuck personally recommended based partly on the forecasts of these analysts.
Though I am citing Chuck's articles here, the point of doing this is not by any means to call into question the quality of Chuck's recommendations. I cite them here only because they provide the best data I could find that gave me snapshots of analyst estimates throughout time and therefore demonstrated how analyst estimates of earnings change, even within a single year.
You Probably Aren't Surprised to Learn that Analysts Got Chevron's Future Wrong
The first graph you will see below is that of Chevron (NYSE:CVX), a Dividend Aristocrat. It was a stock that Chuck has featured several times over the years as an example of a very well-valued stock that would make an excellent investment.
In 2011, he wrote an article titled, "Chevron Has It All: Dividend Yield, Growth, Safety and a Low Valuation." Two years later he followed with another article also recommending Chevron, "Finding Great Value In The Energy Sector." In a second article he published in 2013, "Invest in Stocks with a Margin of Safety to Reduce Risk and Enhance Returns," he writes that CVX,
"...also provide[s] a strong long-term margin of safety. Note that both of these companies can be bought at single-digit P/E ratios, which I believe mitigates any potential future weaker earnings growth."
Chuck was still suggesting that, based on future estimates of valuation, CVX was an excellent buy in January of 2015, after the price of oil had dropped dramatically.
But though we would expect the analysts to be wrong when predicting the price of oil in 2010-2013, the graph below shows you just how wrong the analysts have been most of the time when making their forward estimates of earnings.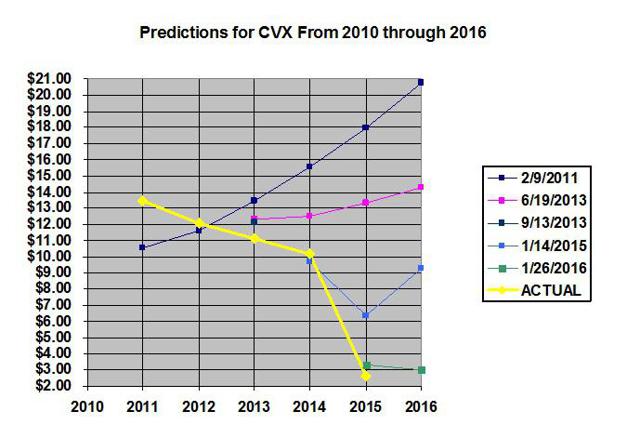 In reading these graphs, the box on the right shows you what color line goes with what set of forecasts. For example, the light blue line shows you all the earnings forecasts that were made in a chart forecasting Chevron's future earnings that was created on 1/14/2015. This chart included forecasts of estimated earnings for the years 2014, 2015 and 2016. (Chevron had not yet reported earnings for 2014 when the chart was created on 1/14/15).
The yellow line in all these charts shows you what the actual annual earnings turned out to be after the company had reported them.
To further help you understand the graph, below I have shown in a table the actual earnings estimate data I used to construct the Chevron graph above. The forecast date is the date that appeared on the F.A.S.T. Graph where these earnings estimates for the following years appeared.

The Analysts Were Lovin' McDonald's So Hard They Missed Its Earnings Decline
Well, it's easy to discount Chevron as an outlier. No one expected the price of oil to collapse as utterly as it has. So let's look at a different Dividend Aristocrat, one in an industry that is considered a more stable, fast food giant, McDonald's (NYSE:MCD).
Chuck recommended McDonald's based partly on its forward valuation in several articles published on Seeking Alpha from 2011 on. The first was published on March 10, 2010, "McDonald's Consistent Above Average Growth and Income." The next article about the stock was published on January 5, 2011. It included McDonald's as one of "Ten Dividend Stocks Poised for Growth," based again partly on future valuation based on analyst estimates.
So how did the analysts do with this staid stock that has not been subject to the ravages of any recent black swans?
Take a look.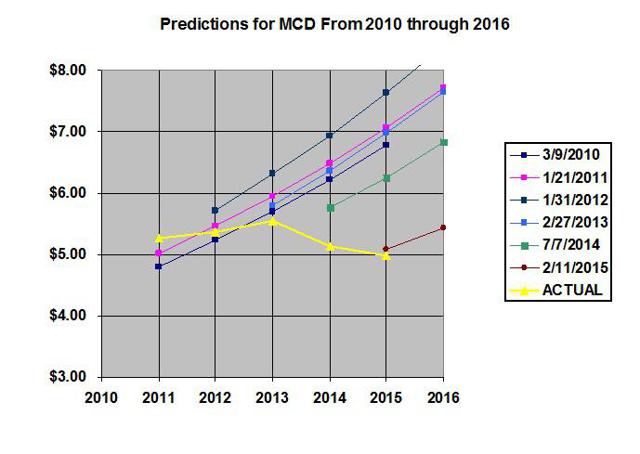 Not much growth here anywhere except in the analyst's estimates, each one of which displayed a cheery optimism about the future that bore no relationship to what happened to McDonald's earnings.
Wal-Mart: Always Low Prices and Over-Optimistic Valuations
Lest you think I'm cherry picking, here's another Dividend Aristocrat, and one, again, that Chuck has recommended several times based on forward-looking valuations. His first article recommending Wal-Mart (NYSE:WMT) was published on October 8, 2010, "Fishing for the Six Best U.S. Dividend Stocks." Chuck covered Wal-Mart again on January 6, 2012, in the article, "Wal-Mart: The World's Greatest Retailer, After A Long Hiatus, Is A Solid Buy." In that article he wrote,
"...we believe it represents a very attractive candidate for the long-term investor interested in above-average capital appreciation, with an attractive dividend yield that is greater than the 10-year Treasury bond yield and potentially growing at double-digit rates. In other words, with Wal-Mart's stock price aligned with its earnings, the company represents an ideal long-term buy-and-hold investment for the prudent fundamental investor."
But once again, relying on analysts' forecasts did not work out well.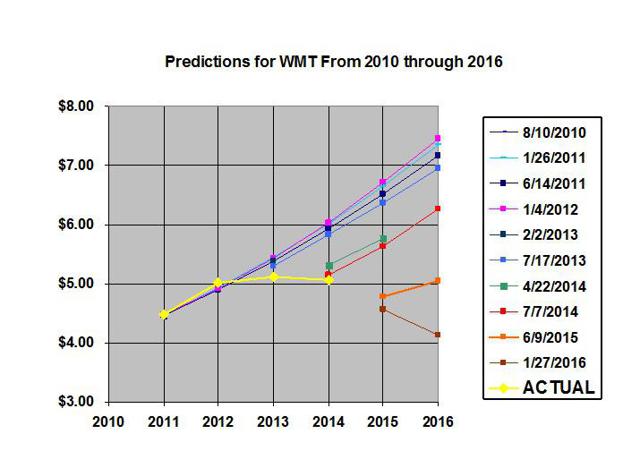 As you can see from the graph, from 2012 on Wal-Mart's earnings have flattened, and after years of optimistic forecasts, which were embarrassingly wrong, analysts now are predicting a further downward trend. (The brown line represents the most recent analyst estimates. Wal-Mart has not yet reported its earnings for 2015.) Does this mean that Wal-Mart's earnings will trend down? Who knows? I certainly wouldn't trust the consensus of analysts whose predictions since 2012 have been so wrong.
These Analysts' Forecasts Were a Poor Guide to Stock Performance Too
I want to make it very clear that the point here is not to beat up on Chuck. I find his theories of valuation very useful. I just quibble with his faith in the analysts' estimates. So my goal here is to document just how unreliable a guide the analysts' estimates have been to future valuation using the same data that Chuck has, in the past, included in his attempts to predict stocks' future valuations.
It should be noted that if you are a subscriber, F.A.S.T. Graphs makes it possible to discard the analysts' estimates entirely, and replace them with numbers of your own. This is what I would recommend you do if you use the software to help you make decisions about buying and selling stocks.
Replace optimistic forecasts with pessimistic ones. Then watch the stock for a while to see if the analysts' estimates drop as the time moves closer to when earnings are going to be reported. Replace negative estimates with more positive ones too, and see what happens to the valuation then. By doing this, you will get a much better idea of the range of valuations your stock might end up with.
My personal experience has been that the current price often foreshadows changes in valuation, and that many stocks that appear to be undervalued gems are often priced much better than they seem to be if your valuation relies too heavily on faulty analyst forecasts.
It is also important to note that, in regard to the stocks cited here, the valuations Chuck provided that were based on these inaccurate analyst predictions have actually been irrelevant to the actual performance of those three stocks. Though all three had earnings far below analysts' forecasts, the performance of the three stocks was very different.
Investors investing in CVX at the beginning of 2011 saw an annualized gain of 1% (all performance statistics come from F.A.S.T. Graphs as of 2/3/2016 and are with dividends not reinvested.)
Investors in Wal-Mart did better. Despite its drop in earnings, they saw an annual growth of 7.3% in the value of their investment, which lagged the S&P 500 by only 1.3%.
Investors in McDonald's saw excellent performance over this time period, with their investment growing at an annual rate of 13.2%, despite the company's dropping earnings. Those who followed Chuck's advice and bought Wal-Mart and McDonald's had no reason to lament their investment. And as far as CVX goes, well, Chuck was only one of the huge crowd of highly aware investors, who expected oil to turn up after its initial swoon.
But McDonald's and Wal-Mart's stock's satisfactory performance since 2011 is clearly unrelated to their valuation. McDonald's stock price has risen without any regard to its falling share price, and now, according to F.A.S.T. Graphs, it is very overvalued. Wal-Mart's price also lost touch with its valuation several times during this period. And if there is anything to Chuck's theories of valuation, over the next few years, Wal-Mart is likely to take back whatever gains investors got from it since 2011.
Conclusion
I hope you leave this article with an enhanced understanding of how dangerous it is to rely on valuations based on analysts' forecasts. No one has a magic system, easily reduced to numbers or graphs, that can let you see the future. When investing, you will not get an edge by calculating future valuations based on analyst consensus forecasts.
So your investment decisions will be sounder, overall, if you accept that no one, not even highly trained analysts with full-time jobs where all they do is analyze stocks, can forecast the future earnings of any company accurately enough to let you make sound investing decisions on the basis of predictions of future earnings.
If you look at the Analyst Scorecard feature that F.A.S.T. Graphs also supplies, you will see clear evidence that analysts tend to "predict" the past, so when the direction of a company's growth changes, it takes them a couple years to catch on. Typically, their predictions turn out to be correct only when a stock has continued to behave exactly the way it has during the years before the forecast was made.
Below you can see the Analyst's Scorecard for Chevron. See how the forecasts (and these are probably year-end forecasts, too) lag the actual earnings when they change direction?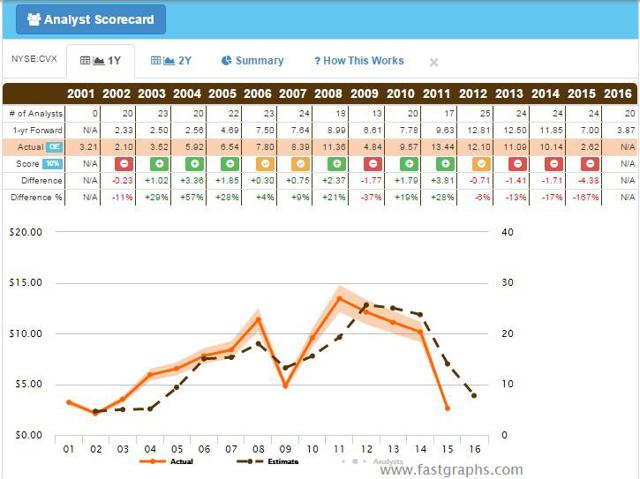 Since you will do best when buying stocks if you buy and sell them before the analysts finally notice that change in direction, wise investors will treat forecasts of future earnings with the same skepticism they bring to forecasts of what the weather will be like next month.
Disclosure: I/we have no positions in any stocks mentioned, and no plans to initiate any positions within the next 72 hours.
I wrote this article myself, and it expresses my own opinions. I am not receiving compensation for it (other than from Seeking Alpha). I have no business relationship with any company whose stock is mentioned in this article.