Late Wednesday night, shares of mobile gamer Glu Mobile (NASDAQ:GLUU) jumped more than 25%. The sharp move came on the heels of the fourth quarter earnings report and fiscal 2016 guidance (see conference call). While the quarterly earnings and guidance were OK, the big move likely had more to do with the news of Taylor Swift being added to the company's ever growing celebrity intellectual property strategy. Despite shares being up 30% during Thursday's trading session, I believe there is a lot of room for shares to run again and think investors could be looking at one of the biggest bargains around.
"Nice to meet you, where you been? I could show you incredible things"
This lyric from Taylor Swift's massive hit "Blank Space" could be the best way to show what the addition of Swift coming to Glu Mobile could mean. Swift is the most followed female on social media with a stunning 227 million followers worldwide. Adding Swift gives a massive boost to Glu Mobile's already impressive slate of celebrity games made and in the works. The big question for investors will be whether the Swift game flies like the successful "Kim Kardashian Hollywood" or flops like "Katy Perry Pop."
Glu Mobile didn't shy away from saying the Katy Perry game was a flop. The company put blame on the production of the game and how it was handled from creation. Glu went a step further to say it would rather start over and replace it than make updates to the original. For investors this was a big blow, as Katy Perry came with a larger following than Kardashian and also was expected to have a more international reach.
Take a look at this chart with the company's celebrity partners. As you can see 2016 will be busy with the launch of celebrity games tied to Nicki Minaj, Britney Spears, Gordon Ramsay, Swift and the soon to be released game from Kylie and Kendall Jenner.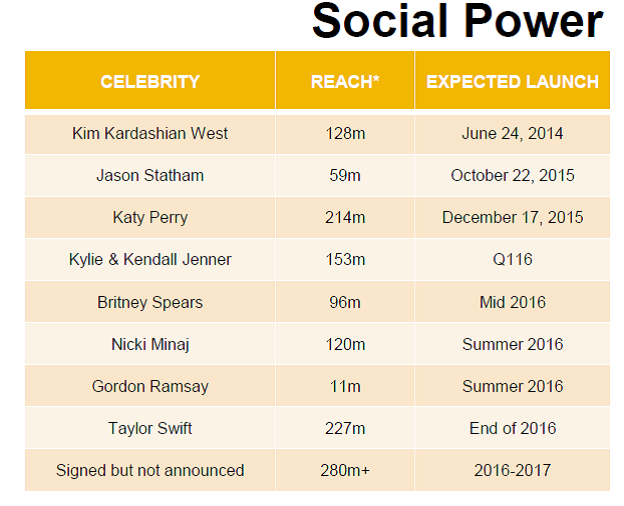 (Photo from presentation)
You also will notice from that chart that there are yet to be announced celebrities to join the fray. The company has said it is reaching its targeted scale and will slow down the additional celebrity additions. The yet to be announced celebrities are a male musician and a female celebrity. The games will likely be announced closer to their 2017 launches. With the chart showing a combined reach of 280 million between the two, one or both have to be pretty big names.
The new Taylor Swift game is expected to launch in December 2016, adding to a decent slate of games for the current fiscal year. Here are the 2016 launches expected:
· Kendall and Kylie Jenner
· Tap Sports Baseball 2016
· Britney Spears
· Frontline Commando Rivals
· Gordon Ramsay
· Nicki Minaj
· Taylor Swift
· Unannounced Game
Today's run up may be the first of many to come this year. The Kendall and Kylie Jenner game is doing extremely well in beta testing and with conservative guidance, any sign of close resemblance to the hit Kim Kardashian game could dramatically boost shares. In Canada, the game is seeing similar revenue amounts as "Kim Kardashian Hollywood." The game is the number nine free game and number 39 top grossing game in Canada currently while in testing. It's also worth noting the company answered a specific question on the earnings call regarding the competition between the Jenner game and Kardashian game. The company said the new Jenner game has not taken away from the revenue base of "Kim Kardashian Hollywood" in Canada.
Another big launch for the company will be the second quarter title Frontline Commando Rivals. This game comes through a partnership with Asian gaming giant Tencent (OTCPK:TCEHY). This is the Western world version of WeFire, a successful game in Asia. Glu Mobile has rebranded the game as Frontline Commando Rivals and will launch it in North America, Australia and New Zeeland in the second quarter. The game also will be released in EMEA (Europe, Middle East and Africa), and South America in the third quarter.
This could be a big launch for Glu Mobile that isn't getting much love from investors or likely priced heavily into guidance. The game has already performed strong in markets like China, Taiwan, Korea, Thailand and Vietnam.
Glu Mobile also made a couple partnerships in the fourth quarter that could lead to acquisitions and also possible revenue growth. The company partnered with Plain Vanilla Corporation, the makers of the hit QuizUp app. The game has more than 40 million installations and also is in the process of creating an interactive game show for NBC. A $7.5 million investment will see Glu Mobile put in charge of monetization efforts for the game making little revenue currently. The company also made a minority investment ($2.0 million) in Dairy Free Games. Both of these investments highlight two of the company's three plans to increase shareholder value. The three ways are:
· Minority investments
· Outright acquisitions
· Stock buybacks
Both of these deals are structured as minority investments. The Plain Vanilla deal comes with an option to buy the company outright at an already agreed upon price. By not jumping in and buying the companies already, Glu Mobile is able to test the monetization efforts and make sure it fits the company's business model. Glu Mobile has structured both deals with limited downside and significant upside.
Fourth quarter revenue and earnings per share figures came in above company guidance. Revenue for the quarter came in at $57.9 million. EBITDA was $2.8 million for the fourth quarter. The company reported a profit of $0.02 per share in the quarter.
Here's the breakdown of how the top games performed for Glu Mobile in the fourth quarter:
· Kim Kardashian Hollywood: $13.6 million (24% of revenue)
· Cooking Dash: $8.6 million
· Deer Hunter 2016: $8 million
· Racing Rivals: $7.8 million
· Deer Hunter 2014: $3.1 million
The top five games contributed 71% of the company's revenue in the quarter. Take a look at the chart below to see how the full-year contributions stacked up: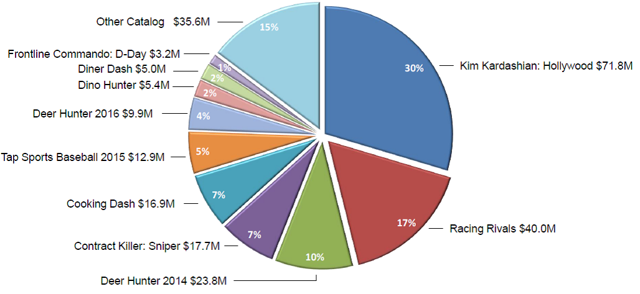 (Chart from fourth quarter presentation)
The Kim Kardashian game has remained on the top 30 grossing games chart for more than 20 months. That's an impressive feat for a company of Glu Mobile's size and helping create annuity like revenue for the company. The company hopes to have the revenue from its catalog games cover its operating expenses going forward.
Glu Mobile provided guidance for the fiscal 2016 year. The company sees revenue coming in a range of $250 to $275 million. This figure does not include any games to do similar numbers to "Kim Kardashian Hollywood" and is extremely conservative in factoring in the celebrity games after the failure of "Katy Perry Pop." First quarter guidance is seen hitting a range of $46 to $48 million, with the Kendall and Kylie Jenner game the only new release. The now highly anticipated Taylor Swift game will only have two weeks of revenue in fiscal 2016, assuming the game is released on time.
The fact that the Taylor Swift game launches at the end of 2016 bodes well for fiscal 2017. Remember that "Kim Kardashian Hollywood" made $150 million in its first 12 months and $43 million in its first quarter. Again, the company doesn't believe it will do these numbers in the future, but the majority of the Taylor Swift revenue will come in fiscal 2017. Also a look at the lineup of 2016 games shows no titles in the Deer Hunter or Racing Rivals franchise, which means those games could get 2017 releases. The unannounced male musician and female celebrity also will likely have games come out in 2017.
Glu Mobile trades with a market capitalization of $333 million at the time of writing. The amazing thing here is the company has $180.5 million cash on hand (as of 12/31) and trades with zero debt. That means you are getting the rest of the company and its upcoming slate of games (including Taylor Swift) for $152.5 million. Glu Mobile reported full-year revenue of 242.2 million for fiscal 2015. Shares of Glu Mobile have traded between $1.98 and $7.03 over the last 52 weeks. Shares haven't seen the $5 level since August 2015. Thursday's increase came at a time when shares were getting close to 52-week lows. Time will tell if analysts start to come around to the stock based on the new lineup.
Glu Mobile has a five-year growth plan to increase revenue by 20% to 30% annually. The company believes it could produce revenue of $1 billion in the 2020 fiscal year. Investors seem to be factoring in the "Katy Perry Pop" flop too much. Glu Mobile has a strong lineup of games and doesn't need a home run from every release. The strong lineup of games, including the celebrity lineup, diversifies the company and gives it a chance to have a couple of singles and doubles, a couple possible home runs, and even a failure or two. Invest now in Glu Mobile at these bottom prices and by the end of 2016 you'll be glad you did. My target price for 2016 is $5 a share conservatively.
Disclosure: I/we have no positions in any stocks mentioned, but may initiate a long position in GLUU over the next 72 hours.
I wrote this article myself, and it expresses my own opinions. I am not receiving compensation for it (other than from Seeking Alpha). I have no business relationship with any company whose stock is mentioned in this article.
Editor's Note: This article discusses one or more securities that do not trade on a major U.S. exchange. Please be aware of the risks associated with these stocks.