In an article on January 20, I had anticipated that Exxon Mobil (NYSE:XOM) will be able to beat bottom-line estimates despite a decline in its financial performance in the fourth quarter. Now, when Exxon reported its fourth-quarter results on February 2, it did beat the bottom-line estimate successfully, while its revenue was also better than expectations.
Of course, the company's top and bottom lines did decline massively on a year-over-year basis due to weakness in the upstream segment, but this didn't deter investors from being bullish on Exxon shares which rose over 5% on the day following earnings. Additionally, investors seem to have shrugged off the fact that Standard & Poor's has put Exxon on credit watch.
The oil major is just one of three companies in the U.S. with S&P's top AAA rating, which it has held for 86 years. Looking ahead, it will become clear within 90 days whether S&P actually cuts its rating or not. But, in my opinion, investors should not worry much as Exxon should be able to retain its credit rating as it is one of the best placed companies to navigate the oil downturn. Let's see why.
Downstream strength will be a tailwind for Exxon
In the fourth quarter, Exxon's earnings fell almost 58% on a year-over-year basis, which is not surprising considering the massive drop in crude oil prices. However, as shown in the chart given below, the company's downstream segment eased the pain to some extent: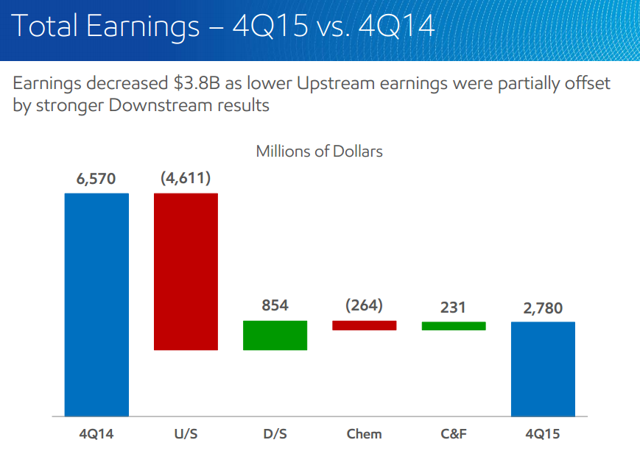 Source: Exxon Mobil
The improvement in the downstream segment on a year-over-year basis was a result of higher refining margins and a drop in maintenance activities. This diversified nature of Exxon's business helped ease the pain of weak prices somewhat and helped it report a comparatively lower decline in earnings as compared to rivals such as BP (NYSE:BP), which saw a 96% drop in its earnings last quarter.
All in all, for 2015, Exxon's downstream earnings came in at $6.6 billion, up to the tune of $3.5 billion as compared to 2014, primarily on the back of stronger refining margins. Looking ahead into 2016, I expect that Exxon's refining margins will continue getting better on a year-over-year basis when compared to last year. This is because crude oil has got off to a weak start this year, which will lower the feedstock costs of refiners.
At the same time, the consumption of gasoline in markets such as the U.S. and Asia is anticipated to increase. For instance, in the U.S. the consumption of liquids fuels is anticipated to increase 0.8% from last year, while next year, the increase is anticipated to be 1.4%. At the same time, markets such as China should see an increase in gasoline consumption this year as the introduction of tax cuts is anticipated to lead to an increase in auto demand.
In fact, China's auto market is anticipated to grow 6% this year after a 4.7% increase last year, which will eventually lead to an increase in demand for gasoline. I can say this because in the first 10 months of last year, China's gasoline demand increased 10.4% year-over-year, and the trend should ideally continue this year as more cars hit the road.
Thus, after a brief period of weakness at the end of 2015, when refinery margins took a beating due to the winter weather, the growth should resume as 2016 progresses. More importantly, Exxon's presence in the Asian market will be another tailwind for the company since Asian refiners are seeing robust margin growth. For instance, the benchmark Singapore complex GRM was up 27% in the last quarter of 2015 as compared to the third quarter.
This pushed up the margins of Asian refiners, especially because demand from China, which takes in 40% of refined petroleum products in Asia, was strong. As a result, it is not surprising to see that Exxon is enhancing its presence in areas such as Singapore and Papua New Guinea. For instance, in Singapore, the oil giant is bolstering its lubricants plant in a bid to produce synthetic lubricants.
The expansion of the plant is anticipated to be complete by 2017, when it will become the only facility in the Asia Pacific to manufacture Mobil 1 engine oil. This is a smart move as demand for engine oils in the Asia Pacific is anticipated to increase at a CAGR of over 8% until 2024, driven by an increase in vehicle sales.
Hence, as compared to other big oil players such as BP, ConocoPhillips (NYSE:COP), and Marathon Oil (NYSE:MRO), Exxon's integrated nature of operations will allow it to benefit from weak crude oil pricing due to better refining margins.
A closer look at the balance sheet
Earlier in the article, I had mentioned that Exxon's credit rating has been put under watch by S&P. However, a closer look at the company's leverage and cash flow clearly indicates that it has been able to navigate the weak oil pricing environment much better than its peers.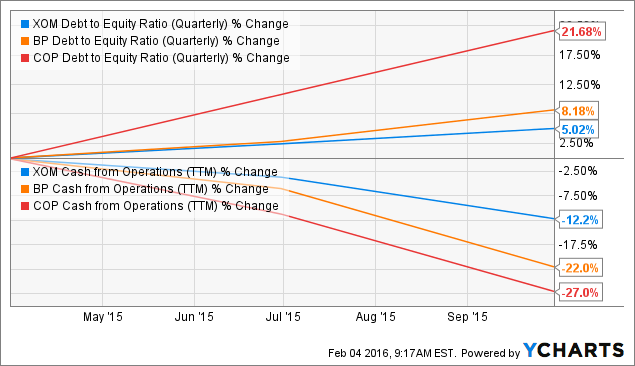 XOM Debt to Equity Ratio (Quarterly) data by YCharts
In the past year, Exxon has kept its debt levels under control as its leverage has increased just slightly. At the same time, the company's operating cash flow has dropped the lowest among its big oil rivals, especially because of its downstream operations.
Moreover, a look at the company's balance sheet clearly shows us that Exxon will be easily able to service its debt. This is because the company's debt of $38.7 billion and the accompanying interest burden can be serviced by its combined cash and operating cash flow of $36.4 billion. More importantly, this year, Exxon might be able to keep its operating cash flow profile at least intact since it has decided to suspend share buybacks.
To give some perspective, the company had spent $500 million on buybacks last quarter. When combined with a 25% cut in capital expenses this year to $23.2 billion, along with possibly better downstream operations, Exxon's operating cash flow profile will remain robust this year.
Conclusion
So far in 2016, Exxon Mobil's stock price has remained flat, which is much better than the performance of other big oil players who have seen their market capitalization diminish. Looking ahead, I believe that Exxon will be able to sustain this resilience due to strength in the downstream segment and its steps to reduce costs. So, investors should continue holding Exxon Mobil shares as it remains the best pick in a challenging oil environment.
Disclosure: I/we have no positions in any stocks mentioned, and no plans to initiate any positions within the next 72 hours.
I wrote this article myself, and it expresses my own opinions. I am not receiving compensation for it (other than from Seeking Alpha). I have no business relationship with any company whose stock is mentioned in this article.