This is the fourth and final part of a series focusing on the Dividend Aristocrats - companies that have not only paid but also increases their dividends for at least two and a half decades. Often income investors seek out these sorts of investments, but don't give much thought beyond that. Naturally this can work out quite well, but I find it reasonable to at least see what additional options (in this case literally) are out there.
Previously I have demonstrated how you can "double your yield" by selling covered calls on positions that you own. This article will continue that theme, focusing on the remaining Dividend Aristocrats:
| | | | | |
| --- | --- | --- | --- | --- |
| Company | 2/4 Price | Ann Div | Strike | "Net" Prem |
| PepsiCo (NYSE:PEP) | $97.43 | $2.81 | $105 | $2.49 |
| PPG (NYSE:PPG)* | $95.15 | $1.44 | $110 | $1.10 |
| Procter & Gamble (NYSE:PG) | $80.69 | $2.65 | $85 | $2.48 |
| Sherwin-Williams (NYSE:SHW)* | $259.38 | $2.68 | $300 | $5.25 |
| Stanley B & D (NYSE:SWK) | $97.32 | $2.20 | $115 | $1.95 |
| Sysco (NYSE:SYY) | $43.30 | $1.24 | $45 | $1.60 |
| T. Rowe Price (NASDAQ:TROW)* | $69.50 | $2.08 | $75 | $1.55 |
| Target (NYSE:TGT) | $70.04 | $2.24 | $80 | $1.99 |
| V.F. Corp (NYSE:VFC) | $61.98 | $1.48 | $75 | $1.65 |
| W. W. Grainger (NYSE:GWW)* | $208.81 | $4.68 | $230 | $5.35 |
| Wal-Mart (NYSE:WMT) | $66.07 | $1.96 | $72.50 | $1.87 |
| Walgreens (NASDAQ:WBA) | $77.02 | $1.44 | $95 | $1.72 |
The first three columns show the company name, recent share price and annual dividend. From there I looked for call options with a January 2017 expiration, to get as close to an annual view as possible. The companies that did not have this expiration date are marked with an asterisk, and use expirations between July and September of this year. The strike price represents the price at which you would agree to be selling. The "net" premium takes the most recent bid less $0.25 for transaction expenses and fluctuations. Note that these premiums could be taxed at higher rates and do not line up perfectly with the dividend payments.
Here's a table utilizing the same information as above, but presenting it in a slightly different manner: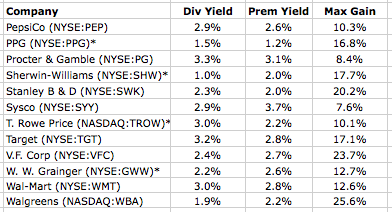 The second column is the annualized dividend yield, just as you are accustomed to seeing. The third column shows the premium yield, which is the amount of upfront cash flow that you could receive by making the agreement. The last column shows the capped gain, including the strike price and premium received, but ignoring possible dividends received along the way. If you also receive dividends, your maximum gain would be higher.
This is the sort of thing that can be useful to learn about. In no way am I suggesting that you should make any of these agreements. Instead, I simply wanted to provide an illustration of what "doubling your dividend yield" could look like.
The options available for Procter & Gamble and Sysco probably don't appear particularly interesting from a long-term owners point of view. You could double the dividend yield, but you would have to agree to sell your shares at a gain below 10%. To be sure a 7% or 8% return in a year is reasonable, but the added time, fees, taxes and potential opportunity costs could outweigh the benefits (unless of course you're happy to sell shares anyway).
Alternatively, looking at something like V.F. Corp or Walgreens appears a bit more enticing. You could double your yield in a V.F. Corp by agreeing to sell within the next year at a price of $75. As compared to a share price near $62 today, that's a sizable gain.
If you made this agreement, one of two things could happen: either the option is exercised or it is not. If the option is not exercised, you would keep the ~$165 premium and go about holding shares and collecting dividends as you normally would. In this instance, selling the covered call is clearly favorable.
If the option were to be exercised, you'd be forced to sell your shares at $7,500. You'd still collect the ~$165 upfront premium and might also receive ~$150 or more in dividend payments. Your total return would be in the 24% to 26% range.
Of course this sort of exercise can be completed with Walgreens as well. You could agree to sell your shares at $95 and more than double your yield. If the option is not exercised, you would continue holding shares and collecting dividends as you planned in addition to receiving ~$170 upfront.
If the option is exercised, you're forced to sell at $9,500. As compared to a market value closer to $7,700 this equates to a total gain of 25% to 27% with the premium and potential dividends included.
A lot of people like to point out that selling a covered call does not prevent against loss, which is true. Yet in this instance this is not an added risk. In fact it's the mitigation of such. If you plan to hold shares regardless, a covered call provides additional upfront income that you would not otherwise have received.
The true risk relates to the opportunity cost of "missing out" on significant gains. If you agreed to sell at $75 or $95 and the share price increases to $100 you would have been better off sitting on your hands and doing nothing. Yet this risk is also important to put in context.
You have to be happy with both sides of the agreement. Should the option not be exercised, naturally you're going to be happy - you received more income than you would have otherwise by simply buying and holding. Yet you need to be content with the other side as well. You only want to make agreements where you would be satisfied with selling at a given price as well.
In the case of V.F. Corp and Walgreens, you could buy shares today and thereafter agree to sell at a higher price. In the examples above, you could potentially double your yield by agreeing to a 25%+ gain. Now sure, shares could jump up 40% and you'd be kicking yourself for taking the time to make a lesser agreement. Yet at the same time, I'd contend that a 25% gain in less than a year shouldn't exactly be a disappointment.
In sum, this series focused on "doubling your Dividend Aristocrat yield" - seeing what type of agreement you could make to potentially double your cash flow. The idea was not to recommend certain alternatives or pick one option over another, although some specific agreements were highlighted. Instead it was about becoming more aware of the process. If you'd like to own high quality companies, and increase your cash flow while holding them, here's a way to do so. Whether you use this strategy or not, the concept was to expand your potential investing toolkit.
Disclosure: I am/we are long PG, PEP, TGT.
I wrote this article myself, and it expresses my own opinions. I am not receiving compensation for it (other than from Seeking Alpha). I have no business relationship with any company whose stock is mentioned in this article.