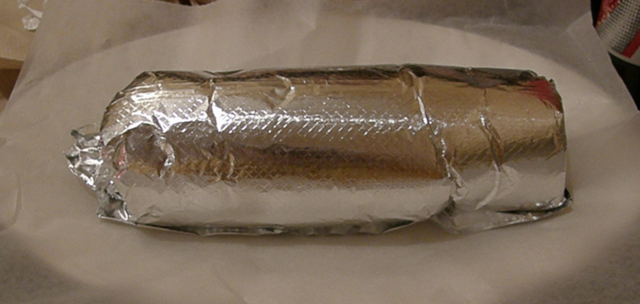 (Source: Flickr - commercial use & mods allowed)
According to the CDC, it is now safe to eat at Chipotle Mexican Grill (NYSE:CMG). The Mexican quick service retail chain has been scrambling to address an outbreak of E. coli that has affected at least 60 customers and hurt CMG's brand image.
The CDC's investigation did not identify a specific source of the contamination, but there have not been any new cases of customers contracting E. coli since December 1st. With no new cases for two full months, the CDC believes that the outbreak is over.
Now that the immediate risk has passed, it is time to take a look at CMG from an investment perspective and see if the stock is worth buying at the current price. Today, I want to discuss the discounted market value, two scenarios for Chipotle's future sales, and an income trade that could help investors find a balance between the risk of further decline, and the opportunity if CMG rebounds.
Let's first take a look at where the company stands right now.
How Much Damage Has Been Done?
From the August peak of $758.61, shares of CMG lost more than 47% of their value during the E. coli scare. In January the stock bottomed out at $399.14, and since then CMG has begun to stabilize. Even after rebounding from the January low, long-term investors have seen more than two years worth of gains evaporate.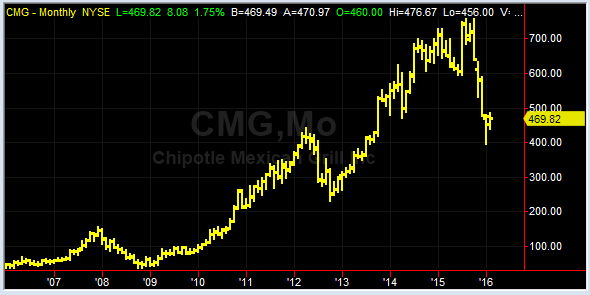 (Source: TradeStation)
Fundamentally, the outbreak had a major effect on the company's financial metrics.
During the fourth quarter, Chipotle experienced its first year-over-year revenue decline since becoming a publicly traded company. This is particularly sobering considering the fact that CMG is known as a "growth stock" and investors had high expectations for further expansion.

(Source: YCharts)
Even though the company "only" experienced a 6.8% decline in revenue, the damage to investors has been severe. This is a result of the combination of a contraction in CMG's profit margin, revised earnings expectations, and a decline in the price/earnings ratio that investors are willing to pay for CMG.
CMG's net profit margin has fallen as a result of sales, which have moved lower, and fixed costs that have not fallen alongside revenue figures. In fact, CMG's future fixed costs will likely move higher as the company invests in marketing to build back the company's positive brand image, and higher controls to guard against food contamination.

(Source: Ycharts)
Following the outbreak, Wall Street analysts have dramatically revised their expectations for CMG profits. Three months ago, analysts were expecting the company to book $20.41 per share in profit. But today, that level has declined by more than 50% to $9.08.

(Source: Yahoo Finance)
Now that the CDC has issued the "all clear" for the company's food items, we may see analyst estimates begin to stabilize (or even rebound). But as a result of the E. coli contamination, it is unlikely CMG will earn more than $20 per share for years to come.
With so much bad publicity, it takes a very attractive price to lure investors into buying shares of CMG. Today, the stock is trading near 23 times expected earnings compared to a 2015 peak just shy of 45 times expected earnings. (The chart below doesn't tie to the CMG estimate table above because of different time periods measured by each metric.)

(Source: YCharts)
With a forward P/E near 23, investors are still paying a premium price for future growth. But that premium has contracted considerably as CMG's growth prospects have become less exciting.
Presuming the E. coli outbreak has finally been contained, what can investors expect from CMG shares moving forward?
Alternate Scenarios For Investors
When considering an investment in CMG, there are basically two potential scenarios that investors could face.
First, the dreaded E. coli could return again and the company would face a severe crisis of faith with consumers. If this were to happen, it would be very hard for Chipotle to recover and the company's sales would plummet much more than the 6.8% decline in the fourth quarter.
Under this scenario, CMG would likely be forced to significantly revise its brand (possibly changing its name), and it would take years for the company to rebuild its revenue base -- much less expand profits. In this case, shares would likely trade at a single-digit multiple of earnings per share, sending the stock well below the $400 price point seen in early January.
Given the company's recent contamination and the high level of attention management will place on CMG's processes, I believe the chance of a new contamination is very low -- possibly below 10% over the next three years. So while this scenario would be very damaging to investors, the probability-weighted risk to a diversified account is acceptable.
The second scenario would be for CMG to operate with no new E. coli outbreaks and steadily rebuild its brand.
Admittedly, I was early to the game in November, when I stated that Chipotle's E. coli issue was a buying opportunity. But even with the extended challenge, Chipotle has a reputation of quality that should allow the company to recover some loyalty with customers. While the company will not be able to do this overnight, management's reputation for serving "food with integrity" should help with public opinion.
Under this scenario, I believe the current Wall Street analyst expectations could be legitimate. Projections for $9.08 per share in 2016 and $14.90 in 2017 are encouraging and if the company is able to hit these projections, investors may regain confidence in the stock.
An increase from $9.08 in 2016 to $14.90 in 2017 would represent a 64% increase in earnings. This is the type of growth that could re-ignite the "animal spirits" of Wall Street and cause investors to pay a premium price for the stock. If all goes well, it would not be unreasonable for investors to pay 40 times forward expectations for CMG, and if analyst expectations remain at $14.90 for 2017, that would lead to a share price just below $600.
While this is still well below the $758 peak from August, a share price of $600 would be good for a 28% return from current levels.
A Strategy For Balancing Risk And Reward
Given the uncertainty and volatility for Chipotle, option traders are paying a premium price to buy put and call contracts. Income investors can capitalize on this trend by selling over-priced put contracts with a strike price well below the current stock price. Specifically, I recommend the June $400 put contracts.
By selling these put contracts, we are agreeing to buy shares of CMG if the stock is trading below $400 when the June puts expire. Barring another outbreak of E. coli, it appears very unlikely that CMG will return to this level. Today, you can receive $1,740 for entering this agreement with one put contract.
The advantage of this strategy is that we can collect income right away from CMG, and even if the stock treads water for the next four months, we will receive our $17.40 per share. The drawback is that if CMG trades sharply higher, our gain will be capped at $17.40. Also, if another outbreak occurs, we will be required to buy shares at $400, and our net cost will be near $382.60 (our buy price of $400 less the $17.40 we received from selling the puts).
This is the strategy that we use to collect reliable income from our Growth Stock Income Generator which is a trading service hosted here at Seeking Alpha.
One additional challenge with using this approach for CMG is that it is capital intensive for a high-priced stock like CMG. Since each option contract represents 100 shares, selling one CMG put contract would require investors to set aside $40,000 in case they were required to buy shares of CMG. This can be an impediment for investors with smaller accounts.
Still, for well-heeled investors looking for a positive risk-adjusted income trade, selling CMG puts is an excellent way to collect income and make a bullish bet on CMG's rebound prospects.
Disclosure: I/we have no positions in any stocks mentioned, and no plans to initiate any positions within the next 72 hours.
I wrote this article myself, and it expresses my own opinions. I am not receiving compensation for it (other than from Seeking Alpha). I have no business relationship with any company whose stock is mentioned in this article.