Conoco Phillips COP, is an investment I had on my oil watch list along with others such as Exxon Mobil XOM, Chevron CVX, British Petroleum BP, and Royal Dutch Shell RDS.A RDS.B . However, after COPs CFO, Jeff Sheets stated the following I crossed COP off my list in utter disgust:
"We think of a dividend as something that really should only go one direction and there can be some variability in the rate at which dividend increases. But the key to a dividend is to have it be consistent and to grow it over time. So we haven't really had significant discussion to talk about trying to adjust the dividend. It's an important part of our value proposition. It puts a lot of discipline into the system to have that dividend. So you've heard us talk about it pretty consistently. You're going to continue to hear us talk about that as a key component of our value proposition."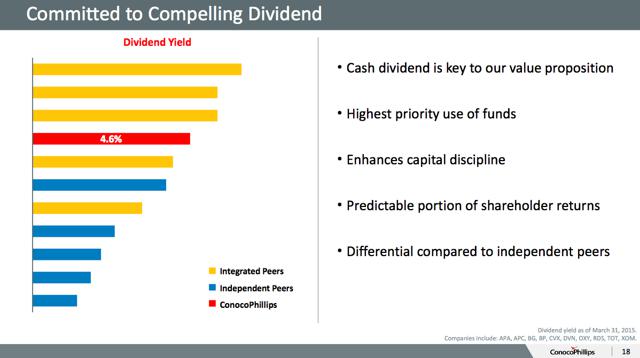 With those words during the third quarter conference call my views and opinions of COP totally changed. No longer did I see a strong balance sheet and a company cutting capex to preserver itself, rather I saw a company placing unwarranted emphasis on its dividend. A company that values its dividend over its core business principles has no place in business. For it is those very operations that provide the dividend that are being neglected and taking a backseat to it. Had COP taken on debt for an acquisition such as Royal Dutch Shell did when acquiring BG Group for $70 billion, I perhaps would have kept them on my list for the short term after verifying the transaction and its fundamentals.
Granted COP had good intentions and some logic behind this decision on the basis that they reduced their capex by $10.2 billion though we are finding after the most recent earnings it is not enough even with the debt to sustain the dividend with COP reporting -$0.90 EPS, missing estimates my $0.25 and a net loss of $3.5 billion. Realizing things are not as rosy as anticipated COP has further cut capex from $7.7 billion to $6.4 billion. Lastly, they murderously slashed their dividend from $0.74 to $0.25 - almost 66 percent! While I am glad they have decided to cut the dividend and are perhaps realizing the gravity of the situation they have put themselves in, the fact that they did indeed put themselves here by not cutting the dividend earlier and worse, funded the dividend up to this point using debt. Now the CFO states COP is not comfortable having a plan that relies heavily on debt financing to fund cash shortfalls, where was this prudent logic one quarter ago?
Now COP investors have a company that has failed to not only maintain its dividend as a "key component" of its value proposition, but have also saddled themselves with more debt in the process. Investors are left with an oil major that is sub-par and paying a dividend that is only 2.6%, which is below the 4.4% average of oil majors. COP is a major oil failure at this point relative to its peers and my question is what value remains here? Especially when compared to other options such as XOM, RDS, CVX?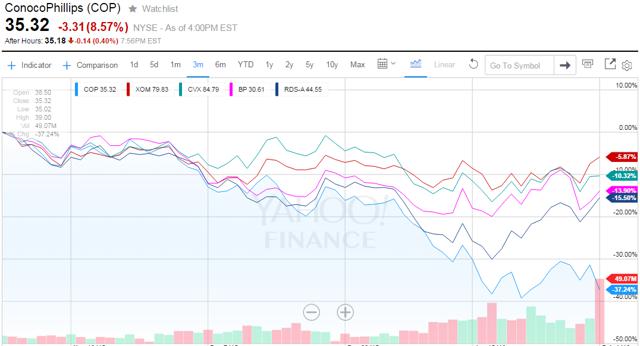 Source - Yahoo Finance
Author Update, Date: February 5, 2016
I have been getting feedback regarding my compare group above, so I issue this one now for comparison of COP peers. I did not compare COP to the oil majors for likeness of the company - but rather alternatives in the energy sector to COP.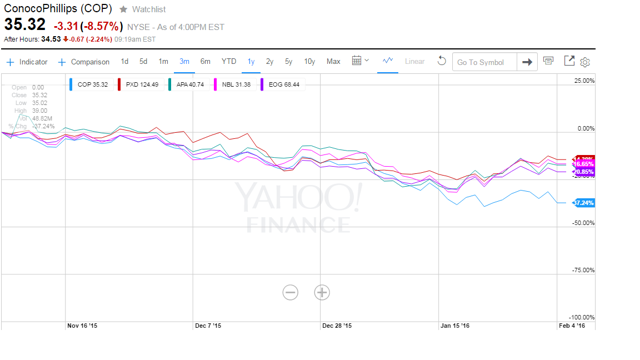 For those investors looking for something in energy, I suggest reading here about Spectra Energy SE. A company in the energy sector that is much more financially responsible, poised to excel, and sports a 7% dividend that is responsibly funded.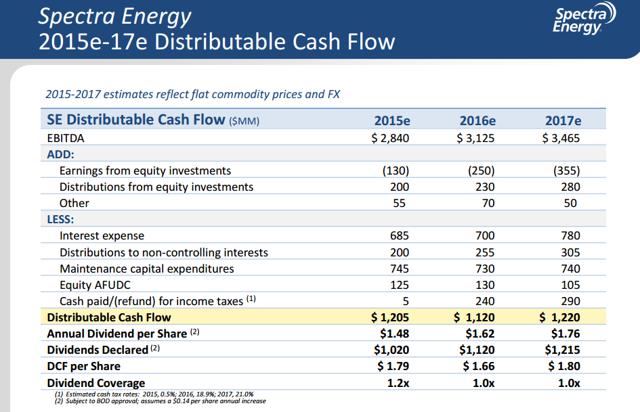 I consider myself a dividend growth investor, but I am careful not to be tricked into "Sucker Yields", a term coined by Brad Thomas in many of his articles such as this one. Brad is a great author whose works I recommend without reservation in the REIT space.
Disclosure: I/we have no positions in any stocks mentioned, but may initiate a long position in SE over the next 72 hours.
I wrote this article myself, and it expresses my own opinions. I am not receiving compensation for it (other than from Seeking Alpha). I have no business relationship with any company whose stock is mentioned in this article.