American Electric Power (NYSE: AEP) is a big, multi state utility company operating in Texas, Oklahoma, Ohio, Kentucky, Michigan and Indiana, AEP is one of the most fossil fuel oriented utilities in the country, which I still consider to be a good thing because AEP can generate electricity at a reasonably economical price. AEP is also a big supplier of electricity to areas involved in the 'shale boom.' While earnings were good in 2015, I believe that 2016 will be considerably more challenging as the oil patch runs into the reality of much lower prices.
A solid 2015
In 2015, earnings increased from $3.43 per share to $3.69 per share, a 7.6% increase. Management felt comfortable enough to raise the dividend by 5.7% last year. The regulated portion of the business (which accounts most of sales), showed an ROE of 9.6%.
Unfortunately AEP finished the year fairly weak. Fourth quarter earnings were actually flat year-on-year, and electricity load demand trends were down across-the-board. Residential loads were down 4% year-on-year in the fourth quarter, industrial loads were down 2.2%, and commercial loads were down 3.9%.
What happened in the fourth quarter? Is this a sign that the economy is slowing in AEP's service area? Well, the economy does appear to be slowing, particularly in areas which AEP serves. However, the steep drop in load demand appears to be more a result of the weather. Winter came fairly late this year and so fourth quarter results were quite weak. On the full year, however, AEP did quite well.
Going forward could be different
Management forecasts 4%-6% earnings growth in 2016. I question that forecast, but do so only because of some macro trends which don't appear to be in AEP's favor. Let's start by examining GDP growth.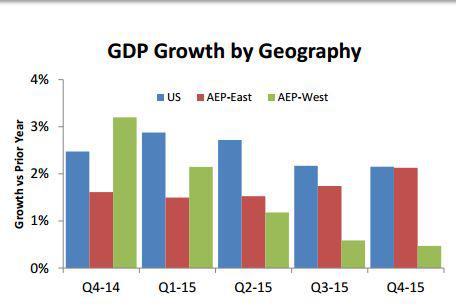 Courtesy of AEP Investor Relations.
Both employment growth and GDP growth in AEP market areas are underperforming the rest of the country, particularly in 'AEP-West,' which include Oklahoma and Texas. As you can see, the trend in the chart above appears to be a downward-moving one. Before looking at the company's valuation, I want to look at one important part of AEP's business, which I believe explains the big underperformance out west.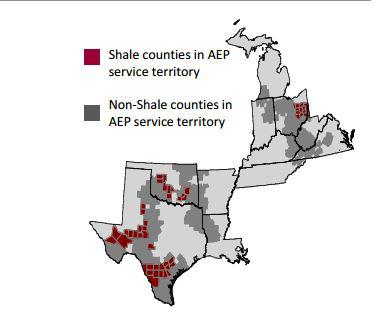 Courtesy of AEP Investor Relations.
AEP operates in Ohio, West Texas, South Texas and Oklahoma, all of which are important shale producers. Oil and gas operations are not only a major source of industrial demand, but they are also important to the broader economies of those regions. A downturn in oil and gas is going to be painful for AEP, not only in lost industrial demand, but also in lower employment numbers, and ultimately lower residential and commercial power demand.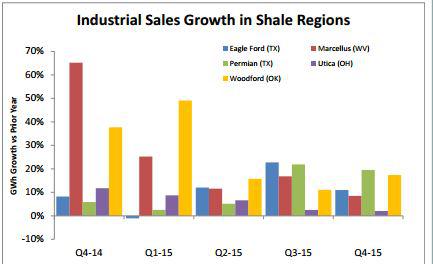 Load demand in counties in the shale used to be a huge source of growth for AEP. Not so anymore. With crude oil at $30, and even lower in oversupplied basins, I believe that load demand will begin shrinking in these counties. Management sees things differently. In 2016 they predict modest industrial load demand growth from counties in the shale.
I'm not sure what internal metrics these estimates are based on, but here's what I do know: At current oil and gas prices, drilling is not profitable in these regions. It just isn't. The only reason that drilling continues in these regions is because of producer hedgebooks and credit markets still allowing shale drillers access to capital. But most pre-crash hedge books are going to fall off this year, and credit markets are much more cautious in lending to shale drillers. These 'life lines' are running out, and unless there is a big price recovery in 2016, a lot of E&Ps will simply go out of business. That's the tough truth, and such a scenario would really effect the economies of these regions. If that happens, AEP will have a hard time achieving its earnings goals in 2016, and I believe there would be additional downside both to earnings and shares.
Valuation and conclusion
According to data from FAST Graphs, AEP has averaged a price-to-earnings ratio of 14.0 times since 2006. Right now the company trades at 16.8 times earnings. AEP yields a lukewarm 3.6% right now; not so high for a utility. If AEP were at its ten year average, shares would be about $10 lower than where they are right now at $63.32 per share.
I predict that AEP will have a hard time growing earnings in 2016, and I think shares could respond by dropping to their ten-year average valuations or perhaps even lower. While AEP is one of my favorite utilities because of its 'no nonsense' attitude toward economical power generation, I do believe this company is currently in the wrong place at the wrong time.
Disclosure: I/we have no positions in any stocks mentioned, and no plans to initiate any positions within the next 72 hours.
I wrote this article myself, and it expresses my own opinions. I am not receiving compensation for it (other than from Seeking Alpha). I have no business relationship with any company whose stock is mentioned in this article.