The markets have been following a wild ride lately. Only rare stocks can be proud of demonstrating a satisfying performance over the last couple of months. There are, however, opportunities to be exploited at the present market conditions.
As the S&P 500 (NYSEARCA:SPY) is crawling lower with little confidence, pressure coming from the emerging markets and the energy sector is becoming increasingly important. Unless the overall nervousness that has conquered the market behavior lately ceases to exist, fear and growing anxiety regarding the stocks' performance will only increase the day-to-day swings in the coming months. It is hard to think of potential reasons for that, however, just as how difficult it is to find news that do not contribute to the slowly growing pessimism. Nevertheless, I believe we are quite far from the day the bears win. It is the fact that a significant part of all market participants are on the verge of either capitulating or going long again which makes this trade attractive, and at the same time short-term.
In order to make it accessible for everyone, I will only use ETF-based picks.
Gold is ready to make a comeback
From now on, when speaking of gold, I will refer to the SPDR Gold Trust ETF (NYSEARCA:GLD), one of the most popular ETFs with gold exposure (the expense ratio accounts for 0.4%).
I have outlined the positive aspects of gold as an investment in my article "Gold: It Is Just Too Early For This Former Rock Star To Make A Comeback Yet". It is clear from the title that at the time of publication I was quite neutral on gold. And yes, I am finally becoming quite bullish on this commodity not only for the longer term, but for the short term as well. The key factors determining the moment when gold is ready to outperform, as I have outlined in the article, are the following:
Increasing downside momentum of stocks
Increasing inflation or deflationary pressure
As main industrial and precious metals are starting to look better, traders and funds are starting to find new reasons for investing in gold, including the popular inflation arguments and the fact that the precious metal has already had a quite impressive performance since the beginning of 2016, as GLD is already up 7.68 percent year to date. If the spectacular appreciation of the dollar has reached its end, it may finally be the time of the precious metals.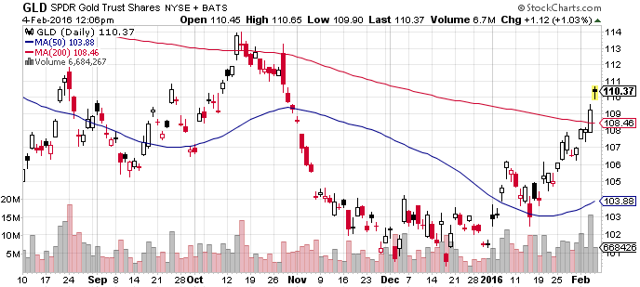 Source: StockCharts
... And it won't be alone
In addition to GLD, the iShares Silver Trust ETF (NYSEARCA:SLV) might be of great help to those seeking outperformance in the coming weeks. With an expense ratio of 0.5%, this ETF is a convenient way to obtain exposure to silver, which, due to a quite high silver/gold price spread, has the potential of outperforming gold in the coming years.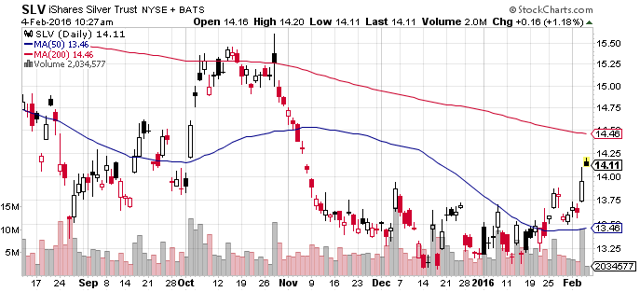 Source: StockCharts
A more risky, but still popular, bet on precious metals
Exposure to gold mining sector, which, not surprisingly, is going to really welcome the future gold price performance, can be obtained through the Market Vectors Gold Miners ETF (NYSEARCA:GDX). The fund tracks the performance of the NYSE Arca Gold Miners Index. Recent price performance demonstrates how GDX overreacts (as compared to GLD) during gold price spikes. Unfortunately, the risk of holding GDX is also the reason why it is occasionally outperforming, as financially distressed companies constitute a significant part of the fund's holdings. However, as long as expectations of higher gold prices mean profitability for those companies, a volatile price action follows every surge in GLD. An expense ratio of 0.53% and a tendency to outperform gold makes this ETF one of my favorite picks for the upcoming weeks (Even though the fundamentals of some individual gold miners might be of concern when speaking of the long term).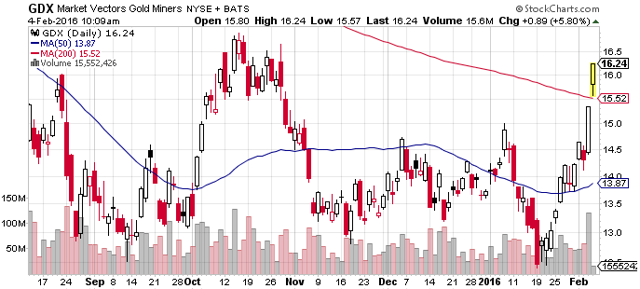 Source: StockCharts
It can be argued that junior gold miners' stocks (NYSEARCA:GDXJ) might prove to be an even more profitable bet. One should remember of the associated risks, however. In addition, this year's performance is currently in favor of GDX (including 1-month, 3-month, and 6-month price performance), forcing me to discard this ETF (the expense ratio accounts for 0.55%) from potential outperformer risk.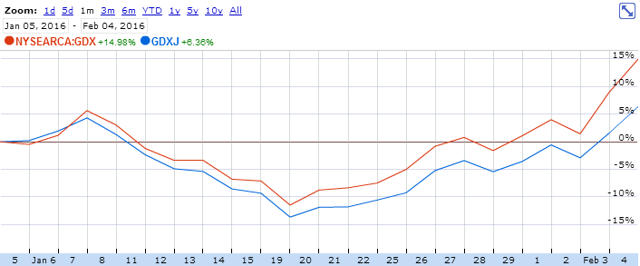 Source: Google Finance
Conclusion
Despite possessing quite pessimistic expectations for the stocks' performance in 2016, I remain cautious with my statements and investment decisions. Despite the fact that the market fundamentals are deteriorating at an alarming rate, the percentage of people developing bearish view on stocks is surprising. Why - when seemingly everyone, at least to some extent, expresses concern over the stock prices - do we observe a rally after each sell-off? Or, to paraphrase: Who is holding the stocks, and when are they going to sell them? Meanwhile, a significant part of the investing world should remember that excess valuation is not the only driver of future outperformance. Thankfully, as opposed to the times of the dot-com bubble, people tend to overpay for quite profitable companies' stocks now. By no means am I adjusting my bearish view on stocks. The only point I am trying to make is that investors should remain very cautious, as the markets are sending quite contradicting signals. As a relatively undervalued stock, General Motors (NYSE:GM) can serve as a proxy for current market sentiment, given how frequently we hear phrases such as "more attractive" and "buying opportunity". As opposed to many other mega-caps, it has actually managed to post quite satisfying earnings today. After surging in the pre-market, where did the stock go?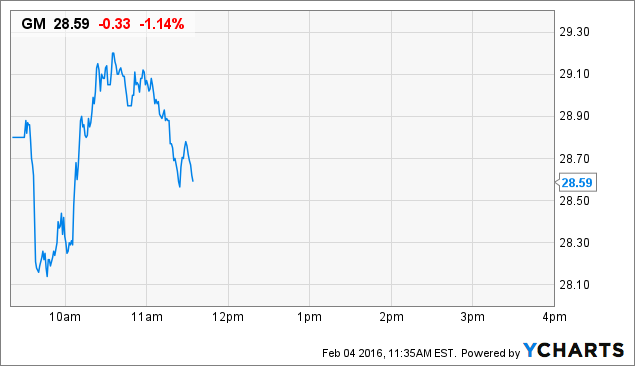 GM Price data by YCharts
While shorting individual stocks might be quite profitable even now (here are my calls on ServiceNow (NYSE:NOW) and Kirby (NYSE:KEX)), it is important to remember that any short-term rally can easily wipe out the shorts.
The above-mentioned ETFs represent a more reliable opportunity to profit in the today's market, but the following risks have to be taken into account:
Possibility of further appreciation in the dollar.
A strong rebound in stocks (not very likely).
Negative impact of rollover costs and the possibility of contango effect (if holding for a longer term).
I assign Buy ratings on GLD, SLV and GDX.
Disclosure: I/we have no positions in any stocks mentioned, but may initiate a long position in GDX over the next 72 hours.
I wrote this article myself, and it expresses my own opinions. I am not receiving compensation for it (other than from Seeking Alpha). I have no business relationship with any company whose stock is mentioned in this article.
Additional disclosure: I am long GDX at $14.30 per share. I am not an investment advisor. This is not an investment advice.