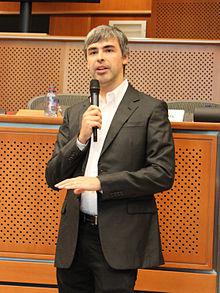 John Tobey suggests we all shun Google (NASDAQ:GOOG) until its management is replaced.
I like a provocative, up-front statement like that even when I disagree with it. Here is why I disagree with it.
First, Google CEO Larry Page (right) has been in place less than a year. Since taking command April 11, Google has traded as low as $474, as high as $670, and is now at about $608, a lot closer to the top of the range than the bottom. This is not Netflix (NASDAQ:NFLX), not HP (NYSE:HPQ).
During the period Google has delivered three quarterly reports, with revenue rising from $8.575 billion to $10.584 billion, and net income rising from $1.798 billion to $2.705 billion. If we could all fail like that this would be a wonderful world.
Google has spent this year with a target on its back. Not just from competitors but from censor wannabes around the globe and from privacy advocates, who pounced on its new privacy policy like politicians.
It's important to note that most of the claims against Google are, in fact, political in nature, pursued by politicians whose ends are either directly political (aimed at their own popularity) or in service to Google competitors (like the Bells).
Page has handled this criticism legally and technically, not politically, and after this year's elections he might want to select from any number of retired or beaten politicos for someone who can deal with these issues as they are, rather than as he'd want them to be.
The politicization of the Internet is nothing new. Its focus on Google is. And Google needs to both defend itself better and learn to play a little offense if it's going to succeed. Lobbyists alone won't do it - a public spokesman is called for.
But does this represent incompetence of a high order? I don't think so. It's a mistake that can be corrected.
Meanwhile, what about the technology? Page has canceled a host of internal projects in favor of some that seem silly but which (unlike earlier experiments) might actually turn into revenue. At minimum, they deliver better headlines for that soon-to-be-hired political director.
And what of Google's business rivals?
The biggest challenge of the Page era has yet to come, namely Motorola Mobility (NYSE:MMI). Google has to turn MMI's revenues into a profitable business, or its own margins are going to be squeezed so hard Tobey will indeed appear to be a profit a year from now. And it's not a business Google has experience with.
But when the MMI acquisition was first announced, the thought was that Google was only interested in the intellectual property, that the business would eventually be dumped or disappear. No one is talking that way any more. Now we're talking about whether Google can, or will seize the Motorola opportunity.
Larry Page spent over a decade learning about his business while it was growing up around him. Unlike Steve Jobs or Bill Gates, who both became legends, Page got the "adult supervision" needed to make the most of this opportunity. Despite his rapidly-graying hair, he's not yet 40.
I say, give him a chance.
Disclosure: I am long GOOG.