Thursday was a less volatile version of Wednesday. Markets weren't as wild, but the major trends continued.
Most importantly, the dollar's (NYSEARCA:UUP) mysterious sell-off continues. The dollar was down another percent; the Euro climbed another penny, moving back over 1.12. The Japanese Yen (NYSEARCA:FXY) has reclaimed all of its massive losses from the move to negative interest rates from a few days ago.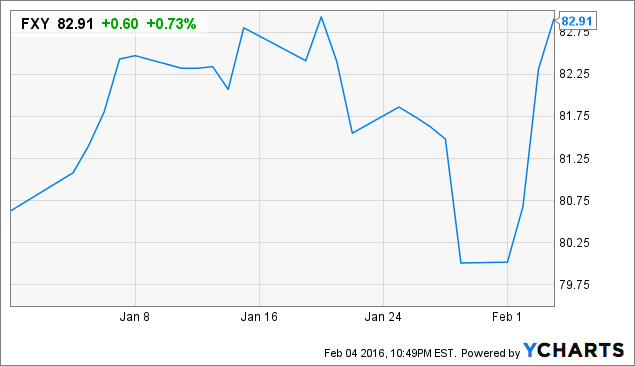 FXY data by YCharts
If you want to see confusion in just one chart, look at the Japanese Yen. The market is totally befuddled.
Gold (NYSEARCA:GLD) continued powering higher, putting another $15/oz on to rise over $1,150. Speaking of $15, silver (NYSEARCA:SLV) is now testing that level for the first time since early November. Copper (NYSEARCA:JJC), which was recently under $2/lb is now back over $2.10. Miners such as Freeport-McMoRan (NYSE:FCX) are now, remarkably enough, 60% off its lows from just a couple weeks ago.
Beaten down industrial stocks are also aggressively back on the upswing. Caterpillar (NYSE:CAT) shot up another 4% continuing its improbable post-bad earnings rise. United Technologies (NYSE:UTX) put in a strong day, helping the Dow (NYSEARCA:DIA) outperform the other indices. Emerson Electric (NYSE:EMR) is another struggling industrial stock that's doing better lately. And Deere (NYSE:DE) is leading the agricultural stocks back on up.
On the negative side, money continues to pour out of tech stocks to fund the sudden surge into commodities and basic materials. Tesla (NASDAQ:TSLA) hit another 52-week low. And Netflix' (NASDAQ:NFLX) chart continues to look set for an ominous plunge lower.
However, the main event was in after-hours, when tech earnings really took some hits. Tableau (NYSE:DATA) fell as much as 45% in the hours after session, striping several billion dollars off that company's market cap. At fault was a decent quarter and moderately weaker guidance. It's a rough market out there. Competitor Splunk (NASDAQ:SPLK) dropped 9% in sympathy.
LinkedIn (NYSE:LNKD) beat on earnings by a wide margin, beat on revenues, but came up a little short on guidance. How'd the market react? That's right, down 19%. It's a scary time to own growth stocks into earnings; that's for sure.
Ahead of Thursday night's Democratic debate, health care stocks continued to plunge. However, the focal point of the pain shifted from biotech (NYSEARCA:XBI), which finally bounced for once, over to other parts of the health care industry.
Among the new 52-week lows were Novartis (NYSE:NVS) which continues to dive. This stock is starting to look somewhat cheap if you squint closely.
Health care plans were under fire. Anthem (NYSE:ANTM) and Express Scripts (NASDAQ:ESRX) both managed to hit new 52-week lows. Bernie Sanders continues to remind voters that he wants to make transformational changes to the health care industry that would mortally wound these companies.
Thursday night's debate was no exception. Sanders has no seemingly realistic path to winning the Democratic nomination, but the fact that he performed so well in Iowa has been causing panic among investors.
AmerisourceBergen (NYSE:ABC) and Mednax (NYSE:MD) also continued on their merry way to new 52-week lows as well. There's plenty of pain in health care.
If Sanders' momentum continues, the pain will spread everywhere. Take his quote from last night's debate: "In my view, the business model of Wall Street is fraud." If you enjoy the US being the center of the world's economy and financial system, you should be rooting against any more Sanders momentum. In any case, we may get some decent bargains in health care stocks if he wins a few primaries along the way.
The Week Ends With An Important Jobs Report
In all the chatter around the huge moves in commodities, currencies, and bonds this week, this morning's jobs report has kind of gotten lost in the shuffle.
But it could be market moving; the jobs report traditionally is the biggest driver of currency movements each month. Who knows what sort of craziness could happen if the dollar suffers another big sell-off? On the other hand, anything that would move the dollar higher could reverse much of the market rotations over the past couple days.
The jobs report is generally expected to be soft. Manufacturing has been a weak spot of late, and many economists are expecting weak jobs data from this area. Goldman Sachs which normally offers reasons for both optimism and pessimism on the jobs report only had negative takes for this month.
The weather will be another factor, with December being unseasonably warm, followed by the huge winter storm in January.
A strong number would probably be bad for the equity market, as the Fed is still looking for excuses to raise interest rates. A very weak number might also be bad if it leads to more outright recession fears. A moderately weak number would probably be the most bullish for the market, as it keep the Fed from hiking without playing into the worst of the deflationary fears.
Finally, on a totally unrelated note, for anyone not following Martin Shkreli lately, there's plenty of drama on that front. I'll just quote the first part of Bloomberg's latest update, but I highly encourage you to click through, it's hilarious:
Martin Shkreli's lawyer Benjamin Brafman said that a tweet his client posted after a congressional hearing Thursday calling legislators "imbeciles" was "unfortunate." [...]

When Shkreli left the hearing, "the frustration exploded," Brafman said in an interview on CNBC, and Shkreli tweeted, "Hard to accept that these imbeciles represent the people in our government."

"It was a regrettable choice of words," Brafman said. Brafman said Wednesday that Shkreli would no longer give media interviews, but that hasn't stopped the former drug executive from taking to Twitter and other channels to make his feelings known.
Disclosure: I am/we are long UTX, CAT, EMR.
I wrote this article myself, and it expresses my own opinions. I am not receiving compensation for it (other than from Seeking Alpha). I have no business relationship with any company whose stock is mentioned in this article.