The Wall Street Journal had a good piece on how money is not coming into the small cap space despite a 36% increase in the sector since the stock market's bottom in the summer. It also pointed out how the space is isolated from the European debt crisis and any slowdown in the BRICs.
Provided the domestic economy performs decently, it seems a good area to invest in as new money will eventually come into the sector if it continues to perform. Here are two small cap names I am looking at. They both have low valuations and recently crossed over their 200 day moving averages.
"Noranda Aluminum Holding Corporation (NOR) engages in the production and sale of primary aluminum products and rolled aluminum coils in the United States. It mines, produces, and sells bauxite used for alumina production. The company refines and converts bauxite into alumina; and smelts and produces primary aluminum products in various forms, including billet, rod, high purity sow, and foundry ingot, as well as commodity grade sow." (Business Description from Yahoo Finance)
4 reasons Noranda is a solid buy at under $12 a share:
There has been slight net insider buying in the stock over the last six months. The stock also sells near the bottom of its historical valuation range based on P/E, P/S, P/CF and P/B.
The company is one of primary beneficiaries of low natural gas prices. Credit Suisse estimates Noranda will see a $36mm pre-tax benefit in FY2013 at current natural gas prices and as its hedges comes off. This is one of the prime reasons analysts have Noranda making $1.51 in FY2013.
The stock has a low five year projected PEG (.78) and sells for less than 6 times operating cash flow.
The stock has exhibited good technical strength since it bottomed in December and recently crossed its 200 day moving average (see chart):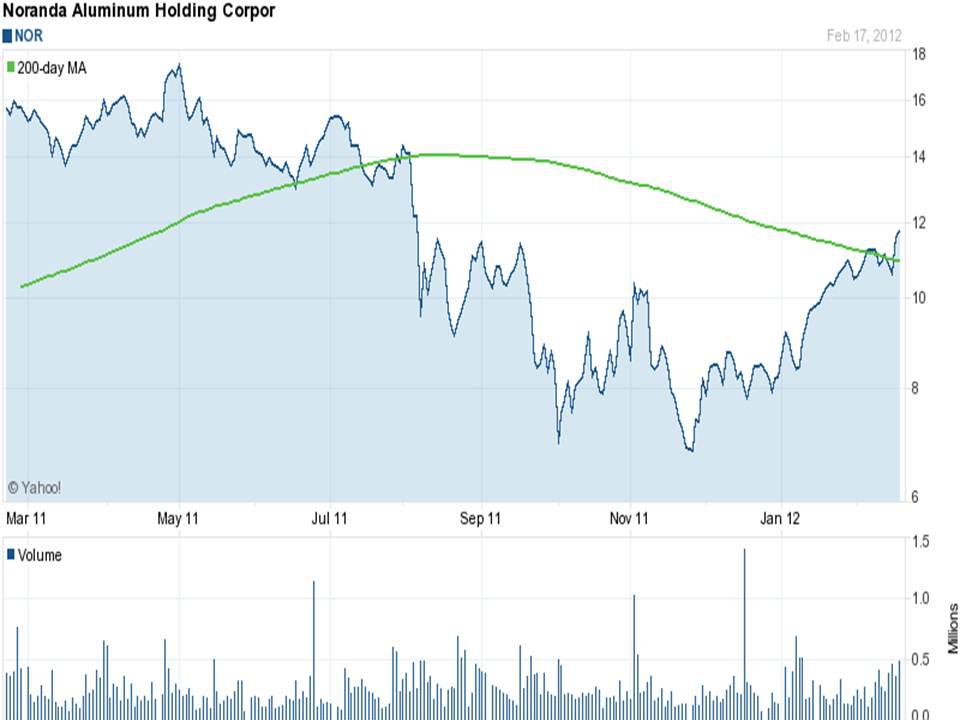 "Orbotech Ltd. (NASDAQ:ORBK) engages in the design, development, manufacture, marketing, and service of yield-enhancing and production solutions for specialized applications in the supply chain of the electronics industry." (Business Description from Yahoo Finance)
4 reasons ORBK is a good bargain at just over $11 a share:
Despite missing on the top and the bottom line on its last quarterly earnings report, the stock is showing technical strength and just crossed its 200 day moving average (see chart):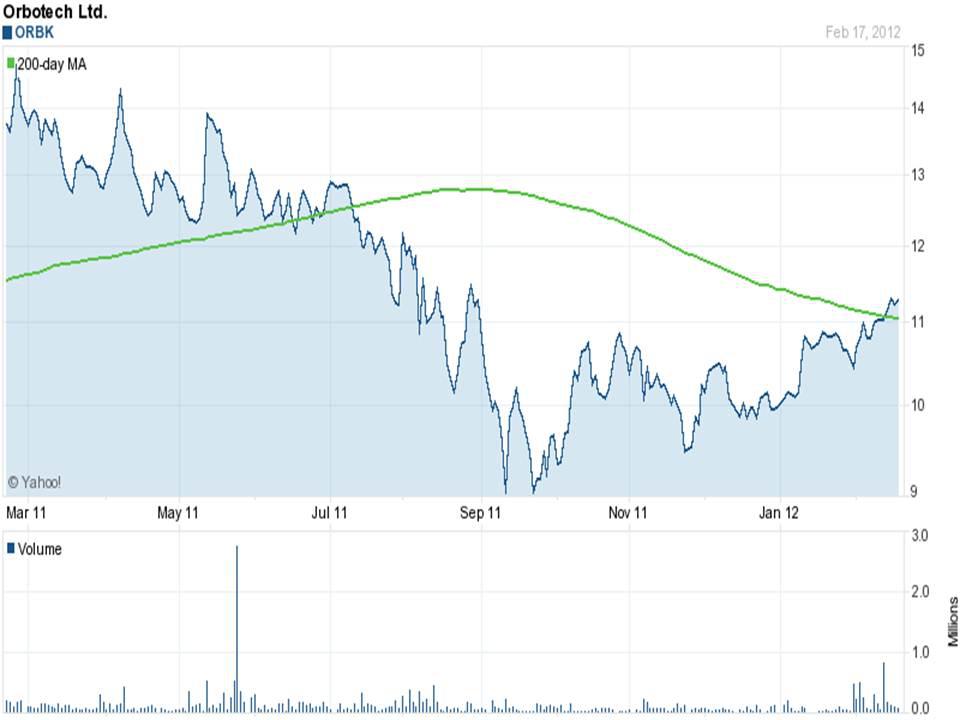 The company has a robust balance sheet and approximately 40% of its market capitalization is in net cash.
The stock is selling right at book value and under 7.5 forward earnings.
The median analyst price target on ORBK for the 6 analysts that follow the stock. It also is selling a very reasonable five year projected PEG (1.06) given its huge cash balance.
Disclosure: I have no positions in any stocks mentioned, but may initiate a long position in ORBK over the next 72 hours.