Alpha Pro Tech (NYSEMKT:APT) develops, manufactures, and markets high-value protective apparel, infection control products and a line of construction weatherization building products designed for the housing market. The company is organized into three main segments: Building Supply, Disposable Protective Apparel (i.e. masks) and Infection Control.
Building Supply includes housing wrap and building underlay; this segment is clearly levered to the housing industry. According to the US Commerce department, this segment has remained strong through 2015 and should continue going forward.
Disposable Protective Apparel includes items such as shoe covers, caps, lab coats, and gowns used in the pharmaceutical, clean room, industrial and medical markets.
However, the key area I want to focus on with the biggest upside opportunity is the Infection Control segment, which includes a line of face masks and eye shields. Although it is the smallest of the three segments, it has the highest operating margin at over 30%, based on its most recent 9 month results: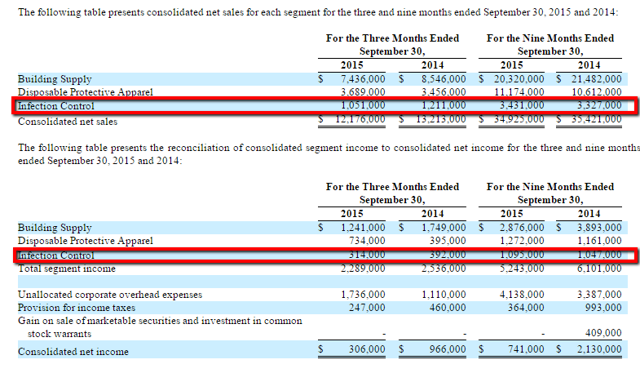 Source: Alpha ProTech Q3 2015 10-Q Filing
There have been two key instances in the recent past that have caused APT shares to spike substantially: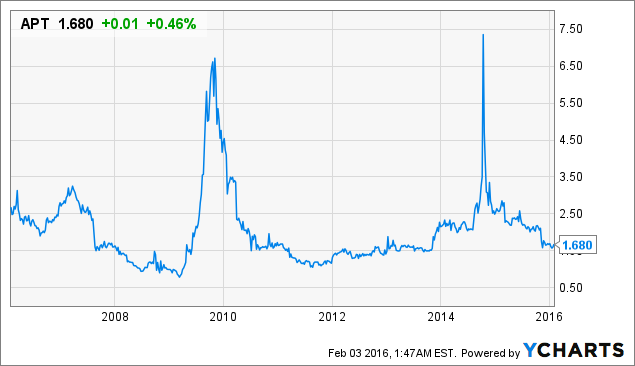 These spikes corresponded to the Swine Flu pandemic in 2009 and the Ebola outbreak in 2014. With the concern at how quickly these infectious diseases could spread, the demand for APT's products was substantial; its Q4 2014 results spiked by over 100%, due to Ebola protection demands. This brings us, unfortunately, to the recent outbreak of the Zika virus.
The Zika Virus
According to the Centre for Disease Control (NASDAQ:CDC), the Zika virus is largely spread by mosquito bites; however, there are also indications that it can also be spread via sexual activity as well. The major symptoms are fever, rashing, joint pain and conjunctivitis. This is not really a unique combination of symptoms which has made Zika difficult to treat as it appears similar to many other common illnesses. The illness is usually mild to the recipient, lasting several days to a week and rarely needing hospitalization.
Zika's biggest impact has been on pregnant women, as it has resulted in thousands of birth defects over the last several months, mostly concentrated in Brazil. The most notable condition that has been tied to the Zika virus is microcephaly, a disease where children are born with smaller heads, causing developmental issues.
The disease is very contagious and has been spreading through the Americas, with its first documented case in the United States occurring in early February 2016. The level of contagion has reached a point that the World Health Organization (WHO) has declared it an international public health emergency with concerns that the rapid pace of contagion could even spread to Africa, which has just had to deal with the Ebola virus. The map below from the CDC illustrates how it has evolved: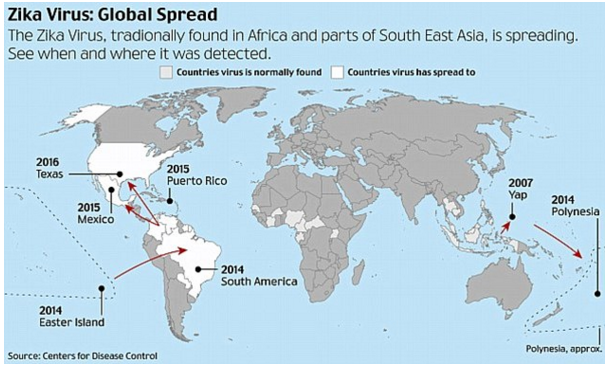 There is currently no known vaccine and Brazil is responding with over 200,000 military personnel to attempt to eradicate the mosquito breeding grounds associated with the disease. However, with its Carnivale and the Summer Olympics upcoming, gaining control of this will be difficult to accomplish for Brazil in a short time period, especially with no vaccine currently available.
It is not hard to see that the requirement for APT's infection protection gear will be definitely required the longer it takes to contain the disease. I don't wish to fear monger here; while the disease may spread quickly, so will the resources made available to combat it and to develop a vaccine. However, there is a clear catalyst for a spike in APT's sales of its Infection Control products in the meantime; this has occurred with pandemics in the past so there is precedent for this as well.
It isn't really possible to determine whether Zika will hit a tipping point with respect to public concern or not; the recent documented occurence on US soil has definitely increased its profile. Already, we can see that the case in Dallas was trending on Twitter: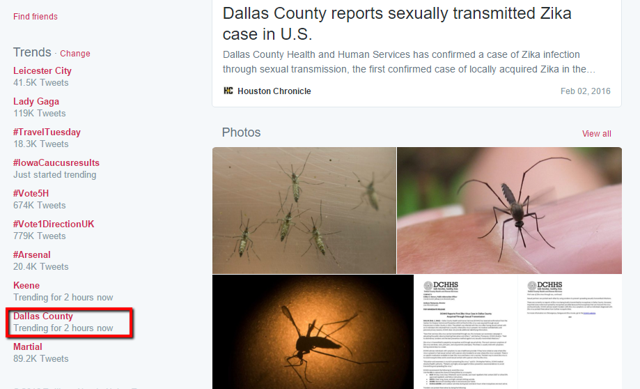 Source: Twitter
Google Trends is also showing the concern about Zika is increasing based on the number of searches related to it: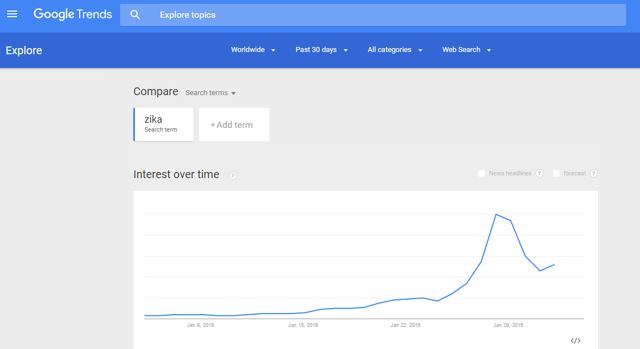 With luck, there will be a quick and timely resolution to halt the spread of Zika; however, if there is not, APT should be in the position to have a substantial increase in sales and profits which could drive a spike in its share price similar to what we have seen from them in this type of situation in the recent past.
Financials
One of the reasons that APT has reacted so sharply in these situations to the past is it is such a small company. With a market cap of just $30.5m and 20% of its outstanding shares held by management, there is not a lot of available stock to trade which means it can be very sensitive to increased upside performance.
There is decent downside protection as APT is currently trading at less than its working capital level of $31.4m: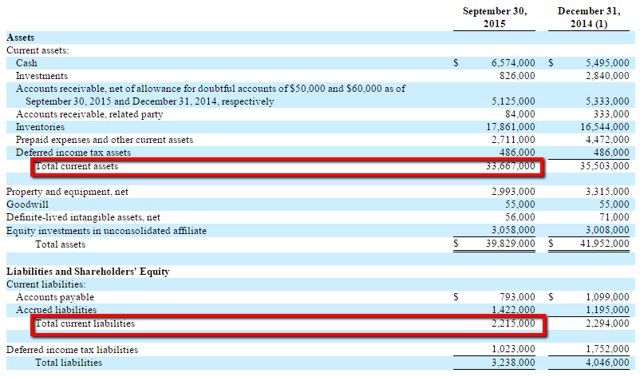 Source: Q3 2015 Alpha ProTech 10-Q Filing
With this downside protection in place, APT makes a pretty compelling set-up. Its base business has remained profitable, though not with any real discernible trend in its other product lines. There was a spike in its corporate costs in 2015 but this was due to a one-time cost of $600 K due to a "golden handshake" cost its retiring CEO.
We can do a rough model to give an idea of the potential upside in this scenario. I made the following assumptions:
APT has traded at a roughly 12.5x EV/EbITDA multiple over its history. Currently, it is trading at 9.3x so there is some potential for multiple expansion alone.
I assumed a 300% bump in Infection Control sales at the current margin rate for 6 months to meet the pandemic requirements.
I assumed a tax rate of 33% (consistent with current rates)
I deducted the one-time CEO severance cost in 2015 from the annualized current results
This gives us a good idea as to the potential upside: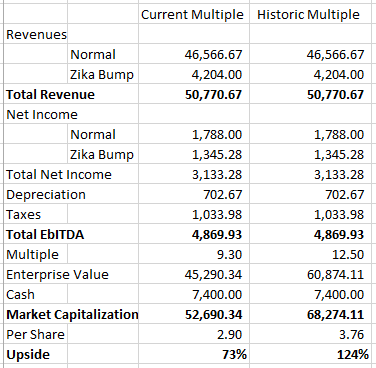 Source: Author Assumptions
These valuations are consistent with what we could expect from a price spike resulting from demand tied to the spread of the Zika virus. In the past, APT traded up as high at $7.50 (with a substantially larger multiple) during these situations. This is driven more by speculation than price discovery; however, most shareholders will take price appreciation in whatever manner they can get it.
In order to cap the risk on this trade, I would set a trailing stop at the 52 week low of $1.55; this represents a downside of about 8% from this level which is solidly supported by its working capital level. However, if we compare this to the potential upside, there really is a fairly asymmetrical upside opportunity here.
The key risk is that the Zika contagion is prevented sooner than later. This isn't a bad outcome for humanity but at that point it would be worth closing this trade out as well as at this point, I don't see any further catalysts from its base business.
For continued discussion, please don't hesitate to comment below; I learn from your feedback. If you like what I'm doing, you can follow me by hitting the "Follow" button at the top of this article. Plus, you can follow me in real time by selecting that option. It might give you somewhat of a head start whenever I write an article, as to what actions I am taking and the reasons behind them. Good investing!
Disclosure: I am/we are long APT.
I wrote this article myself, and it expresses my own opinions. I am not receiving compensation for it (other than from Seeking Alpha). I have no business relationship with any company whose stock is mentioned in this article.
Editor's Note: This article covers one or more stocks trading at less than $1 per share and/or with less than a $100 million market cap. Please be aware of the risks associated with these stocks.