2016 has not started out right for casino operators like Melco Crown Entertainment (NASDAQ:MPEL), Las Vegas Sands (NYSE:LVS), MGM Resorts International (NYSE:MGM), and Wynn Resorts International (NASDAQ:WYNN). Shares of these companies have been bashed in recent months as gambling revenue in Macau, the largest gaming center in the world, has hit each entity harshly. Likely many investors were hoping that with the start of a new year the situation in Macau might improve but things there have been anything but great, with data pointing to even tougher times ahead for the region and companies that operate there.
Gaming revenue fell hard... again
According to the Gaming, Inspection, and Coordination Bureau of Macau, gambling revenue in the region for the month of January came in at 18.674 billion patacas (1 Hong Kong dollar equals 1.03 patacas). This translates, at today's forex rate, to $2.33 billion. To put this in perspective, total gaming revenue in all of Las Vegas last year was estimated at $17.29 billion, which breaks down to just $1.44 billion per month.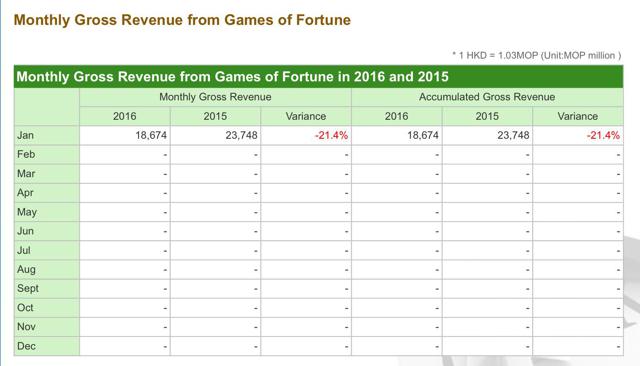 At first glance, this may seem like a great thing. With such a large amount of revenue being generated in one region, surely companies would benefit but the fact of the matter is that the level gaming revenue came in at during January of this year was meaningfully lower than where it was last year. According to the data provided, revenue a year earlier stood at 23.739 billion patacas, which implies a drop of 21.4% year-over-year. Put in dollar terms, this decline would equal $653.98 million or about 45% of Las Vegas' overall revenue. In the image above, you can see the data provided by the Bureau.
This now represents the second year in a row where January's gaming revenue in Macau has declined compared to where it was a year earlier. In the graph below, you can see the overall trend that gaming revenue in Macau has taken from 2009 (the furthest back that data exists for) to today for the month of January. After peaking at 28.739 billion patacas in 2014, things have been downhill and, with questionable economic stability throughout China, combined with an anti-corruption campaign that has been in place for a while now, there doesn't appear to be any end in sight for the region.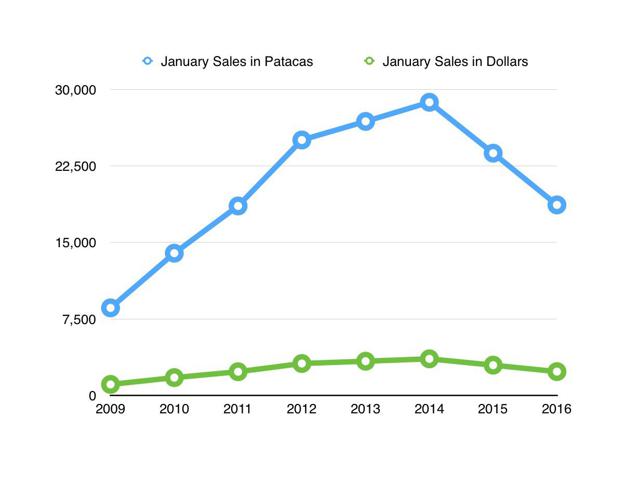 Who will be hurt the hardest?
Based on my own analysis, all four casino operators I listed above have not only been slammed by the downturn in Macau, but will likely continue to feel the pain until the market in the area recovers. Over the past year, nobody has been hit harder than Wynn Resorts, whose share price has tumbled 61.3% even as Las Vegas itself has started to grow again (volume last year was 2.9% higher than a year ago and three out of four locales reported rising gaming revenue). The main reason behind this decline relates to the company's exposure to Macau, which accounted for a whopping 58.7% of Wynn's sales during its most recent fiscal quarter. In essence, Macau is Wynn.
Unfortunately, Wynn isn't the only player who has been hurt by the fall in gaming revenue in Macau. Melco Crown, a casino operator based out of Macau, has seen its share price plummet 51.1% from its 52-week high. What's interesting is that, up until recently, 100% of its sales came from Macau but, because of its newest resort (City of Dreams Manila in The Philippines), sales from Macau in its latest quarter accounted for a more modest (but still very significant) 90.3% of total revenue. However, because of strong cash flows and a low long-term debt / equity ratio of 0.79, investors see less risk associated with Melco Crown and more growth potential if the market turns around than they do with a mature and more diverse operator like Wynn.
In terms of exposure, the company that is most like Wynn is Las Vegas Sands. In its latest quarter, the casino operator reported that 56.6% of its revenue came from Macau but, despite this, shares of the company have fallen only 31.5%. Meanwhile, MGM, which has the least exposure, has seen its share price fall only 21.8%. Although I believe the fundamentals of MGM are not all that great, the fact that only 23.2% of its sales came from Macau suggests that, even if everything in the region falls apart, MGM would have the best outcome from exiting operations there.
Takeaway
Moving forward, I caution investors about jumping into Macau blindfolded. For several months, the region has been under intense pressure and, as of the time of this writing, the picture doesn't look to be improving anytime soon. If the market situation does begin to recover, all four players could make for fantastic long-term prospects but, until I see losses trim meaningfully or until I see some expansion in Macau, I'm personally staying away from these names or I might consider shorting them if the picture in Macau starts to deteriorate more rapidly.
Disclosure: I/we have no positions in any stocks mentioned, and no plans to initiate any positions within the next 72 hours.
I wrote this article myself, and it expresses my own opinions. I am not receiving compensation for it (other than from Seeking Alpha). I have no business relationship with any company whose stock is mentioned in this article.