Another banking company has issued a new preferred stock, joining Wells Fargo (NYSE:WFC), Bank of America (NYSE:BAC), Customers Bancorp (NYSE:CUBI), Citigroup (NYSE:C) and Banc of California (NYSE:BANC) in selling preferred equity in the last 2 weeks.
San Francisco-based First Republic Bank (NYSE:FRC) has sold a new issue with a coupon of 5.50% which is indicative of the investment grade ratings from Standard and Poor's (a rating of BBB-) and Moody's (a rating of Baa3). Our first glance at this issue gives us the impression that the coupon is a bit stingy compared to other investment grade new issues.
First Republic Bank has assets of over $50 billion and has shown excellent growth over the last number of years with assets growing over 20% since a year ago, although net income grew slower being up just 7%.
The new issue preferred from First Republic is typical for banking and insurance companies in that it is non-cumulative (a requirement for meeting the requirements of Tier 1 capital) and has the typical optional redemption date beginning approximately 5 years after issuance (in this case 3/31/2021) at par ($25.00 plus accrued dividends). Companies will redeem the shares at the optional redemption date if they are able to do a "refinancing" at a coupon rate that is at least 1/4 to 1/2% below the coupon of the outstanding issue. Any redemption is at the option of the company as the issue is "perpetual" meaning it has no stated maturity date.
As we had mentioned above, it appears to us that this issue has a substandard coupon. We say this because Wells Fargo issued a new preferred 2 week ago with a coupon of 5.70%. Wells Fargo is rated 1 notch higher than First Republic Bank by both Standard and Poors and Moodys. We shall see below how this issue stacks up against the other 6 preferred issues First Republic Bank has outstanding as well as other competing new issues from banking companies.
This new issue is the 7th issue that First Republic Bank has sold since 2012 with coupons ranging from 5.5% to 7%. Below we lay out the pertinent data on these issues.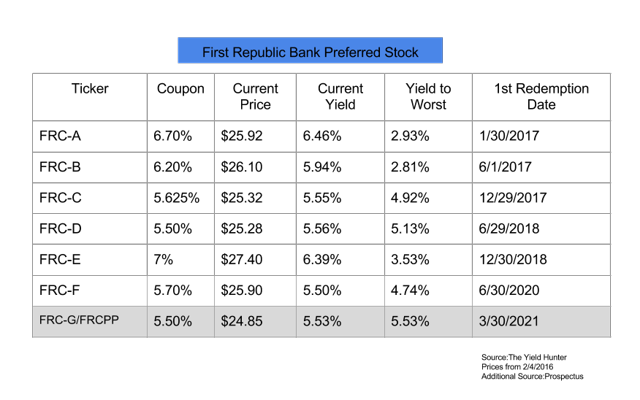 As you can see above, the new issue is trading firmly at $24.85 on the 1st day of trading on the OTC Grey Market (with temporary ticker FRCPP) where it has traded over 300,000 shares in the 1st few hours of trading. Most new preferred stock issues trade on the OTC Grey Market prior to trading on their permanent exchange (we call this the wholesale market). For those not familiar with the OTC Grey Market I published a "primer" on how to approach a potential trade on this temporary trading market on our website. Many times (although not always) the share price of a new issue will rise after trading begins on the permanent trading exchange (in this case the NYSE).
It is interesting to note that the shares are trading at a level that produces a lower current yield than equal or superior quality issues (using Standard and Poor's and Moody's ratings). Below are a couple fairly recent issues that are reasonably comparable to the new issue from First Republic Bank.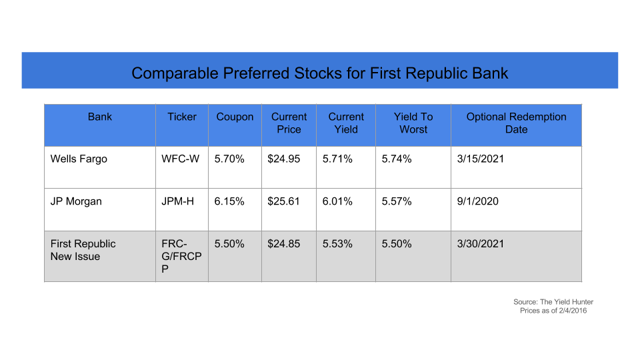 Note that the Wells Fargo issue shown above is higher rated by both Standard and Poor's and Moody's, yet trades with a higher current yield (and Yield to Worst). Additionally, the JPMorgan Chase issue which is rated identically to the new First Republic Bank issue trades just slightly better than this new issue. For our money if we were a buyer of bank preferred stocks at this point in time we would undoubtedly be more interested in buying the Wells Fargo issue than we would be the new FRC issue.
We should point out that when we calculate "Yield to Worst" we do so with the assumption that a particular issue will be redeemed on the 1st available optional redemption date. Obviously, this may not come to pass, but it does point out the worst outcome that can be calculated. It goes without saying that a bankruptcy would provide the truly worst outcome.
Perpetual preferred stocks are susceptible to movement in share price as interest rates move higher or lower. Buyers of this issue should expect that if interest rates move sharply higher (or lower) in the months and years ahead that the share price of this issue will move in the opposite direction of the interest rate move. Given the inability of anyone to predict interest rate movements, a buyer of this issue should be prepared to hold the issue for a long time and be satisfied with simply drawing their income without regard to share price.
We personally would not be a buyer of this issue as we would be willing to go 1 step up the risk curve to secure a somewhat higher yield from a bank such as Banc of California which we wrote about yesterday.
As always, we make no recommendations for investors to either buy or to sell a particular security. Every investor is unique and they have needs that are unknown to us. Whether any particular security is suitable for you can only be determined by yourself.
Disclosure: I/we have no positions in any stocks mentioned, and no plans to initiate any positions within the next 72 hours.
I wrote this article myself, and it expresses my own opinions. I am not receiving compensation for it. I have no business relationship with any company whose stock is mentioned in this article.