It has been a tough slog for investors overall in the last six months with losses accelerating as we have begun 2016. The major indices are in correction territory and underneath this surface the carnage is much worse. Commodity and energy stocks continue to be battered. Small caps and transports have entered official bear market territory.
Biotech has been hurt just about as much as any sector outside of energy & commodities over the past half year. The major biotech indices are down some 35% from their peak levels in July. Small cap concerns have been hit even worse in this decline with many names sporting 50% to 75% pullbacks in the last six months. This makes some sense as small caps had had a huge run from the last bear market in the biotech sector which ended in second quarter of 2014 up until this latest contraction and shift in sentiment.
I don't know if we will see the bottom in the sector this month or even this quarter. However, the sector seems more and more oversold on a daily basis. The long term secular tailwinds that have made the sector such an outperformer in the market over the past five years remain solidly in place.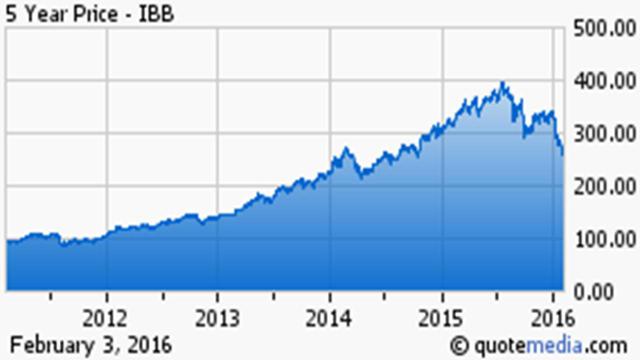 These include an aging population in the developed countries, an increasing amount of the healthcare pie going to drugs and treatments (~10% of overall healthcare spending) and new technologies being used to develop new and more effective compounds. *The FDA approved the second most drugs ever in 2015.
I am also seeing some signs that the environment is slowly improving around the biotech sector and have been upping my allocation on dips into the sector. Most of my new money is going to the large cap growth names in the space.
These large cap companies are selling at their lowest valuations since 2011, have solid balance sheets, deep pipelines and importantly can churn out revenue and earnings growth even in a very challenging global backdrop. Quite a few sport generous dividend yields as well. Here are three reasons I think sentiment on the biotech sector will turn in the near term - outside a meltdown in the overall market.
Earnings:
Quarterly results among the large stalwarts of the biotech industry came in quite well overall this quarter. Celgene (NASDAQ:CELG) and AbbVie (NYSE:ABBV) basically came in within expectations and saw revenue growth in the high teens. Amgen (NASDAQ:AMGN) and Biogen (NASDAQ:BIIB) beat easily on the top and the bottom lines and the stocks have held up well since when the market sells off.
However, out of the large biotech stocks I cover; Gilead Sciences (NASDAQ:GILD) turned in the most impressive quarterly results this Tuesday. The company posted earnings of $3.32 a share, 10% above the consensus. Revenue came in at just over $8.5 billion, almost $400 million over expectations. The company also upped its dividend payout by almost 10% and added $12 billion to its stock buyback program that already had $8 billion left on it. Gilead spent $3.1 billion buying back stock in the fourth quarter. I would have liked to see a slightly higher dividend hike, but given the company made $12.61 a share in FY2015: buying back stock at roughly 6.5 times earnings is more than a good use of Gilead's rapidly expanding free cash flow.
As I noted on an article Tuesday, the company's acquisition strategy right now is basically to buy itself back. Gilead has taken 20% of its float out of circulation over the past five years. I calculate it will buy back ~$14 billion or over 10% of its remaining float at current prices this year. This should keep earnings growing this year even as it should post a very slight decline in revenues in FY2016.
Some IPOs Get Out The Gate:
The IPO market is always a good indicator of the "animal spirits" in the market and in individual sectors. So far in 2016, this market has been deader than a door knob which many companies pulling their offerings rather than go public in this negative environment. There has obviously been an absolute paucity of IPOs from the biotech sector through the first few weeks of 2016 as well.
However, this week we actual had some IPOs hit the market from the space. Gene editing firm Editas Medicine (NASDAQ:EDIT), priced at $16.00 at the low end of its range but it did not have to lowered. The stock currently trades above its IPO price at $18.50 at open on Friday. Immuno-oncology outfit BeiGene (NASDAQ:BGNE) priced at the top end of its range at $24.00. The stock currently trades above its IPO price at $30.50 at open on Friday. This could be a good sign that sentiment is slowly starting to turn a bit more positive.
Congress Gets Its Scapegoat:
Martin Shkreli, the infamous CEO of Turing went before the House Committee on Government and Oversight on Thursday morning. He said next to nothing and let his lawyer do his talking in the press conference after this committee meeting. Mr. Shkreli kicked off the whole drug price "gouging" jihad after he made an obscene price hike on a drug that had been off patent for decades. This has led to much rhetoric around the greedy pharma & biotech space in an election year.
Now that Congress has their scalp, I think this rhetoric dies down as we shift toward more the general election in the months ahead. Expect the economy, jobs, national security and the fight against ISIS to overshadow talk about niche issues such as drug price gouging and gun control. Bad actors like Valeant Pharmaceuticals (NYSE:VRX) whose business model is largely driven by hiking prices on existing drugs will remain in the crosshairs. However, pressure should relent some on the rest of the industry.
Hopefully these are good signs that the carnage in the biotech sector will come to a close soon and brighter days are ahead for investors in this industry.
Disclosure: I am/we are long ABBV, AMGN, BIIB, CELG, GILD.
I wrote this article myself, and it expresses my own opinions. I am not receiving compensation for it (other than from Seeking Alpha). I have no business relationship with any company whose stock is mentioned in this article.