TreeHouse Foods (NYSE:THS) has done a great job of painting a beautiful picture of itself to the market. Contributor Neil Cybart recently penned a piece on the importance of portraying a narrative to Wall Street and investors, and where Apple has failed, TreeHouse Foods has instead excelled. The company's theme is simple: it wants to become the largest private label food & beverage manufacturer, firmly taking a leadership role in a fragmented market. By doing so, it hopes to use its size to extract operating leverage and efficiencies which will enhance its profitability, allowing it to outperform smaller peers.
In pursuit of this goal, it has continuously expanded its product portfolio, completing dozens of acquisitions ($2B+ worth in the past ten years). These acquisitions have increased its top line growth by double digits annually on average for some time. Despite these impressive results, I believe that the company's narrative will erode with time.
I've written about my short TreeHouse Foods position before on Seeking Alpha. The quick recap from that piece is simple: the company's acquisition binge has in fact led to top line growth, but the end result has been no growth on the bottom line and shrinking gross margins. A hitting point in most of my research here is to direct investors towards what is truly important: steadily improving earnings growth and cash flow. For TreeHouse, this simply isn't happening. 2015 full year non-GAAP earnings per share will be a continuation of that trend, which will fall to $3.15/share from $3.52/share in 2014. Operational cash flow is down. Leverage is up.
Despite these dismal results, shares continue to trade at an outsized valuation. The company trades at 12.66x EV/EBITDA, and recently issued weak 2016 guidance ($2.95-3.10/non-GAAP EPS) that points to further contraction, not growth. Despite this, equity pricing has remained stubbornly elevated. TreeHouse management hasn't let the opportunity pass them by, raising $1B via equity issuance including overallotment (at $65/share, far below market prices) to partially fund the Ralcorp acquisition.
Ralcorp
Ralcorp is a diversified manufacturer of many packaged food products, from cookies to mayonnaise to pasta. It was acquired by ConAgra (NYSE:CAG) in 2013, after resisting takeover for many years, for $4.95B. ConAgra, to be blunt, butchered their acquisition of Ralcorp, drastically overpaying for the assets in their own quest to be the market leader. It was a total fumble, and they were unable to wring the cost savings from the operations that they expected to be able to. As a result, shareholders have seen billions of dollars in value thrown away in just a few short years.
The sale to TreeHouse Foods for $2.7B doesn't necessarily mean that the new acquirer got a good value, despite the nearly 50% haircut to what ConAgra paid. TreeHouse still paid over 10x normalized EBITDA according to fellow contributor SqueezeMetrics, and in reality TreeHouse will deal with many of the same restructuring and one-off expenses in the first year or two that ConAgra had to deal with, contributing to those lower fiscal 2016 expectations. Guidance for EPS accretion from the deal is solid from 2017 onward. However, those forecasts rely on management being able to execute on folding this business into existing operations, something ConAgra clearly had deep structural problems in accomplishing.
SqueezeMetrics has done an excellent job in covering the company and its prospects here; but we differ on the fair valuation here. I can't personally pay more than 12x EV/EBITDA for a company that is posting flat net income and declining earnings per share. The Ralcorp acquisition does nothing to change this; Ralcorp had declining fundamentals before its acquisition by ConAgra, and Ralcorp management has not been able to change that. ConAgra management post-acquisition was unable to change that. So my question to investors is this: Why is TreeHouse going to do any better? Especially given their less than stellar track record on smaller prior acquisitions?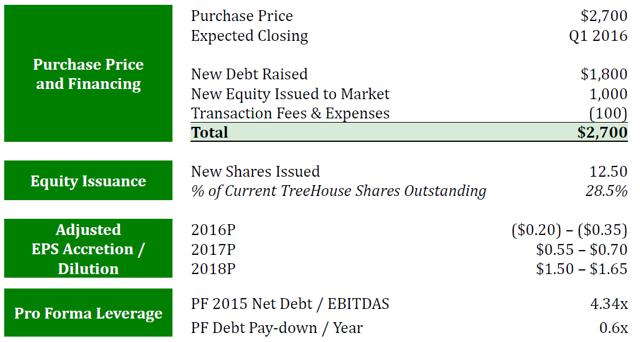 *TreeHouse Foods, 2015 Investor Presentation
I view this as a "show me" story, whereas Wall Street and many investors are seemingly willing to overlook continuously eroding margins, flat net income, and increasing leverage, banking it all on 2017 and forward guidance. Make no mistake, this is a large acquisition that will nearly double TreeHouse's EBITDA. Integration will not come easy, and management will be tested on their ability to integrate two vastly different operations. The pricing of the secondary offering 15% below trading price, to me, shows the caution from institutions in buying big allotments of shares in the company, even at a pretty wide discount to current trading prices. Investors should follow the smart money here a little bit, and exercise a little bit of caution in my opinion.
Disclosure: I am/we are short THS.
I wrote this article myself, and it expresses my own opinions. I am not receiving compensation for it (other than from Seeking Alpha). I have no business relationship with any company whose stock is mentioned in this article.