Stocks tipped lower in early action Friday as job report headlines revealed slower hiring but other details, including wages, proved more positive.
The U.S. economy added just 151,000 jobs in January, according to the Labor Department-shy of the 180,000 consensus forecast from a survey of economists polled by MarketWatch. However, investors took heart in the stronger-than-expected growth in average hourly earnings, and a decline in the unemployment rate to an eight-year-low 4.9% from 5%. The jobless rate can be a bit of a gray number as it can decline due to job growth but also when more people drop out of an active search for employment. The average wage paid to U.S. workers jumped 0.5% in January to $25.39 an hour.
The bigger issue may be whether Wall Street and the Federal Reserve consider this report in the context of other misses of late, including disappointing service-sector data earlier this week and a softer Q4 GDP report last week.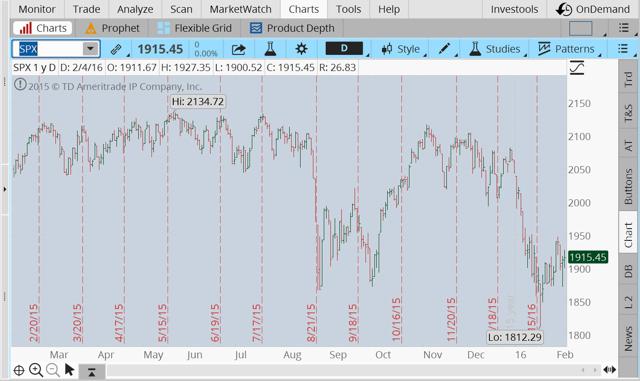 Figure 1: Can the Week Be Salvaged? The S&P 500 (SPX), plotted here through Thursday on TD Ameritrade's thinkorswim platform, held the psychologically significant 1900 line so far this week. Data source: Standard & Poor's. For illustrative purposes only. Past performance does not guarantee future results.
Who Was Hiring? Hiring was strongest in restaurants and hotels, which aren't always the high-paying career jobs that could translate into aggressive spending. The retail industry added the most new jobs in January, taking on 58,000 new employees. Manufacturers also created the most new jobs in a year, with payrolls rising by 29,000. The energy industry, stained by cheap oil, also eliminated more jobs.
Oil-Dollar-Stock Trio. A weaker dollar was already providing at least a temporary boost to crude oil prices and could draw continued downside pressure if the weaker-than-expected jobs report is seen cutting the chances for higher U.S. interest rates. Higher rates underpin the dollar, which has been elevated. A weaker dollar tends to support commodities prices, including crude, as it lifts demand for crude on the global marketplace. And we all know that energy stock share movement has held plenty of sway over stocks lately. Crude oil prices advanced on Friday even as booming supply issues continue to weigh on prices longer term. U.S.-traded crude was above $32 a barrel, with London-traded Brent above $34 a barrel. Crude is down some 6% on the week.
SPX 1900. The 1900 line for the S&P 500 (SPX) remains a key psychological level on the downside. SPX broke this line last month but it has held up for several sessions since. Right now, market chatter is more about building a base above 1900, not about any potential big rally.
TD Ameritrade, Inc., member FINRA/SIPC. TD Ameritrade is a trademark jointly owned by TD Ameritrade IP Company, Inc. and The Toronto-Dominion Bank. Commentary provided for educational purposes only. Past performance is no guarantee of future results or investment success.
Disclosure: I/we have no positions in any stocks mentioned, and no plans to initiate any positions within the next 72 hours.
I wrote this article myself, and it expresses my own opinions. I am not receiving compensation for it. I have no business relationship with any company whose stock is mentioned in this article.