It's been a long and painful five years for gold bugs as the price of gold has slid from an all-time high of $1,921.50 US/oz in mid-2011 to a low of $1,050 US/oz in December of last year. While the decline has been difficult to stomach for gold investors, it's been even harder for those investing in gold mining stocks which have seen a much sharper decline as an investment. From peak to trough, gold has lost roughly 45% over a four-year rout, but gold mining stocks have lost over 80% of value on average based on the ETF tracking the gold miners (GDX), falling from a high of $66.98 to a low of $12.40 over the same period.
Gold stocks as well as gold have been a very easy short-selling bet for over four years now, but I would argue that the easy money has been made and the tide is turning for gold and gold mining investors. A strong US dollar has not helped gold prices in the slightest, but currently while gold prices are attempting to stage a break-out, the US dollar is finally seeing weakness after a massive run since 2012. The fact that gold prices are showing strength and the US dollar is beginning to back off are signs that gold may finally have the environment it needs to make a comeback.
McEwen Mining (NYSE:MUX), one of the smaller companies in the gold space, has had a huge turnaround story since 2013, and is being ignored due to a broken sector. Over the past two years, McEwen Mining has become debt free, started paying a semi-annual dividend of $0.01 per year, in addition to becoming cash flow positive. The company is 25% owned by Chief Owner Rob McEwen who has no options, no salary and no cash bonuses that come with his position. This means that the only way he can make money from his position is by seeing the share price of MUX increase with his 25% ownership. It is a certainly a positive sign when an owner cares enough about his company to not pay himself any salary nor flood its share structure with options so that he can help the company fight its way out of what has been a very difficult four years. I find it even more impressive that the company is paying shareholders a dividend trying to bring in more new investors as well as retain current investors while the Chief Owner receives no compensation. In a sector plagued by inflated salaries and massive share dilution, MUX's management is a breath of fresh air.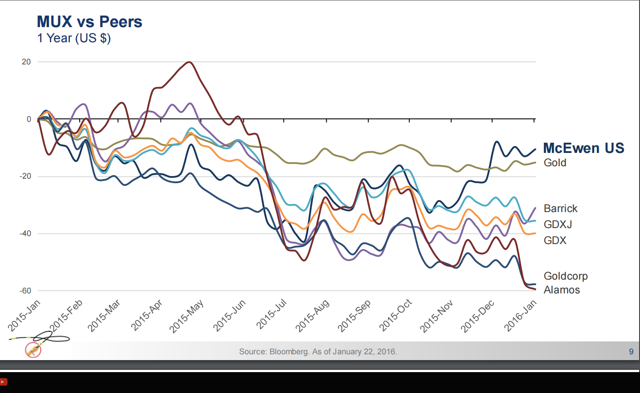 McEwen Mining has 306 million shares fully diluted and trades at a share price of $1.37, giving it a market capitalization of $419 million. The company has $32 million in cash in the treasury currently, giving it an enterprise value of $387 million. The company has no debt and is also not subject to paying any royalties, giving it full potential to capture any upside in the price of gold. In addition to this, the company has commenced and approved a share repurchase program that started in October of last year to buy 15 million shares ending on October 15th, 2016. This should serve to put an additional floor under the stock as it will lock away an additional 5% of the outstanding shares in the company.
McEwen Mining has three properties in its portfolio, two of which are 100% owned and one that is 49% owned.
The El Gallo gold mine in Sinaloa, Mexico, is an open-pit heap leach gold mine with high grades of over two grams per tonne of gold, compared to most open-pit mines. It produces gold for $578 US/oz (per all-in sustaining costs) and produced over 63,000 gold equivalent ounces in 2015 alone.
The San Jose gold and silver mine in Argentina is an underground mine with extremely high grades of over 445 grams per tonne of silver and 6.25 grams per tonne of gold. The mine is shared with Hochschild (OTCPK:HCHDY) which owns 51% of the mine and McEwen Mining owning the remaining 49%. The total production in 2015 was 186,000 gold equivalent ounces, of which MUX's share is 91,000 gold equivalent ounces. The mine sits just over 20 kilometers from Goldcorp's (GG) extremely high-grade Cerro Negro project it purchased from AndeanGold (OTC:AAUJF) for $3.6 billion in 2010.
The Gold Bar project is situated next to Barrick Gold's (ABX) largest gold mine and discovery and had a positive feasibility study completed in October of last year. The capital expenditure for the project is $60 million, and production is not set to start until mid-2017, meaning it is possible MUX could internally fund most to all of the project with its cash flow and current treasury. The Gold Bar project would add 65,000 ounces of gold at a cash cost of $712/gold ounce, rounding up to add in sustaining cash costs, it would likely be $850/gold ounce all-in. The great thing about Gold Bar is, with this additional mine in the company's pipeline, it could move to becoming a 195,000 oz per year gold producer by late 2017. At current gold prices of $1,135 US/oz this would equate to an extra $18 million of cash flow per year for McEwen Mining (using conservative $850 cash costs and $1,135 US/oz price of gold).
MUX technically is one of the few gold stocks that have been able to buck the trend of the gold miners ETF, GDX, and see significant share price appreciation this year, even with a rather stagnant gold price up until recently. The share price is above its 20-, 50- and 200-day moving averages and is making new 55-day highs as well as 40-week highs while the rest of the market is only starting to bounce off new all-time lows.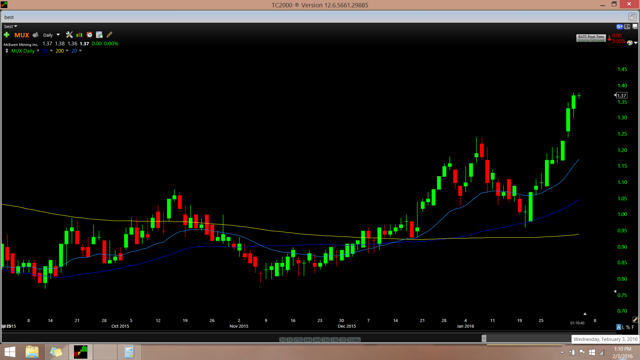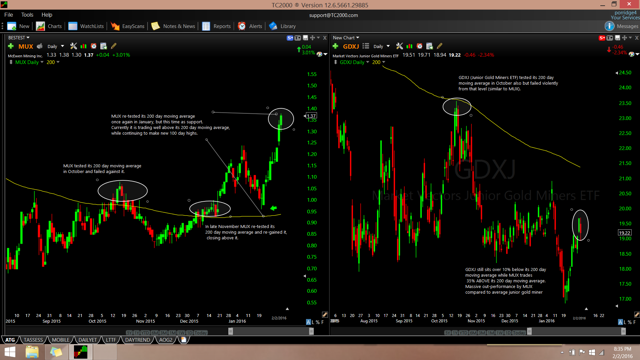 McEwen Mining in my opinion is an overlooked and undervalued gem in a sector of stocks that have been beaten down and could very possibly be starting a new trend up. Based on MUX's projections of 141,000 ounces of gold to be produced in 2016 at $914/gold equivalent ounce, there are large cash flow possibilities for this small company going forward. Using a gold price of $1,124 per ounce (1% below current spot prices), MUX stands to make $210 in profit per gold ounce produced, equating to over $29 million per year in positive cash flow for 2016. This would be in line and conservative with its Q3 2015 financial results which showed net positive cash flow of $8.5 million for the quarter.
With an enterprise value currently of $387 million and net cash flow of almost $30 million a year, I see significant upside potential for MUX. In addition to this, 18 months from now, the company should be re-rated as a 195,000 to 200,000 oz gold producer and could potentially see an extra $15 million per year added to its balance sheet once its Gold Bar project is fully online. In summary, I see McEwen Mining as one of the best ways to capture any upside in gold price, and even without significant gold price appreciation, I still see the company as undervalued with the catalysts 12-18 months out.