The U.S. Economy
An advance estimate of real gross domestic product (GDP) showed the economy expanded at a 0.7% annualized rate in the fourth quarter, down from 2% in the third quarter and 3.9% in the second quarter. Personal consumption - which accounts for more than two-thirds of economic output - added 1.5 percentage points to GDP, although it fell from 3% growth in the third quarter to 2.2% growth. Even with the fourth quarter decline, consumer spending grew 3.1% in 2015, the fastest pace in a decade. Weak global demand and a rout in commodity prices hurt business investment, which declined for the first time since the third quarter of 2012. The economy expanded 2.4% in 2015, the same as 2014.
A strong report on nonfarm payrolls suggested that even with the lackluster GDP figure for the fourth quarter, there remain solid underpinnings to the economy. Payrolls grew by 292,000 in December, and figures from previous months were revised up by 50,000. Warm temperatures could have contributed to the surge - for instance, construction employment increased by 45,000 during December.
For the third consecutive month, the unemployment rate was 5%, as the participation rate ticked up in December to balance out job gains. Average hourly earnings were unchanged for the month, but rose 2.5% year over year. Although there has yet to be a meaningful rise in nominal wage growth, continued low inflation has caused real wages to increase at a solid clip recently.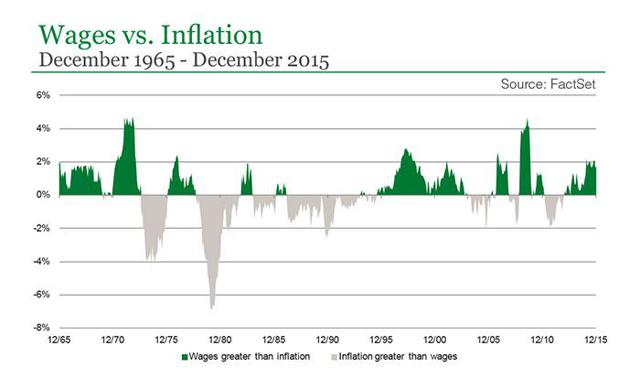 The continued decline in the price of oil helped to drag down consumer prices, which fell 0.1% month over month in December. Gasoline prices dropped 4% month over month - this type of decline could repeat itself in the next couple of months, as oil prices fell 5-10% in January. Large Middle Eastern producers such as Saudi Arabia have not cut production in reaction to abundant supply. Instead, they have been trying to maintain market share and drive weaker producers out of the market.
The lack of a response to the negative price signal has led to a much larger drop in oil prices than expected. Nevertheless, at its January meeting, the U.S. Federal Reserve maintained its position that the decline in energy prices is transitory and that inflation should rise to 2% over the medium term as the labor market strengthens further. The Fed did not raise the federal funds rate in January, but did not rule out the possibility of an increase in March.
The Global Economy
News out of China topped headlines worldwide in January as questions resurfaced about its stock market, currency, and economic growth. Investors are worried that declines in China's domestic market (known as the A-shares market) are an indication of increasing weakness in the country's economy. However, the A-shares market is not and never has been a good barometer of conditions in the Chinese economy.
Historically, government policy decisions have driven the market and large speculative rises and falls have been fairly common. Company fundamentals have not been and still are not the main drivers of returns in the market. Retail investors can account for up to 85% of the volume in the A-shares market, but only around 10% of Chinese invest in the stock market, meaning it does not represent a large part of Chinese savings.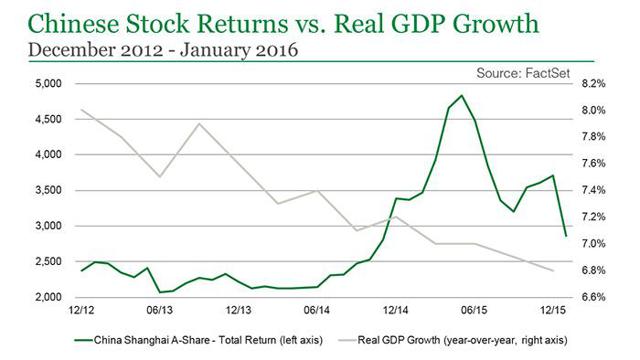 The Chinese government entered currency markets during the first week of the year to guide the exchange rate of the renminbi (or yuan) to its lowest level in five years versus the U.S. dollar. This raised concerns that the government is pushing the renminbi lower in order to prevent the economy from suffering a hard landing, and that a large Chinese devaluation could cause a major economic crisis in other emerging markets.
Last summer, China announced policy changes that gave markets more control over the renminbi's exchange rate. Previously, the government would set the rate each day mostly by edict. China's desire to have the renminbi included in the basket of currencies that make up the International Monetary Fund's Special Drawing Right (SDR), a supplementary international reserve asset, largely drove the decision to make the renminbi's exchange rate more market-driven.
Also, the government no longer wants the renminbi pegged solely to the dollar. The new target of currency policy is the trade-weighted exchange rate, which takes into account the currency movements of China's major trading partners.
Relative to the basket of its major trading partners outside of the dollar, China's currency moves have not been out of line with its peers.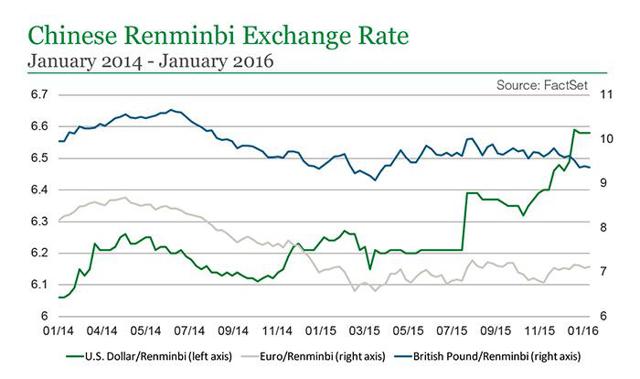 Nevertheless, the seesaw of currency moves has raised concerns among investors and has caused volatility in global markets. However, the Chinese government knows that a sharp devaluation of the renminbi would not be well accepted by foreign governments, and would also be seen as a sign of potential instability. This would conflict with their efforts over several decades to cultivate the image of being a stable, responsible global economic power.
The growth rate of the Chinese economy has been slowing for some time. The economy rebounded from the global financial crisis to post 12.2% year-over-year growth in real GDP during the first quarter of 2010. Growth has since declined to 6.8% year over year in the fourth quarter of 2015. This is part and parcel of the transition the government is trying to engineer from an economy driven by investment to one more reliant on services and consumption. Investors are worried that managing a smooth transition will prove too difficult for the government and the Chinese economy has a hard landing.
We think China's economy will continue to slow, but that the government will use fiscal and monetary tools to stimulate activity should the economy slow too much. Ultimately, the government should be able to manage the transition to a more market-oriented economy. This should keep overall reported growth on a path that is reasonably close to centrally planned targets, although we continue to have a bias that growth might come in weaker than expectations. Nevertheless, we acknowledge that there likely will be missteps along the way, and these missteps could contribute to market volatility.
Our Perspective
Global equity markets were sharply lower in January on concerns about China's stock market, currency, and economic growth, as well as the continued decline in oil prices. Valuations in the broad U.S. stock market remain somewhat elevated, but we continue to see little evidence of excesses in the market or economy that would need to be unwound. In this environment, discernment and flexibility are critical.
Given the slow global growth environment, in portfolios geared towards investors that need capital growth, we are targeting investments in fundamentally strong businesses that are not heavily reliant upon macroeconomic growth to drive sales and earnings. More specifically, we see value in businesses that we believe have control of their destiny and are taking share in large established markets or are creating new markets on their own. The goal is to identify companies trading at attractive valuations relative to their growth potential.
For fixed income investors and investors with a shorter time horizon or current income needs, we continue to focus on opportunities we are seeing in corporate bonds, investment-grade securities in particular. The corporate sector remains relatively cheap from a valuation perspective. Regarding government debt, a sizable portion of our portfolios' allocation to U.S. Treasuries is to Treasury Inflation-Protected Securities (OTC:TIPS), as we think the market has not been adequately compensating investors for inflation potential in nominal Treasuries.
We continue to believe that interest rates do not adequately compensate investors to take on additional duration risk, and therefore our portfolios maintain a modest duration relative to the benchmark. We would look to increase duration through the purchase of longer-maturity U.S. Treasuries or Agencies if interest rates were to increase to more attractive levels. In our view, short term and income-oriented investors should also explore equities that display stable fundamentals and are trading at attractive valuations. We believe companies that generate strong, stable cash flows and pay an attractive dividend could be compelling options for these types of investors in the current environment.
Source: FactSet. Analysis: Manning & Napier Advisors, LLC (Manning & Napier).