Vale (NYSE:VALE) is a low-cost iron ore producer. There are now certainly considerations to address like whether or not Vale is an acquisition target now that the stock has stagnated in the low $2 range, after a sharp decline in December. Furthermore, if the company isn't a target, how will it effectively manage debt with such low prices? While I'm bearish on the stock, I closed out my short on Monday because I was personally sick of the volatility and wanted to stabilize certain parts of my portfolio. As you may have read, I went long in BHP Billiton (NYSE:BHP) due to the company's stronger balance sheet and for the risk/reward aspect, as Vale just seems like a riskier and distressed play at the current moment.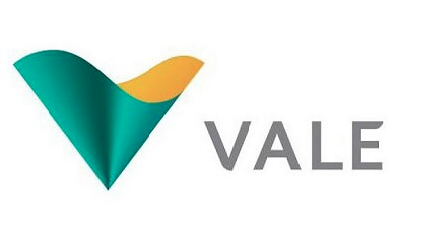 Iron Ore: Has It Bottomed, Yet?
Iron ore prices continue to remain suppressed. Considering we've been dealing with a large global oversupply for many months now, all eyes are on China to push for supply-side reform. Traders are anxious and while we have no timeline on when reform could come, there is at least some positive speculation that is propping up Vale's equity at current levels.
We have new problems on the demand side, however. With steelmakers also feeling the pain of lower commodity prices due to lower infrastructure demand, we have China curbing steel output by 50 million tonnes, which while that helps steel producers, doesn't exactly prop up iron prices. In fact, it does the complete opposite. It's not a 1:1 ratio for iron ore to steel, it's actually more like a 2-3x multiple depending on the efficiency of the smelter, which represents over 100 million tonnes of iron ore being taken offline in the demand side.
Also with respect to China, we have to consider how the yuan devaluations may change the pacing of exports for steel. Now, here's where we get an interesting statistic, as another contributor pointed out. Iron ore imports are actually up 17% month over month, which is exceptional for Vale on the other end. Now, is this sustainable? Likely not given the data we received on how steelmakers plan to curb output.
There is a very real possibility that we continue to see these "lower for longer" prices not just for 2016 but also for the next few years. There's really no choice but to be bearish here, especially if there are further steel production cuts on the way. That means iron ore producers like Vale are going to continue to see their inventories pile up.
Futures are currently trading at $45.52/mt for the May contract, but trend down through 2018 as low as $32/mt. A "lower for longer" scenario like that would most certainly paint a grim picture for Vale's equity. We continue to see the $40 level for iron ore be a technical support level, but we saw many times in the last few months that iron ore can easily breach this level. Below you can see the last six months of iron ore prices: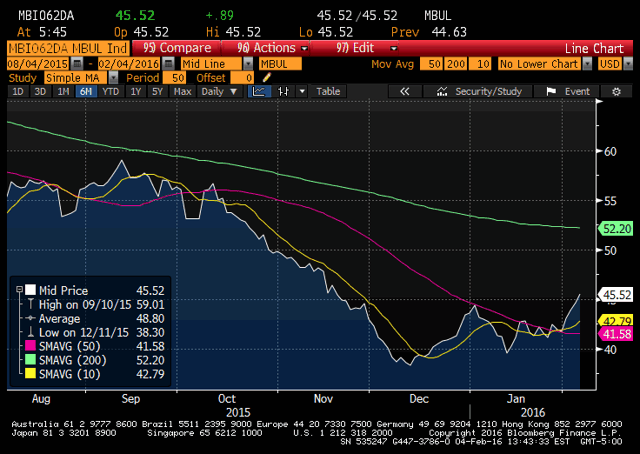 Source: Bloomberg
With regards to the Samarco disaster, we're going to get the final verdict on what the settlement amount is, and while it is projected to be $20 billion reals, which represents about $5.1 billion at the current BRL/USD exchange rate, it's likely the amount could be more expensive. Assuming this new burden is split evenly, that's roughly $2.05 billion that Vale needs to come up with over the next 10 years to pay for this tragedy. That's not something the company can necessarily afford, given the loss of the Samarco revenue stream.
Unless a "Door 3" outlet opens up as a source of demand, Vale is really going to have a hard time decreasing their inventory as well as managing their fines. Even if an opportunity presented itself for Vale to be involved in a new project, it would have a tough time funding it given their current financial instability. For example, just today we heard that Vale isn't going to join Southern Arc in a joint venture at East Elang.
Relative Performance
Vale has two major problems that are preventing it from outperforming peers: debt, which creates unwanted leverage in this environment, and downgrades. Against a comparable universe of Fortescue (OTCQX:FSUMF, OTCQX:FSUGY), BHP Billiton, and Rio Tinto (NYSE:RIO), we can see that Vale is the laggard. BHP and Rio have a close correlation, as they are largely the more favorable players in this group. Below are the 1Y and YTD trading patterns of Vale versus its comparable universe.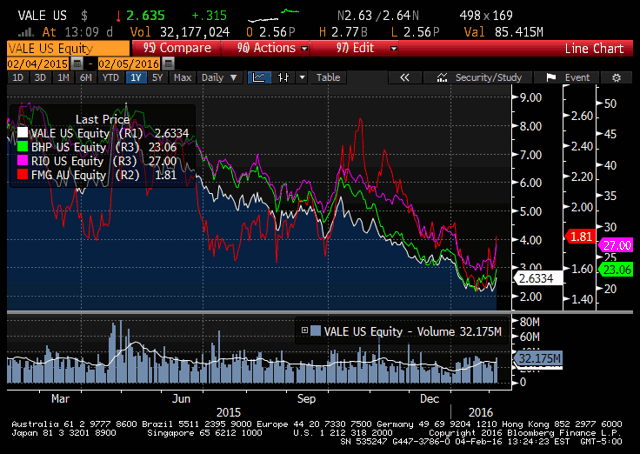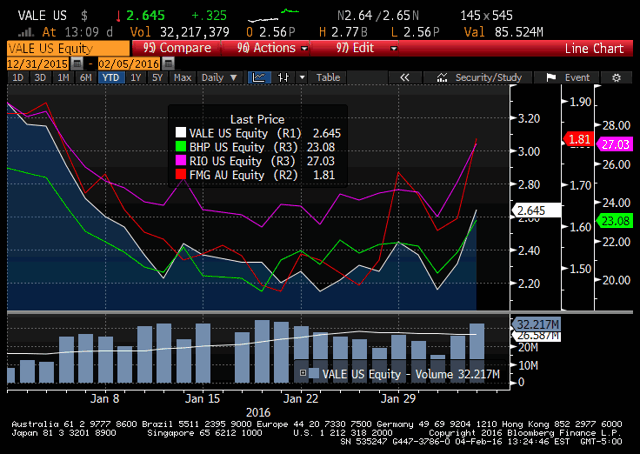 Source: Bloomberg
A large amount of the suppression of equity prices for foreign companies comes from the stronger dollar. In Thursday's session, we saw the dollar retreat about half of a percent, which helped to fuel gains in Vale's stock, which was already benefiting from iron ore futures trading up. However, if the dollar remains strong in the face of a basket of global currencies, particularly the Brazilian real and the Aussie dollar, it's going to be quite difficult for these stocks to see meaningful, sustained gains.
A $2 Stock
What's really interesting about Vale is that at $2.65 a share, it has an average volume of 23.6 million, which is decently high liquidity and certainly means that this stock can be day traded with a high amount of efficacy. While that's not everyone's cup of tea, we have to look at the relative risk/reward scenario to see if there is a larger play. Now, we're just above the January 26 52-week low of $2.13, but with an already -19.45% YTD loss, there's really a lot of pain being experienced (despite Thursday's session). That being said, this time last year the company was trading at $7.88, which naturally represents a massive premium over current levels. While the R/R is certainly favorable for new longs from a technical standpoint, the fact remains that the operating environment is highly negative and will continue to be for the short-term. Below is Vale against iron ore prices: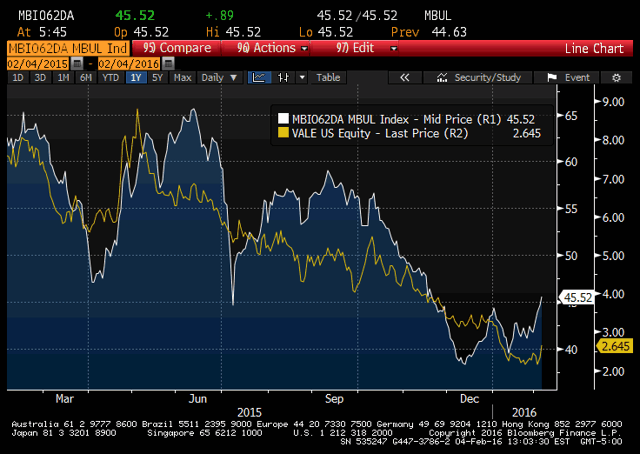 Source: Bloomberg
If you're at all considering a long investment in Vale, which I believe is a risky, risky consideration, you have to take a look at the yield. The stock is currently yielding above 4%, but the company has already sought board approval for cutting it as cash flows for the full year will likely not be able to sustain such a yield given the low-priced iron ore environment. This is largely a positive for Vale, even if the equity is met with a future sell off on official news of a cut, as it helps the company to regain some stability.
Furthermore, I believe any speculation revolving around Vale being an acquisition target is unwarranted as their debt stands as a major headwind to any potential acquirer. They currently have $26.15 billion in LT debt, nearly $3 billion in short-term borrowing, and nearly $3.79 billion in other ST liabilities. This is before any consideration about their share of the Samarco disaster. All of this with a declining Brazilian real against an American dollar is creating a lack of stability for Vale to operate off of. Furthermore, the S&P recently downgraded them to one notch above junk, which certainly does not paint the brightest picture for the equity. They're also still on review by Moody's to potentially be downgraded in the coming weeks.
Conclusion
Vale looks attractive given the low share price, but please be cautious if considering going long. This stock is highly volatile, moves multiple percentage points each day, and is dealing with several unique problems like overbearing debt and Samarco that represent continual headwinds. I will remain on the sidelines for now unless significant debt restructuring that is favorable takes place or we start to see signs that China is improving on the demand side - and that could take a while. The company is set to report earnings on February 25th, and I'd advise investors to steer clear.
Disclosure: I/we have no positions in any stocks mentioned, and no plans to initiate any positions within the next 72 hours.
I wrote this article myself, and it expresses my own opinions. I am not receiving compensation for it (other than from Seeking Alpha). I have no business relationship with any company whose stock is mentioned in this article.